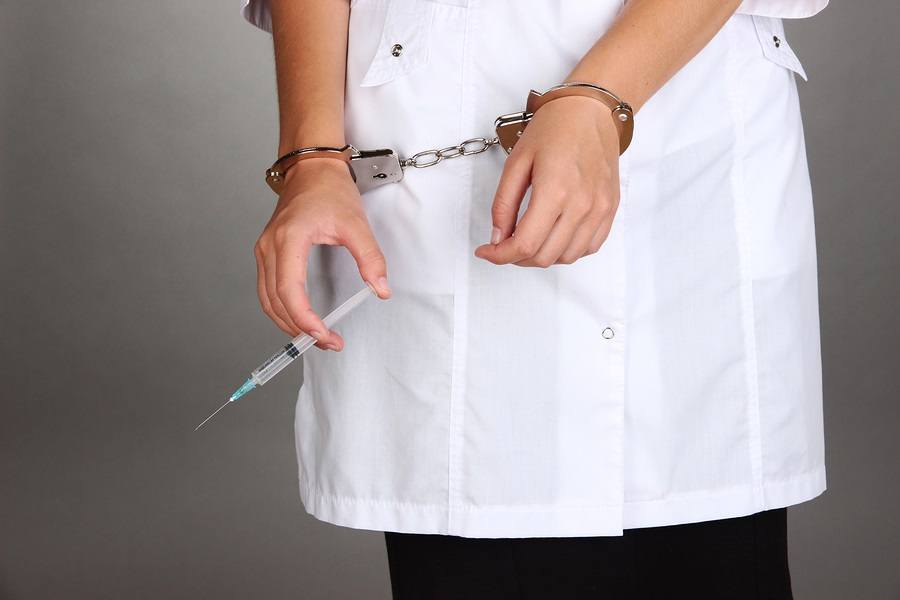 Health Impact News Editor
Criminal activities of pharmaceutical companies are frequently reported on in the mainstream media. The largest criminal settlements in U.S. history are cases against pharmaceutical companies, such as Johnson & Johnson's $2.2 billion criminal settlement late last year for illegally marketing drugs to the elderly, children and the mentally disabled.
When it comes to criminal activities involved with marketing vaccines, however, there is a near total blackout in the mainstream media. So here at Health Impact News we will highlight a sampling of some of the biggest stories of fraud and criminal activities involved with marketing vaccines so far here in 2014.
Merck MMR Vaccine Fraud
In a story that no mainstream media outlet reported in the beginning of September 2014, a Pennsylvania federal judge ruled in favor of whistleblowers who have accused Merck of lying about the efficacy of its mumps vaccine (currently only available in combo with MMR). We had to find this story posted on a couple of websites servicing attorneys.
This story did garner mainstream news coverage back in 2012, before Merck's attorneys appealed and tried to get the case thrown out of court. Here is a report Forbes wrote on it back in 2012. Some quotes:
Anyone who falls on either side of the debate about vaccines' alleged potential to cause harm is sure to have heard the big news this week — the unsealing of a whistleblower suit against Merck, filed back in 2010 by two former employees accusing the drugmaker of overstating the effectiveness of its mumps, measles, and rubella vaccine.

The scientists claim Merck defrauded the U.S. government by causing it to purchase an estimated four million doses of mislabeled and misbranded MMR vaccine per year for at least a decade, and helped ignite two recent mumps outbreaks that the allegedly ineffective vaccine was intended to prevent in the first place.

"As the single largest purchaser of childhood vaccines (accounting for more than 50 percent of all vaccine purchasers), the United States is by far the largest financial victim of Merck's fraud. But the ultimate victims here are the millions of children who every year are being injected with a mumps vaccine that is not providing them with an adequate level of protection against mumps. And while this is a disease the CDC targeted to eradicate by now, the failure in Merck's vaccine has allowed this disease to linger with significant outbreaks continuing to occur," the suit alleges. (Source – emphasis added.)
The Wall Street Journal also covered the story back in 2012, but according to a report by Dr. Mercola,  the Wall Street Journal's "elite" network of CFOs from the world's top corporations met 3 days later (including executives from Merck), and the story was removed from their website. 
U.S. District Judge C. Darnell Jones II ruled that the whistleblowers had sufficiently pled that Merck might have provided false statements to the government and that the direct purchasers had shown enough evidence to establish that these falsehoods could have helped the company gain a monopoly.
Here at Health Impact News we will keep our eye on this story and report any new developments.
HPV Vaccine Supreme Court Trial for Fraud in India
In a huge developing story that has been completely blacked out of the U.S. mainstream media, there is currently a case before the India Supreme Court regarding deaths and injuries occurring during drug trials carried out over Merck's HPV vaccine Gardasil. Vaccine trials were conducted on thousands of girls between the ages of 9 and 15. Many of the girls fell ill, and at least 7 died, and the lawsuit is alleging that in most of these cases, the girls and their parents did not even know what kind of vaccine trial they were participating in.
Most of the girls were students, and an investigation showed that as many as 120 girls who participated in the HPV vaccine trials "experienced adverse reactions such as epileptic seizures, severe stomach ache, headaches and mood swings. The Sama report also said there had been cases of early onset of menstruation following the vaccination, heavy bleeding and severe menstrual cramps among many students."
Narayana Kumar of the Economic Times in India points out that after these adverse reactions, a report was conducted to explain them all away as not related to the vaccines, so that the approval process could move forward to market the HPV vaccine in India. That report, according to Kumar, was funded by the Bill & Melinda Gates Foundation (BMGF). Authorities in India have looked into BMGF, and see a huge conflict of interest:
Activists allege that these two institutions have a working relationship with pharma companies. The main charge against GAVI is that it has representatives from pharmaceutical companies on its board while the PHFI accepts grants from pharma companies. "BMGF and GAVI are pushing the [vaccine] agenda with governments around the world, including India," says Ritu Priya Mehrotra, professor of Social Medicine and Community Health and School of Social Sciences, Jawaharlal Nehru University, Delhi. The community health activist says the biotechnology industry was pushing more and more vaccines into India and that the health ministry was not ensuring that adequate testing was done before recommending their use in government programmes. (Source.)
The India Supreme Court is expected to rule on this case in October 2014, and Health Impact News will report on the verdict, since this story has not been reported at all in the mainstream media yet, to my knowledge.
The criminal charges against the HPV vaccine outside the U.S. are so numerous, it would take a completely separate article to try and cover them all. Spain, France, India, Japan, and many other countries all have pending court cases involving fraud and injuries due to the HPV vaccine. But you will not read about them in the U.S. mainstream media, which continues to report how safe the vaccine is.
Iowa State University Scientist Stands Trial for Fraud in HIV Vaccine: Cost to Taxpayers is Millions of Dollars
In June of 2014 HIV vaccine researcher Dong-Pyou Han confessed to fraudulently injecting samples of rabbit blood with human antibodies to make an experimental HIV vaccine appear to have great promise, and earn $19 million in grant money (funded by your tax dollars) from the National Institutes of Health (NIH).
So what was widely reported as "promising" research in developing a vaccination to prevent HIV turned out to be completely bogus. The Des Moines Register is reporting that Dr. Han has not even retained his own attorney, but is being represented by a public defender. They report:
Han was indicted in June on four felony counts of making false statements. National experts have said it's very unusual for a researcher to face criminal charges and the possibility of prison for scientific fraud. Usually, researchers caught faking results face professional punishments, such as being fired from universities and banned from participating in government financed projects. But authorities have said Han's fraud was particularly brazen and cost the government millions of dollars. (Source.)
This story was barely mentioned in the national mainstream media when it first broke in June, and coverage today is only at the local level.
Vaccine Manufacturer GSK Convicted of Fraud
In a case that has been covered by the mainstream media this year, British manufacturer GlaxoSmithKline (GSK) has been fined by the Chinese government for a record Rmb3bn (nearly $500 million) for bribing doctors to increase sales. The Wall Street Journal reports:
Five of the company's managers, including Mark Reilly, its former top China executive, were convicted of bribery-related charges and received suspended prison sentences, a Glaxo spokesman said Friday. Glaxo still might be fined in the U.S. and U.K., and it faces several continuing investigations around the world.

Chinese authorities began investigating the company in June 2013, laying bare a tale of intrigue involving a mysterious sex tape, whistleblowers, private investigators and a culture of bribery and graft in China's vast medical industry. (Source)
GSK markets three different vaccines in China: Hib vaccine, Influenza vaccine, Hepatitis B vaccine.
In a separate story not covered in the mainstream media earlier in 2014, the FDA warned that a GlaxoSmithKline plant in Canada that makes the flu vaccine FluLaval failed to take appropriate steps to prevent microbiological contamination of products, among other violations. (Source.)
Flu Vaccine Fraud in Europe
Europe's biggest drugmaker Novartis had its offices in Italy searched by police in June of 2014 for information related to two flu vaccines. This one was covered by the mainstream media as Bloomberg reported:
Italian police searched two of the company's sites as part of a probe into possible fraud related to the purchase of the vaccines by the Health Ministry, one for a pandemic in 2009, according to an e-mailed statement from the police. The police allege Novartis inflated the cost of an additive to the vaccines, known as MF59, by six-fold. (Source.)
Flu Injuries and Death Convictions in the U.S.
Most people in the U.S. do not realize that the U.S. government is forced to pay out damages to people injured and killed by vaccines on a regular, ongoing basis. The reason this is not generally known, is because the mainstream media never reports it, even though the information is public information posted every quarter on the U.S. Department of Health and Human Services' website.
We report these statistics and court convictions here at Health Impact News, and you can read the most recent report from 2014 here: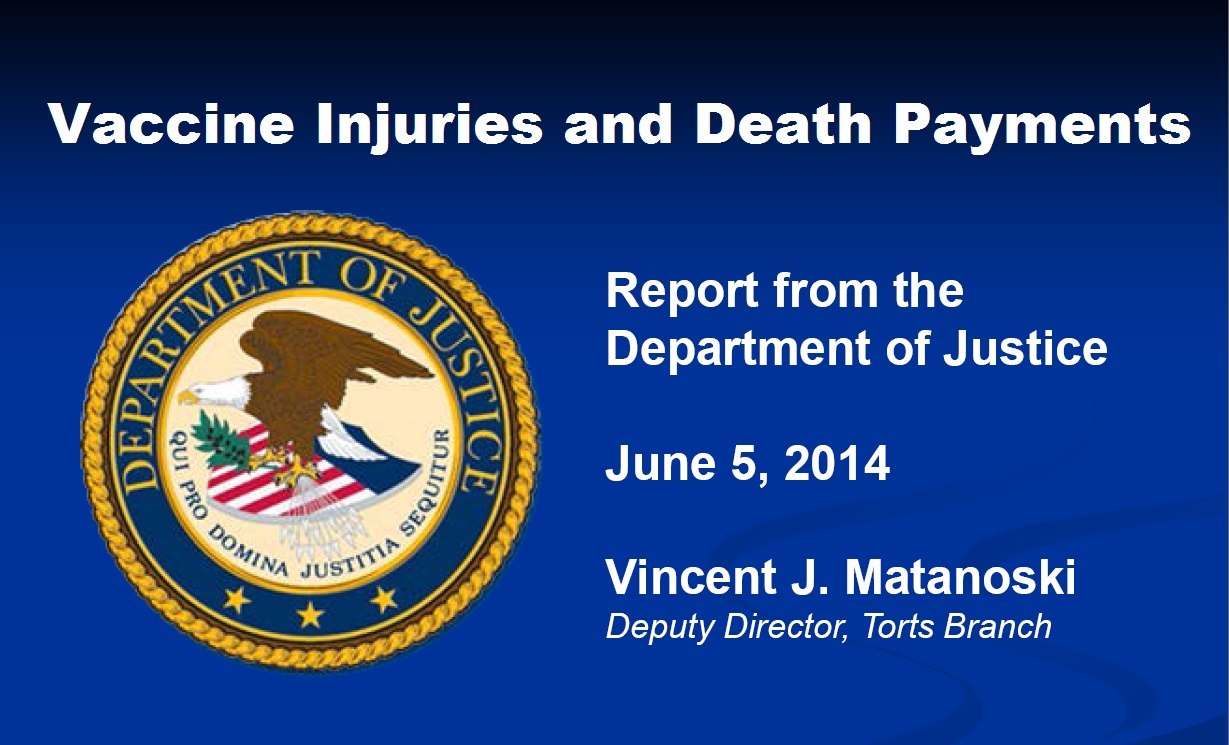 While judges are deciding to compensate victims of vaccine injuries and death in a court of law from lawsuits brought by the victims' attorneys, they are not technically "criminal" cases, because U.S. law gives total legal immunity to drug companies manufacturing and selling vaccines in the United States. If you are injured or die as the result of a faulty vaccine, you cannot sue the drug company. You need to sue yourself, by suing the U.S. government who uses your tax dollars to hire the best attorneys to defend the pharmaceutical industry. The court that hears these cases is a special "vaccine court," and not a regular civil court. Hence, much of what transpires is kept secret and hid from the public.
Actor Rob Schneider helped produce a video last year explaining just how this special vaccine court operates, and how difficult it is for families with vaccine damaged children to collect funds from it:
The vaccine industry responded recently by organizing a social media campaign against him, and pressuring State Farm to remove him from one of their ads.
If you are one of the few who are successful in litigating against the U.S. government, the settlement is paid out of a special trust fund called the Vaccine Injury Compensation Trust Fund.  This trust fund is funded by a tax revenue of $0.75 per vaccine, and not the pharmaceutical companies. The U.S. government is also the largest purchaser of vaccines, with the CDC alone spending more than $4 BILLION annually to purchase vaccines.
So as we consider the criminal activities and cases against pharmaceutical companies producing vaccines, let's not forget that the U.S. Government is very quietly settling cases for vaccine injuries and deaths on almost a daily basis, and most of those are for the very dangerous and toxic annual flu shot. These facts are public knowledge, but I have never seen them reported in the mainstream media.
U.S. CDC Vaccine Fraud
The biggest story of vaccine fraud in 2014, by far, is the scandal being reported by Dr. William Thompson, a senior vaccine scientist working for the U.S. Centers for Disease Control (CDC) who has become a whistleblower and retained one of the top whistleblower attorneys in the U.S.
This story has been almost completely blacked out of the U.S. mainstream media.
Dr. Thompson came forward to admit that key data was withheld from the public in a 2004 published study that supposedly showed there was no link between the MMR vaccine and autism. The data set that was left out of the study showed that African American boys had a higher rate of autism after receiving the MMR vaccine.
Since the mainstream media has completely blacked out this story, you can watch the report for yourself, and listen to Dr. Thompson's own voice in a recorded phone conversation with Dr. Brian Hooker:
Here are some quotes from Dr. Thompson of the CDC:
"Oh my God, I cannot believe we did what we did. But we did."

"It's the lowest point of my career, when I went along with that paper. I went along with this, and we didn't report significant findings."

"I am completely ashamed of what I did. I have great shame now. I was complicit, and I went along with this."

"I have great shame now, when I meet families with kids with autism, because I have been part of the problem."
These are some of the biggest stories of vaccine fraud and criminal activities so far in 2104, but they are just a sampling of what is going on in the vaccine industry on a daily basis. It is business as usual in a multi-billion dollar vaccine market, and nothing will change until the public wakes up and becomes outraged enough to take action.
If we don't act soon, this is going to get a lot worse. Already more and more people are waking up to these facts about corruption and fraud in the vaccine industry, and refusing to accept vaccines. The vaccine industry does not like losing market share, so they are using their incestuous relationship to the U.S. government to take away personal rights and liberties in medical choices. They would like mandatory vaccine policies in place at the local, state, and national levels, because their products cannot survive in a free market. They need government collusion and coercion for this market to survive. And so far, with the help of the mainstream media generally not reporting on the corruption and criminal activity, they have a willing and compliant public.
Saying NO To Vaccines
By Dr. Sherri Tenpenny
You have legal options!
More Info
FREE Shipping Available!
Dissolving Illusions: Disease, Vaccines, and The Forgotten History
by Dr. Suzanne Humphries and Roman Bystrianyk
Free Shipping Available!
Learn More
Published on September 30, 2014