Health Impact News Editor Comments:
Dr. Brian Hooker with A Shot of Truth reveals the corruption among federal autism research which claims environmental factors such as vaccines have no link to autism, showing how federal funding on autism research benefits the pharmaceutical industry and not families.
Families affected by vaccine injuries are not waiting for government solutions, however. All across America groups of parents and medical professionals are coming together to offer support and education over the autism epidemic problem that now affects one out of every 50 children in the United States.
Leslie Manookian of The Greater Good Movie has started a video series regarding the vaccine debate and this week she highlights the "Thinking Moms' Revolution" group.
Leslie Manookian:
Government health officials maintain the charade that they are trying to find a cause for autism when they have blown $1.6 billion over the past decade looking for a supposed genetic cause despite ample science showing that environmental factors are the culprit. See here and here.  Yes, autism rates have skyrocketed while the government flushes precious research dollars down the drain. In fact, a recent report found that potentially 84% of current US funded research into autism duplicates research already done or in process.
It is heart breaking to see so many children suffering from autism, but we want to be very clear that vaccine damage reaches far beyond the autism epidemic. Children today suffer from epidemics of chronic illnesses never seen before. Recent research found that 54% of US school children suffer from a chronic condition of some sort – from diabetes, to asthma, allergies, obesity, learning and speech delays, behavioral problems to, bowel disease, chronic fatigue, immune system dysfunction, and autoimmune diseases. And sadly, ample science links these conditions to vaccines. (Source.)
Top Federal Official Tells Congressional Hearing Vaccines Don't Cause Autism; Doesn't Disclose Family's Conflict of Interest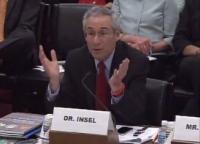 Tom Insel takes heat for rubber-stamping duplicative research; says "I'd love to find somebody who does it better."
In a recent Congressional hearing titled "Examining the Federal Response to Autism Spectrum Disorders," it was revealed that 84% of 1200 autism projects conducted over a five-year period had the potential to be duplicative, while some objectives were not funded by any government agency, leaving gaps in research.
This information came as no surprise to Congressman Bill Posey who asked tough questions of Dr. Insel – brother to a former vaccine developer and Chair of the Interagency Autism Coordinating Committee. IACC is a federal committee that advises on allocation of funding for autism research. Posey accused IACC of obstructing environmental research (which would include studying vaccination as a cause of autism), while allowing genetic research to be funded at 3-fold the recommendation in IACC's own strategic plan. Although Insel conceded that virtually no expert would doubt that environmental factors are important for autism, he still maintained that the disproportionate funding for genomic research was justified.
Insel had one staunch defender. Representative Gerry Connolly of Virginia lambasted the critique of the IACC and the federal autism projects. In 2009, Connolly was featured in a television commercial for the Centers for Disease Control (CDC), pushing both the H1N1 and seasonal flu shots, which were later revealed to be associated with an unprecedented spike in the number of miscarriages in the U.S. reported to the Vaccine Adverse Event Reporting System (VAERS).
Vaccine industry watchdog Dr. Brian Hooker expressed dismay that Dr. Insel stated an interest in partnering with the vaccine industry's lead spokesman Dr. Paul Offit – developer of Merck's Rota Teq vaccine. Insel praised the non-profit, "Autism Science Foundation," which lists Offit as secretary/treasurer in its 2012 990 form. According to Hooker, "ASF promotes the vaccine industry's agenda while posing as an autism charity. The red flag is that it expressly excludes research from being funded that examines a vaccine-autism link. What could be more anti-science than to exclude a line of scientific inquiry? It will be a tragic farce if ASF receives tax dollars."
Dr. Hooker, a PhD biochemist, was also contemptuous of Autism Speaks being cited by Insel as a potential research partner. "The world's largest autism charity has not only aligned with pharmaceutical interests, it actively encourages autism families to have their children vaccinated with a mercury-containing flu shot without educating them about the 'mercury-free' option," said Hooker.
It has been over a decade since former Senator Dan Burton – grandfather to a severely autistic boy who regressed into autism following his childhood vaccines – presided over the historic 2003 Congressional report that concluded, "Our public health agencies' failure to act is indicative of institutional malfeasance for self- protection and misplaced protectionism of the pharmaceutical industry."
Barry Segal, whose foundation sponsors the work of several scientists including Dr. Hooker, said "The next hearing is pivotal. We can't move forward until Brian Hooker is given the opportunity to testify about CDC malfeasance. As long as the truth remains buried in the CDC's whitewashed studies, future research will be based on the false assumption that there is no vaccine/autism link."
Brian Hooker, PhD, PE, has 15 years experience in the field of bioengineering and is an associate professor at Simpson University where he specializes in biology and chemistry. His over 50 science and engineering papers have been published in internationally recognized, peer-reviewed journals. Dr. Hooker has a son, aged 16, who developed normally, but then regressed into autism after receiving Thimerosal-containing vaccines.
The Focus Autism Foundation is dedicated to providing information to the public that exposes the cause or causes of the autism epidemic and the rise of chronic illnesses – focusing specifically on the role of vaccinations. To learn more, visit www.focusautisminc.org. A Shot of Truth is an educational campaign sponsored by Focus Autism.
Read the Full Press Release here.
See Also:
To understand the autism-vaccine debate one must look outside of the heavily Big Pharma funded mainstream media, such as this report by Emmy Award winning journalist Ben Swann:
The Canary Party has also produced an excellent video, narrated by Rob Schnieder:
Saying NO To Vaccines
By Dr. Sherri Tenpenny
You have legal options!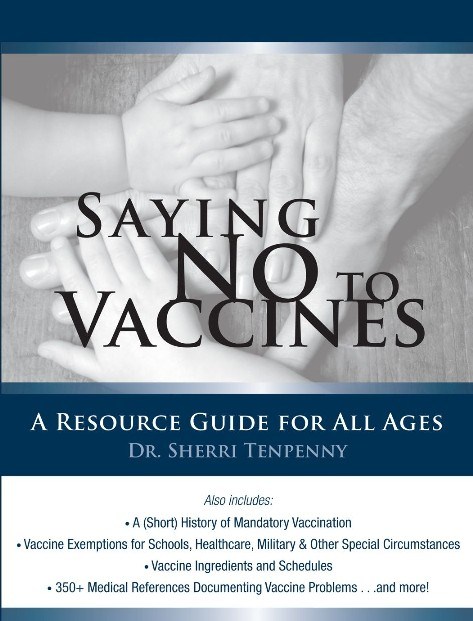 More Info
FREE Shipping Available!
Published on May 29, 2014