Health Impact News
"My word that I want to get out to every family who has a mentally ill patient: do NOT call the police department for help, because your son will probably get shot and killed, just like mine did."
These are the words of the mother of 18-year-old Keith Vidal, who was shot and killed by police when they responded to a call from the family for help with their schizophrenic son in Boiling Spring Lakes, North Carolina. The mother and other family members addressed the media after the Southport Police Department held a press conference, where the family reportedly was not invited.
Local news station WECT Channel 6 recorded the family's comments, which can be seen in the video below. They also made available the audio of the original 911 call made to police.
According to the family's report, as can be heard directly in the video below, their son was upset and had a small screw driver in his hand, which they could not get away. He was not threatening anybody with it, but they could not get it away from him. They were afraid he was going to hurt himself. A call was put in to the police to help them get the screw driver away from the boy. The mother reports that she wanted help getting him to the emergency room where he could receive medication.
The boy only weighed 90 lbs.  The boy was tasered first. Then two officers held the youth down with the father nearby, when a third police officer reportedly walked in, about 15 minutes after the first two policemen had arrived and were already dealing with the situation, and within 10 seconds reportedly stated. "We don't have time for this" and then drew his gun and shot the boy who was between the other two policemen.
The father jumped up and threw him back, and the policeman reportedly drew his gun again, and the father states he was afraid that he was going to be shot next: "I thought he was going to shoot me."
Is Law Enforcement Equipped to Deal with an Increasing Percentage of our Population with Mental Illness?
Sadly, this is a story that is not as rare as one might think, but is happening all across America far too often. This past summer a Down Syndrome man who was in a movie theater in Colorado and wanted to stay and watch the movie twice, was asked to leave and purchase another ticket. When he did not leave, three off-duty sheriff deputies working in the mall came in and removed him by force. With three officers on his back as he lay on his chest, he died by suffocation. His mother later reported that he did not carry money with him, and that he had placed 3 calls on his cell phone to 411, in what she believes was an attempt to try and purchase another ticket. (Source.)
As can be seen from the graphic above, there are millions of mentally challenged children that will be entering adulthood in the years to come. Are their lives worth less than those who are not mentally challenged? Will they be allowed due process of law, or will be they deemed "less valuable" members of society and not afforded the same rights as other U.S. citizens? Will law enforcement officers receive the kind of training they need to deal with those suffering from mental challenges?
Please watch this Public Service Announcement video below, produced as a class project by Natalie, who has a bother with autism. As a sibling, she has a unique perspective on her brother's future in America. In the video she comments about the "1 in 88" number of children with autism in the U.S., and asks: "What if the numbers increase yet again?"
They did. Last year they reached 1 in 50. What will they be this year, and next year?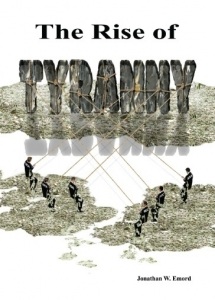 by Attorney Jonathan Emord
Free Shipping Available! 
Published on January 6, 2014