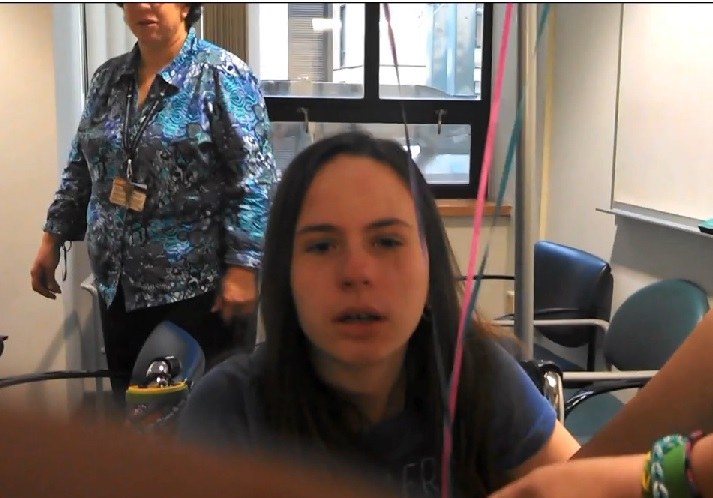 UPDATE 3/25/2014
Judge rules permanent custody of Justina to the Massachusetts Department of Children and Families.
UPDATE 3/17/2014
Justina Pelletier's story was carried by Dr. Phil today:
More here: http://www.drphil.com/shows/show/2193/
After the court hearing today, the family made the following Press Release:
"At the hearing today, Judge Johnston took under advisement the motions previously submitted by the Pelletiers, but refused to take action about Justina's care or custody."
"Despite Justina's worsening condition, Judge Johnston still has not enforced his ruling to transfer Justina's medical care to Tufts. Justina remains at the Framingham Foster Facility and has not been seen by a single doctor, apart from an emergency room visit on Saturday, due to her declining medical condition."
UDATE 3/2/2014
UPDATE 2/26/2014
The Blaze is reporting that Massachusetts lawmakers are getting involved in the Justina Pelletier case and have begun circulating a resolution asking the Department of Children and Families (DCF) to initiate the process of releasing the teenager to her parents. They are also reporting that  Justina Pelletier will not be transferred to foster care against her parents wishes after the Shared Living Collaborative declined to accept the girl due to the national attention surrounding the case, according the Boston Globe, which cites unnamed sources. Full Story here.
UPDATE 2/24/2014
The judge ordered Justina to foster care until the next hearing in March. Her mother Linda collapsed at the court house and had to be taken by ambulance to the hospital.
UPDATE 2/21/2014
From The Blaze:
"Children who are Wards of the state may be included in research that presents minimal risk…or greater than minimal risk with a prospect of direct benefit."
That's a line from Boston Children's Hospital's "Clinical Investigations Policy and Procedure Manual. It's the same facility that took over the care of 15-year-old Justina Pelletier against her parents' wishes last year and they continue to wonder why.
UPDATE 2/20/2014
Megyn Kelly of Fox News interviews Lou Pelletier. National exposure of this story is gaining.
http://youtu.be/NI-n9VokiXU
UPDATE 2/19/2014
After his appearance with Glenn Beck (below) The Massachusetts Department of Children and Families (DCF) filed a motion for Lou Pelletier, the father of 15-year-old Justina Pelletier, to be held in contempt of court. Story here.
UPDATE 2/18/2014
Lou Pelletier, Justina's father was interviewed by Glenn Beck yesterday:
Health Impact News
The Boston Globe and the West Hartford Patch are reporting that Justina Pelletier has finally left Boston Children's Hospital, where she was held captive against her desire, and the desire of her parents, for almost one year. She has not been returned to her parents, however. She has reportedly been transferred to the Wayside Youth and Family Support Network in Framingham, Massachusetts, and is still under the care of doctors at Boston's Children's hospital.
A judge ruled earlier this month (January 2014) that Boston Children's Hospital could not indefinitely detain Justina in their Children's Bader 5 psychiatric unit, and reportedly ordered that a plan be put into place to transfer her back to Connecticut, which is where her home is and where her parents live. It is also where Tufts Medical Center is located, the facility originally treating Justina before Boston Children's Hospital had the Massachusetts Child Protection Agency seize custody of Justina due to a disagreement over her treatment.
Beau Berman, a local investigative reporter from Fox CT, has covered this story in depth. You can watch all of his reports put together in one timeline here. In the video report below, he gives background information regarding Justina's case, showing how Boston Children's Hospital has a history of seizing children from parents.
You can also read the transcript here. Some excerpts:
For years Justina had been diagnosed mitochondrial disease, a relatively newly discovered disease, causing muscle pain and weakness.
But her condition was made worse when she caught the flu in February.
So at the recommendation of her doctor at Tufts Medical Center, Mark Korson, she was admitted to Boston Children's Hospital to see her gastro-intestinal specialist, Dr. Alex Flores, who had transferred from Tufts to BCH.
Yet almost immediately after admission, a different set of doctors came in with a different diagnosis, saying Justina had somatoform disorder, a mental problem, not mitochondrial disease.
When her parents, Lou and Linda, disagreed with the diagnosis and asked to discharge their daughter, security blocked the hospital doors.
Lou even called 911 and Boston Police showed up.  But it was too late.
"They came in, and they said we cannot take Justina out of the hospital. They called DCF, and they filed a 51A," says Linda Pelletier.
The 51A form allowed DCF to get custody of Justina.
Internal hospital documents obtained by Fox CT revealed that the hospital accused the Pelletiers of medical child abuse.
Ten months later, Justina is still hospitalized and all along her parents have been fighting for her custody in a Massachusetts courtroom.
Perhaps most troubling is that our continuing investigation has shown the Pelletiers aren't alone.
We found that Massachusetts mother Jessica Hilliard's son, Gabriel, also has been diagnosed with mitochondrial disease and that in 2011, his parents were also accused of medical child abuse by Boston Children's Hospital.
"My husband and I knew what was happening. As soon as we understood that child protection was getting involved, we immediately understood that they were going to try to take custody from us because that was their pattern. By this point I had met several families who had gone through this at Boston Children's," says Hilliard.
Fox CT spoke exclusively with Higgins, a registered nurse who worked at Boston Children's Hospital from 2005 to 2010.
She says she resigned after blowing the whistle on what she says was inappropriate conduct on the psychiatric floor, which is called "Bader 5."
"What I saw was a strong motivation by these very young clinicians to be in total control of a treatment of a child.  Once they're in DCF custody, they no longer have the difficulty of getting the parents on board," says Higgins. Read the Full Story Here.
Mr. Berman also reported on his Facebook page that he met another man attending the Justina Pelletier rallies outside the courthouse in Boston who claims the same thing happened to his child, and that the hospital ended up killing his 2-year-old son who had previously been healthy and fed only organic food. Here is his statement on video:
From the YouTube description:
Testimony of David Silver on how his healthy 2 y.o. son was removed by the MA Dept. of Children & Families with fraudulent mental illness diagnoses on the parents, and how his son was eventually killed in October 2013 after harmful forced-medical treatment and psychiatric drugs at three Harvard hospitals: Boston Childrens, Brigham & Women's and Massachusetts General Hospital.
David wants "the whole world" to know what happened to his son, so we are publishing his video here.
A follower on Mr. Berman's Facebook page pointed out another published story from 2008 where a child died while in custody at Boston Children's Hospital, after being removed from her parents over a disagreement on medical treatment. See: Girl In Medical Dispute Dies
In this current case with Justina Pelletier, The Boston Globe is reporting that the judge ordered that Justina should be returned to the jurisdiction of Connecticut, where the parents hope she will be returned to her original doctor and original treatment where they will regain custody. However, the judge reportedly also ruled that the parents will have to follow a "code of conduct" imposed by doctors:
This transitional period will provide time for the Massachusetts Department of Children and Families, which holds custody of the teenager, to discuss possible transfer of her case to their counterparts in Connecticut. It will also be a test for Justina's parents, who have a long history of clashing with providers over their daughter's care. In addition to the development of a care plan, the court has requested the establishment of a code of conduct that Justina's parents, among others, will have to abide by. Source.
While Justina's case has gained national attention, mainly due to a local investigative reporter from her home town (Beau Berman), sadly this kind of "medical kidnapping" is happening all across the United States, where medical doctors employed in the pharmaceutical-driven medical care system are deemed by government agencies to have more authority over the medical care of children than the child's own parents.
Unless a local media source picks up the story, or it happens to someone you know, most Americans are totally unaware that this is happening quite frequently in the United States. Medical tyranny is sadly a reality today in the U.S., and if you disagree with a medical professional over the care of your child, you face losing custody of your child.
Justina's case is especially bizarre, because the parents were actually following a treatment plan for her that was recommended by doctors in their home town. Their only "crime" was to disagree with the doctors at Boston Children's Hospital and want to discharge her and take her back to her original doctors.
Boston Children's Hospital is part of the Harvard Medical School system, with strong ties to funding from the federal government. Boston Children's Hospital "is home to the world's largest research enterprise based at a pediatric hospital. More than 1,100 scientists, including nine members of the National Academy of Sciences, 11 on-staff members of the Institute of Medicine and 9 members of the Howard Hughes Medical Institute." (Source).
Could it be that Justina is part of a medical research trial? We reported the story of Sarah Hershberger in 2013, the 10-year-old Amish girl who fled the U.S. with her parents to avoid forced chemotherapy treatments. A court had awarded custody of Sarah to a nurse at Akron Children's Hospital. Her parents claim that their daughter was part of an experimental chemo drug trial, to which they had not given consent (story here).
For now, Justina's parents, who are under a gag order by the judge ruling in this case, seem hopeful that their daughter has left Boston Children's Hospital and may end up back in Connecticut. It would appear, however, that Boston Children's Hospital will not give up their custody of Justina so easily, as there are reports that Boston Children's Hospital and DCF do not plan on giving up custody of Justina until she becomes 18 years old. All concerned parents across America should be asking "why?"
by Attorney Jonathan Emord Free Shipping Available! 
by Dr. Robert Mendelsohn, MD Free Shipping Available!
Published on January 22, 2014