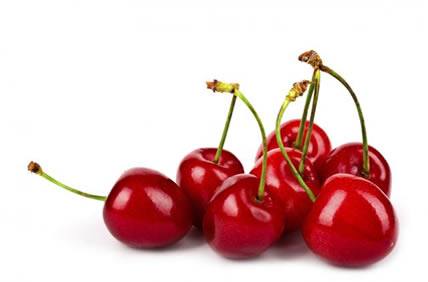 By Marco Torres
PreventDisease.com
Tart cherries are known to have among the highest anti-inflammatory content of any food in the world. Daily consumption of tart cherry juice or concentrate leads to a reduction in markers of inflammation and oxidative stress and allows people with specific diseases to manage their pain long-term without medications.
Michigan researchers had previously shown that a cherry-enriched diet not only reduced overall body inflammation, but also reduced inflammation at key sites (belly fat, heart) known to affect heart disease risk in the obese.
"Chronic inflammation is a whole body condition that can affect overall health, especially when it comes to the heart," said Mitch Seymour, PhD, at the University of Michigan. "This study offers further promise that foods rich in antioxidants, such as cherries, could potentially reduce inflammation and have the potential to lower disease risk."
Two daily doses of the tart cherry concentrate were associated with significantly lower levels of interleukin-6 (IL-6) and high-sensitivity C-reactive protein (hsCRP), compared to placebo, according to findings published in Nutrients.
"This is the first study to investigate the impact of Montmorency cherries on systemic inflammatory and oxidative stress induced by a series of metabolically challenging cycling bouts," wrote scientists from Northumbria University (England), the University of Stirling (Scotland), and the University of Ulster (Northern Ireland).

"Despite both groups demonstrating a similar drop off in performance and no differences in time trial performance, the results show that both oxidative stress and inflammatory responses were attenuated with Montmorency cherry concentrate supplementation versus placebo."

"With millions of Americans looking for ways to naturally manage pain, it's promising that tart cherries can help, without the possible side effects often associated with arthritis medications," said Kerry Kuehl, M.D, Dr.PH., M.S., Oregon Health & Science University, principal study investigator. "I'm intrigued by the potential for a real food to offer such a powerful anti-inflammatory benefit — especially for active adults."
Darren E. Huxley, MD says that natural alternatives to pain medications are proving effective without unwanted side effects. "In this case we have cherries, another potent, natural antioxidant proving to be as, if not more, effective than pain medications because of the ability for sustained long-term use without side effects in common anti-inflammatory drugs."
Promote Melatonin
Tart cherries have also been shown to contain naturally high levels of melatonin, a key compound in the human sleep-and-wake cycle, and new research in the European Journal of Nutrition confirms that melatonin from tart cherries is absorbed by humans.
In 2001, Burkhardt et al. even observed that the Montmorency variety, in particular, contains about six times more melatonin than the Balaton variety. Only one other study has focused on Montmorency cherry juice and sleep parameters.
Go Red Instead to Manage Pain
Along with providing the fruit's bright red color, the antioxidant compounds in tart cherries — called anthocyanins — have been specifically linked to high antioxidant capacity and reduced inflammation, at levels comparable to some well-known pain medications.
Previous research on tart cherries and osteoarthritis conducted by researchers at Baylor Research Institute found that a daily dose of tart cherries (as cherry extract) helped reduce osteoarthritis pain by more than 20 percent for the majority of men and women. And the same compounds linked to cherries' arthritis benefits have now shown promise for athletes and sports recovery to help relieve muscle and joint soreness.
According to Director of Sports Nutrition at the University of Pennsylvania Medical Center for Sports Medicine, Leslie Bonci, MPH, RD, CSSD, LDN, who has incorporated tart cherries into the training menu of both her professional athletes and active clients as a natural and easy way to manage pain that also tastes great, "Why not eat red when there's so much science to support the anti-inflammatory benefits of this super fruit? And for athletes whose palates prefer the tart-sweet flavor profile of tart cherries, it's the optimal ingredient."
Study Details
The new study, led by Phillip Bell from Northumbria University, found that the tart cherry concentrate may be of added importance in sports where "back-to-back performances cause appreciable levels of inflammation and oxidative stress", such as high intensity cycling.
Bell and his co-workers included 16 trained cyclists in their study, and assigned them to two doses per day of 30 mL of the cherry concentrate or placebo for seven days. The cyclists underwent a 109-minute simulated, high-intensity road cycling trial on days 5, 6, and 7.
Results showed that LOOH, a marker of oxidative stress, was almost 30% lower in the cherry group after the third trial than in the placebo group.
In addition, markers of oxidative stress were significantly lower in the cherry group than the placebo group, which, "provides further support for the use of Montmorency tart cherry concentrate in the acceleration of recovery", said the researchers.
"This study is the first to demonstrate attenuated oxidative stress and inflammation responses following supplementation with Montmorency tart cherry concentrate in an exercise task that induced stress almost exclusively from metabolic pathways," they added. "We postulate that the observed reductions in oxidative stress and inflammation are associated with a greater ability to combat inflammation and the subsequent cascade of oxidative stress."
Sports Nutrition Market
The study supports a number of other studies reporting the potential benefits of cherry, and tart cherries, in particular. Indeed, a previous study (Journal of Nutrition, 2006, Vol. 136, pp. 981-986) reported that daily consumption of 45 cherries could reduce circulating concentrations of inflammatory markers, with the researchers proposing that the flavonoids and anthocyanins in the cherries exert an anti-inflammatory effect and may lessen the damage response to exercise.
According to the researchers, a 30 mL dose of the tart cherry concentrate used in the new study is equivalent to about 90 whole Montmorency tart cherries. The concentrate is reported to contain 9 mg/mL of anthocyanins.
Source:
mdpi.com
Published on August 5, 2014