Health Impact News Editor
It was recently announced that the government of India has finally admitted that the deadly Pentavalent vaccine had indeed been linked to the deaths of children. The five-in-one Pentavalent vaccine contains five vaccines for: Diphtheria, Pertussis, Tetanus, Hepatitis B, and Hib Meningitis.
The Office of Medical and Scientific Justice (OMSJ) reported that 54 deaths and 135 hospitalizations have been recorded as a result of the vaccine.
The Pentavalent vaccine is currently manufactured by U.S. pharmaceutical company Johnson & Johnson and British manufacturer GlaxoSmithKline. While the controversial vaccine receives almost no mention in the U.S. media, it is a hot topic in the countries where it has been introduced in past few years. Many doctors oppose the vaccine due to the serious adverse effects. In India, there is a lawsuit in place filed with the India Supreme Court. OMSJ reports:
In 2010 when the National Technical Advisory Group on Immunization (NTAGI) recommended Pentavalent's introduction in the country's health program, many public health experts criticized it. Two of NTAGI members, a policy adviser and a bureaucrat  filed a PIL in Supreme court against Pentavalent's introduction in UIP. The PIL clearly Stated-
The plan to introduce Pentavalent has been chalked out ignoring Minz study that suggests that the number of  Hib Meningitis cases is too low in India for government to introduce a vaccine to eradicate it.
Figures obtained from countries where Pentavalent vaccine has been in use for years, show that there is no actual benefit of this vaccine in preventing diseases.
 Efficacy of Pentavalent is doubtful as it has many side effects and has caused deaths in many developing countries. The vaccine is being introduced in India's UIP under WHO and GAVI's influence, ignoring facts and figures about its need in the and safety profile.
The government should first test its effects on children without combining it with DPT and Hepatitis B vaccines.
OMSJ goes on to report that the Pentavalent vaccine has been linked to deaths in other developing countries as well, where it has been mostly banned as a result:
Sri Lanka started use of Pentavalent in 2008, but suspended it soon after the deaths of 5 children reported after  vaccination.
Bhutan started it in 2009 and stopped its use after 9 deaths. Though Bhutan started using it again as WHO intervened and declared Pentavalent safe, but it again caused 4 deaths. Bhutan stopped using it permanently.
Three children died in Pakistan soon after introduction of Pentavalent in its immunization program. A healthy child died within half an hour of vaccination.
Vietnam started use of Pentavalent vaccine Quinvaxam in 2010 and stopped its use in March 2013 after reporting of 12 deaths and 9 hospitalizations from October 2012 to March 13.
Yet many countries reintroduced Pentavalent in their immunization program as investigation teams led by WHO, found no role of vaccine in deaths and Pentavalent was given a clean chit every time. Surprisingly, in almost all the cases in developing nations, babies' deaths were never associated with the vaccine. They were either labeled as  unclassifiable or declared SIDS, co-incidental deaths or deaths due to co-morbid conditions. (Source.)
Vaccine Industry Cannot Survive in a Free Market – Government Funding and Mandates Needed
Because the horrors of this vaccine are happening outside the U.S. in developing countries, the pro-Pharma U.S. media does not cover these stories and most Americans are clueless as to how the vaccine industry operates.
We have reported in other stories how the vaccine industry in the U.S. blackmailed Congress in 1986 by threatening to stop manufacturing vaccines if they were not granted legal immunity to injuries and deaths caused by vaccines. In the 1980s there were so many lawsuits against pharmaceutical companies due to these adverse effects, that it was becoming unprofitable for Big Pharma to keep marketing them. So Congress obliged and passed a law giving them total legal immunity in the market place, where their products were failing.
Today, if you want to recover damages due to a vaccine injury, you have to go to a special vaccine court that is funded by taxpayer dollars, and fight against government lawyers also funded by your tax dollars, outside of regular civil court. Oh, and by the way, most of these vaccines are also developed by federal grants to the pharmaceutical industry, with your tax dollars going to medical universities tied into large medical facilities. Then, after the FDA approves the vaccines, the U.S. government buys up most of them with your tax dollars as well, so that public health programs can distribute them to those who may not be able to afford them.
This absurd system admittedly claims that vaccines are unavoidably unsafe, and that those injured are sacrificed for "the greater good" as defined by medical authorities and the U.S. government. This law was upheld by the U.S. Supreme Court in 2011. Here are two excellent videos that clearly illustrate how the system in the U.S. works to prop up the vaccine industry:
Internationally, the system works a bit differently, but it is still dependent on government funding and mandates. Think of it as the pharmaceutical international marketing plan, because the U.S. market is already saturated and opposition to vaccines is growing in the U.S. The manufacturers of the vaccines are, for the most part, the same players.
So internationally, in developing countries, the World Health Organization (WHO) basically replaces the role of the FDA in the U.S. and approves the vaccines. Then, the United Nations steps in through the United Nations Children's Fund (UNICEF) and other organizations and buys up the vaccines from the pharmaceutical companies to distribute to those who would not otherwise buy the vaccines. The governments step in, with the recommendation of WHO, and mandate that people get the vaccines. Taxpayers again foot the bill from member countries who are part of the United Nations, the largest contributor of public tax funds being the United States of course.
Now, the pharmaceutical companies did run into some problems recently with expanding their international market. The UN was running out of money to send to them to buy the vaccines, and so demand for vaccines fell due to economic pressures. But a vaccine savior stepped in to save the day for the pharmaceutical companies: Bill Gates.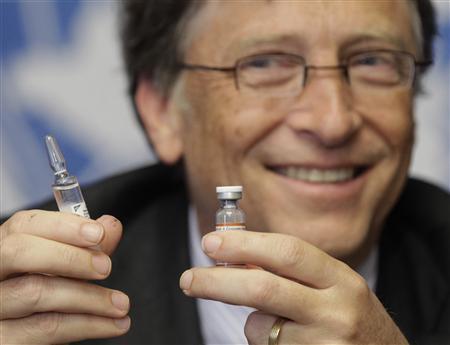 Bill Gates, who this year (2014) reclaimed his crown as richest man in the world by Forbes, was convinced that vaccine rates around the world were too low, so he was persuaded to start a private non-profit company to work together with WHO called GAVI. The Pentavalent vaccine is a product of GAVI. (Source)
So all is well again for the pharmaceutical companies in the international vaccine market, thanks to Bill Gates.
But there are new troubles on the horizon for the vaccine manufacturers. For some reason, parents don't like seeing their children die from vaccines. In the U.S., they can't do much about it except tell their story on the Internet. Some have the fortitude and finances to try and fight the U.S. government in court, but not many.
Not so outside the U.S., however, where pharmaceutical companies do not have legal immunity. And the lawsuits are mounting up. Doctors and government officials outside of the U.S. are beginning to wake up and understand what is really going on and you can see it in the foreign media. All of this is blacked out the Pharma-dominated U.S. media, however. But we will be sure to bring you the stories here at Health Impact News.
See Also:
Sources:
After 54 Infant Deaths, Gov't Finally Admits Pentavalent Involved – Office of Medical and Scientific Justice
India's Biological E pentavalent vaccine takes on GSK, J&J – FierceVaccines (Industry newsletter)
Origins of GAVI – gavialliance.org
Vaccine Epidemic
How Corporate Greed, Biased Science, and Coercive Government Threaten Our Human Rights, Our Health, and Our Children
by Louise Kuo Habakus and Mary Holland J.D.
FREE Shipping Available!
More Info
Published on March 9, 2014