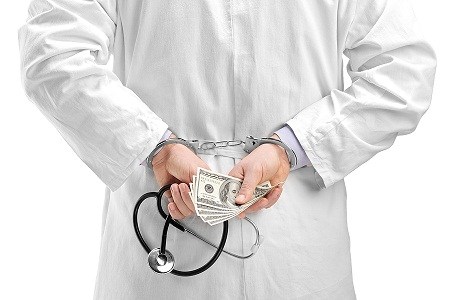 Health Impact News Editor Comments:
This editorial written and published in the British Medical Journal does a good job of explaining why criminal settlements against pharmaceutical companies do NOT stop criminal behavior in the pharmaceutical industry.
20% of all corporate crime is now committed by pharmaceutical companies, and those are just the cases that are litigated and settled. The problem with corruption in scientific studies that are used to approve drugs do not even come up in litigation.
As Sidney M Wolfe points out in this article published last month in the British Medical Journal, the fines and penalties levied against corporations are just to0 small, and they are simply considered as part of the "cost of doing business" which lead to higher drug prices passed on to the consumers.
Escalating criminal and civil violations: pharma has corporate integrity? Not really
by Sidney M Wolfe
British Medical Journal
Excerpts:
Are criminal and civil penalties of hundreds of millions of dollars an important deterrent to law breaking by international drug companies?
Further, would external monitoring in the form of US government mandated corporate integrity agreements (CIA)1 to prevent recurrences of such illegal activities, lasting five years after being signed, be an additional deterrent? Yes in both cases, but only if the size of the penalties outweighed the companies' gains while violating the laws and only if enforcement of the CIAs were effective. Unfortunately, neither is the case. This evaluation is based on the recent, sharp escalation in the frequency with which many giant multinational drug companies repeatedly engage in illegal criminal and civil activity after previously paying enormous fines and despite monitoring under CIAs. It seems that for some companies, commission of such criminal and civil violations has become part of their business models.
In the past three and a half years alone (2009 to mid-2012), criminal and civil penalties have totaled $18bn, well over half the total for the past 21 years. GlaxoSmithKline (GSK) topped the list of repeat offenders with total criminal and civil penalties of $7.56bn since 1991, comprised six different federal settlements and an additional number with states. Pfizer was the second highest with $2.96bn. Overall, since 1991, 11 other companies also had criminal or civil settlements or both exceeding $50m on at least two occasions.
An analysis of several of the repeat civil payments and criminal penalties by GSK and Pfizer based on publicly available government documents illustrates the failure of such large penalties and the parallel failure of the accompanying CIAs to curb such behavior.
These escalating patterns of repeated criminal violations and civil settlements to resolve serious allegations of civil lawlessness hardly bespeak corporate integrity for GSK, Pfizer, or the many other companies who are also repeat offenders. We are forced to conclude that neither the current level of penalties nor corporate integrity agreements are effective and that there is a pathological lack of corporate integrity in many drug companies.
Read the Full Article Here. (Subscription may be necessary.)
In this 2008 report, CBS's Sharyl Attkisson discusses the conflicts of interest in those supposedly 'independent' sources that back the government's assertion that vaccines and autism are not related. AAP, Every Child by Two and Dr. Paul Offit all receive hundreds in thousands of dollars in funding from Pharmaceutical companies that make vaccines, they do not disclose how much money they make, and yet claim that these huge sums of money in no way influence their stance on vaccine safety. Katie Couric was the news anchor in this report, and therefore is obviously familiar with these conflicts of interest in the pharmaceutical industry.
Free Shipping Available for this book!
Learn More
Published on January 2, 2014