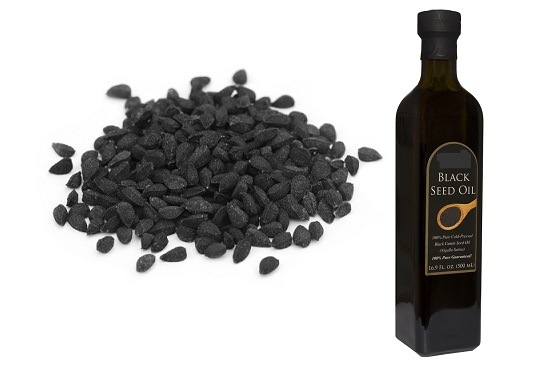 by John P. Thomas
Health Impact News
Black cumin seeds and black cumin seed oil have been widely used for reducing blood pressure, cleansing and tonifying the liver, reducing fluid retention, supporting healthy digestion, treating diarrhea, stimulating the appetite, reducing pain, and treating skin disorders. Studies have confirmed numerous pharmacological benefits. Black cumin seeds are also called Nigella sativa seeds. These seeds have anti-diabetic and anti-cancer properties. They can be used to regulate the immune system, reduce pain, kill microorganisms, reduce inflammation, inhibit spasmodic activity, and open the tiny air passages in the lungs. Black seed oil protects the liver, the kidneys, and the stomach/ digestive system. It is a powerful antioxidant. [1]
This article will review some of the recent studies that show how black cumin seed oil can benefit your health. The previous black cumin seed article specifically discussed the use of black cumin seed oil for cancer treatment. (See: Black Seed Oil Cures Many Cancers According to Numerous Studies)
I will be reporting on several recent black cumin seed studies covering other important health topics. I will review studies that investigated the use of black cumin seed oil for helping with obesity, balancing blood chemistry, reducing inflammation, supporting healthy immune system functioning, and alleviating nasal dryness and discomfort.
Black Cumin Seeds are Highly Ranked as a Powerful Herbal Medicine
Researchers from Saudi Arabia recently reviewed scientific research on the benefits of using black seeds as an herbal medicine. They discussed the miraculous healing power of Nigella sativa and its prominent position among herbal medicines. Its high ranking is based on scientific evidence. Most of the therapeutic properties of this plant are linked to thymoquinone which is the major bioactive component of the essential oil contained in the seeds and in black cumin seed oil. [2]
Black Seeds are Useful as an Antioxidant and Anti-Inflammatory Treatment
Black seeds have been employed for thousands of years as a spice and food preservative. Black seed oil and seed constituents have shown potential medicinal properties in traditional medicine. Scientific research provides clear evidence that both the oil and its active ingredients, such as thymoquinone, possess antioxidant effects. This is accomplished by enhancing the oxidant scavenger system, which has a detoxifying effect. The oil and thymoquinone have potent anti-inflammatory effects on several experimental models of inflammation. These include: encephalomyelitis (inflammation of the brain and spinal cord after infection) colitis (inflammation of the colon), peritonitis (inflammation of the membrane which lines the inside of the abdomen and all of the internal organs), edema (the swelling of soft tissues as a result of excess fluid accumulation), and arthritis. [3]
Black seed oil and certain of its active ingredients showed a beneficial ability to regulate the immune system. It supported T-cell and natural killer cell-mediated immune activity. Most importantly, both black seed oil and its active ingredients expressed antimicrobial and anti-tumor properties toward different microbes and cancers. [4]
Many diseases involve inflammation, for example, cystic fibrosis, allergies and cancer. The free radicals produced during inflammation can induce gene mutations and modifications of cancer related proteins. The seeds and the oil have many pharmacological effects including antibacterial, antifungal, anti-tumor, analgesic and antipyretic activity. This study investigated the anti-inflammatory and antioxidant activity of black seeds used with acute inflammation. An animal model was used. They induced a strong inflammatory response and then measured the different effects for the group that were treated with black seed oil and those who were not treated. They concluded that black seeds had therapeutic and antioxidant effects. [5]
Black Seeds are Useful for Treating Obesity
Obesity is closely associated with an increased incidence of cardiovascular diseases, cancer, insulin resistance, and immune dysfunction. Thus obesity-mitigation strategies should take into account these secondary pathologies in addition to promoting weight loss. Recent studies indicate that black cumin (Nigella sativa) has cardio-protective, anti-cancer, anti-diabetic, antioxidant, and immune-modulatory properties. Given the growing interest in and the use of functional foods and nutraceuticals, as well as the increase in obesity and chronic diseases worldwide, further research into the therapeutic/preventive effects of black cumin will be beneficial. [6]
Researchers identified obesity as being the most prevalent health problem affecting all age groups. It leads to chronic heart disease, diabetes mellitus type 2, and stroke. Researchers reviewed the abstracts for 33 scientific articles related to obesity, herbal medicine, and traditional medicine. They found that black seeds, green tea, and black Chinese tea had anti-obesity effects. [7]
A study conducted by Iranian researchers examined the effects of long-term Nigella sativa supplementation and the use of aerobic training on the lipid profile and oxygen consumption of sedentary overweight women. This was a randomized double-blind controlled trial. 20 sedentary overweight females were divided into two groups and assigned to black seed supplementation or a placebo for the 8 weeks of the study. Both groups participated in aerobic training 3 times per week. Blood lipids and VO2 max were determined before the experiment began and at the end of 8 weeks. VO2 max is a measurement of the maximum amount of oxygen that a person can use when exercising. Higher levels of oxygen consumption are associated with higher levels of physical fitness. The women who took the placebo and who did aerobic training experienced reductions in total cholesterol and LDL cholesterol, and increased VO2 max. The women who used Nigella sativa supplementation and aerobic training experienced reductions in total cholesterol, triglyceride, low-density lipoprotein, and body mass index (ratio of fat to muscle). The women lost body fat and gained muscle. Black seed supplementation also increased high density lipoprotein and VO2 max. The researchers concluded that the combination of 8-weeks of aerobic training and Nigella sativa supplementation had a synergistic effect, and the combination of black seed consumption and aerobic training produced the greatest health benefit. [8]
Black Seeds are Useful for Nasal Dryness and Nasal Discomfort
Turkish researchers worked with geriatric patients who had nasal dryness and related nasal symptoms. They compared the effects of using black seed oil in the nasal passages of the nose to the use of a salt water solution. Researchers found that nasal dryness, obstruction and crusting improved significantly with the use of black seed oil compared to salt water treatment. They noted that there was no significant difference between the effect of black cumin seed oil and salt water on nasal burning and itching. Researchers concluded that black seed oil is a better alternative for treating nasal mucosal symptoms due to aging. [11]
Black cumin seeds have been used in the Middle East for thousands of years, and it is easy to see why the seeds and oil are gaining popularity today in Western countries as well.
References
[1] Ahmad A1, Husain A, Mujeeb M, Khan SA, Najmi AK, Siddique NA, Damanhouri ZA, Anwar F, Kishore K.; "A review on therapeutic potential of Nigella sativa: A miracle herb," Asian Pac J Trop Biomed., 2013 May, PMID: 23646296.
[2] IBID.
[3] Salem ML.; "Immunomodulatory and therapeutic properties of the Nigella sativa L. seed," Int Immunopharmacol. 2005 Dec, PMID: 16275613.
[4] IBID.
[5] Entok E1, Ustuner MC, Ozbayer C, Tekin N, Akyuz F, Yangi B, Kurt H, Degirmenci I, Gunes HV.; "Anti-inflammatuar and anti-oxidative effects of Nigella sativa L.: 18FDG-PET imaging of inflammation," Mol Biol Rep. 2014 May, PMID: 24474661.
[6] Vanamala J1, Kester AC, Heuberger AL, Reddivari L.; "Mitigation of obesity-promoted diseases by Nigella sativa and thymoquinone," Plant Foods Hum Nutr. 2012 Jun, PMID: 22477645.
[7] Hasani-Ranjbar S1, Jouyandeh Z, Abdollahi M.; "A systematic review of anti-obesity medicinal plants – an update," J Diabetes Metab Disord., 2013 June 19, PMID: 23777875.
[8] Farzaneh E1, Nia FR2, Mehrtash M2, Mirmoeini FS3, Jalilvand M1.; "The Effects of 8-week Nigella sativa Supplementation and Aerobic Training on Lipid Profile and VO2 max in Sedentary Overweight Females," Int J Prev Med., 2014 February, PMID: 24627749.
[9] Oysu C1, Tosun A1, Yilmaz HB2, Sahin-Yilmaz A3, Korkmaz D1, Karaaslan A1.; "Topical Nigella Sativa for nasal symptoms in elderly," Auris Nasus Larynx. 2014 Jun, PMID: 24398317
Published on July 19, 2014