UPDATE 11/25/2014
Hope Assisted Living & Memory Care in Dacula, Georgia has contacted Health Impact News via their attorney. Here is their statement:
All residents of Hope Assisted Living & Memorial Care did not receive flu shots on November 7, 2017 (sic). The only residents receiving the flu shots were done with the consent of the resident and his or her family. None of the residents receiving shots developed fevers or died. The only residents at Hope Assisted Living & Memorial Care who died during the period from November 7, 2014 to November 17, 2014, were hospice patients who did not receive flu shots.
As you can read in the original story below, Hope did originally issue a public reply via their Facebook Page, which we published immediately. Multiple attempts to ask for more clarification regarding their statement via their Facebook Page were deleted, and they eventually took down their Facebook Page. We now have their full statement, as quoted above.
Health Impact News has also been contacted on behalf of alleged family members who died at Hope Assisted Living & Memory Care during the period in question. One alleged family member who contacted us via email, stated that a family member did receive the flu shot on the date reported, and died shortly thereafter. However, the family does not wish to take their story public, stating:
We fear being sued for defamation and libel. Several prominent Atlanta attorneys and doctors have their loved ones at the community we certainly don't have the means or ability to defend ourselves against them.
Health Impact News does not have the ability nor the legal authority to investigate claims made by anyone, whether employees, family members, or the assisted living center itself. We are simply reporting what we have been told, and have reported everyone's side of the story.
The flu shot is recommended by the CDC for senior citizens, so there is nothing implied here that Hope Assisted Living and Memory Care has done anything illegal, or different from what other Senior Care centers around the U.S. are doing at this time of year. The decision regarding flu vaccinations is something that every family and person needs to research and make their own decision in terms of risks and benefits.
Original Story from 11/16/2014
Health Impact News
Health Impact News has just received urgent information from health care workers at Hope Assisted Living & Memory Care in Dacula, Georgia. According to our informants, on Friday November 7, 2014, all of the residents received flu vaccinations. They reportedly developed a fever immediately, and within one week, five of the residents died.
According to its website, Hope Assisted Living & Memory Care specializes in Alzheimer's and Dementia care. Our sources indicate that 5 fatalities in one week is extremely unusual, as the center "maybe loses a couple of people every 6 months or longer to Alzheimers." One source stated to Health Impact News:
The facility is not saying they are related to the flu shot but we all know they are, and they know they are.
Healthcare workers across the U.S. fear to speak out against injuries due to vaccines, as it usually costs them their job. If you know anyone with family members at this facility near Atlanta Georgia, please demand an investigation immediately.
Hope Assisted Living & Memory Care
Some facts about the flu shot:
UPDATE 11/17/2014: Local media in Atlanta has contacted us and are interested in interviewing family members of those who died at Hope Assisted Living & Memory Care last week. If you are a family member of a resident at Hope Center that has suffered or died since last week's flu shot, please contact us.
Hope Assisted Living & Memory Care has issued a statement threatening legal action on their Facebook Page: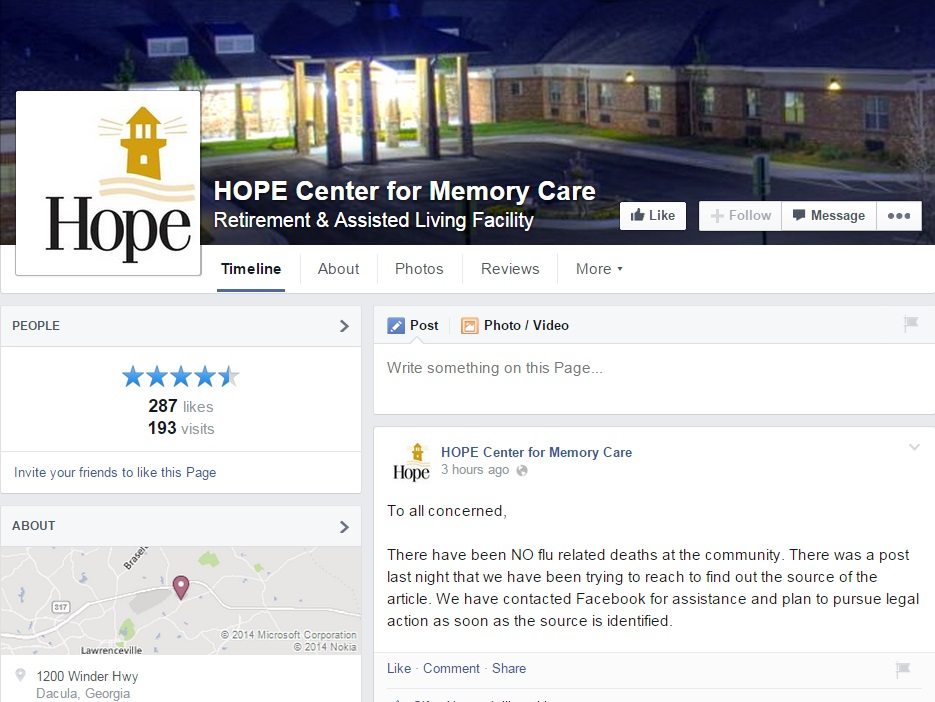 (UPDATE 11/18/2014: They have apparently removed their Facebook Page now.)
See Also:
Reader comments from our Facebook Page (not from the assisted living center mentioned in this story):
My grandmother was unresponsive less than 15 hours after her flu shot and died just a day after she got it. NO one should be getting this! – Jamie
That's how my grandmother died. She was healthy but living in extended care. 100 years old – never had a flu shot in her life. The facility decided to give shots one year without consent. She died shortly afterward. Very tragic way to go for someone who took such good care of themselves all their life 🙁 – Kim
I had an elderly client who at 70 was paralized by the flu shot. It took him 5 years to get out of the wheel chair. He had a paraplegic son to take care of and it was really hard on him. At 80 he was still planting a garden. I myself have only had one flu shot and was sick the whole year. Have not had another one since. That was 25 ywears ago and I just do not get sick anymore. – Linda
I had a conversation with a retired man last week, he said his wife was In bed with the flu, trying every medication to get rid of it, I said to him has she just had the flu vaccine by any chance, he said yes, she has it every year!? – Melissa
Got the shot once at the prompting of someone else… Sick within the week and ended up with pneumonia, never had the flu before the shot or after that first bout with pneumonia and I am now 71, and never intend to get another vaccine for anything! – Barbara
Leaving a lucrative career as a nephrologist (kidney doctor), Dr. Suzanne Humphries is now free to actually help cure people.
In this autobiography she explains why good doctors are constrained within the current corrupt medical system from practicing real, ethical medicine.
One of the sane voices when it comes to examining the science behind modern-day vaccines, no pro-vaccine extremist doctors have ever dared to debate her in public.
Book – The Vaccine Court, by Wayne Rohde – 240 pages

"The Dark Truth of America's Vaccine Injury Compensation Program"
Say NO to Mandatory Vaccines T-Shirt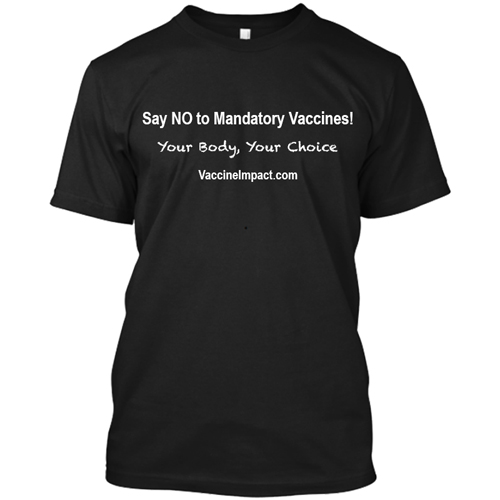 100% Pre-shrunk Cotton
Order here!
Make a Statement for Health Freedom!
Big Pharma and government health authorities are trying to pass laws mandating vaccines for all children, and even adults.
Show your opposition to forced vaccinations and support the cause of Vaccine Impact, part of the Health Impact News network.
Published on November 16, 2014