At the beginning of 2013, the Australian Government began to roll-out the Gardasil vaccination program for all boys aged 13-15.
In this interview, BMJ-published Australian GP Dr Deirdre Little tells the story of how a 16-year-old female patient who received the Gardasil vaccine suffered premature menopause.
She subsequently discovered that according to the TGA, the Gardasil manufacturer did not conduct studies on ovarian effects of the vaccine or any studies regarding ongoing fertility effects.
More about the HPV Vaccine.
Vaccine Epidemic
by Louise Kuo Habakus and Mary Holland J.D.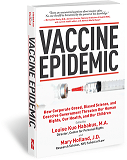 FREE Shipping Available!
Published on May 13, 2013