Health Impact News Editor
A young mother in Maine is being threatened by the Department of Health and Human Services to have her infant child taken away and put into foster care. Her crime? Feeding him goat's milk instead of commercial infant formula.
Alorah Gellerson was not able to breast feed her child, so she developed a formula of goat's milk that included celery juice, and reports that the child loved it, and "grew like a weed."
The young mother made a huge mistake, however. She told her pediatrician about the formula. The doctor turned her in to the Department of Health and Human Services (DHHS), which resulted in home visits, an overnight stay in the hospital, a directive to buy "approved" commercial infant formula (most of which contain GMOs and soy) and threats to remove the baby and place him into foster care.
The local mainstream media apparently is confused by this action, and has covered the story. WABI even interviewed another family doctor in the area who said: "I've got plenty of kids in my practice that have been given goat's milk, for example, and they're growing and developing fine."
Indeed, goat's milk is generally considered healthier, more easily digested, and less allergenic than cow's milk. It has been fed to infants in traditional cultures for probably many thousands of years. So why the uproar and threats? The local media tried to interview the DHHS, but they refused, and instead referred them to government websites that stated goat's milk was not suitable for infants.
So I did some checking, and it seems there is a single study published by the American Academy of Pediatrics which is a case review of one single Amish infant. The study title is "Fresh Goat's Milk for Infants: Myths and Realities—A Review" and itself proves nothing. It is mostly an attack on people who "get their information from the Internet."
Can we trust information published by pediatricians with the American Academy of Pediatrics? The group is notorious for accepting funding from commercial formula manufacturers, and a recent press release shows this continues: Perrigo Nutritionals Works with the American Academy of Pediatrics (AAP) on Infant Nutrition Educational Initiative
In addition, the AAP has strong financial ties to Big Dairy, which has been exposed in the past as being the most likely reason why the AAP does not condemn sugary milk drinks in public schools (see: Have Pediatricians Sold Out to Big Dairy?) Big Dairy, of course, is tied into cow's milk, not goat's milk, as cow's milk is a highly subsidized government commodity. This is probably the main reason the AAP also condemns raw milk, as raw milk bypasses the milk pools and markets directly to the consumer offering a threat to the huge government-backed Dairy industry.
So the AAP clearly has a conflict of interest in dealing with the nutrition of goat's milk (most of which is marketed in this country outside of the Big Dairy system).
For one doctor's perspective on feeding goat's milk to infants, see Dr. Sears' perspective here. Dr. Sears points out how goat milk has more vitamins than cow's milk in certain quantities, but is lacking as much folic acid which should be supplemented. Vitamin  B12 should also be supplemented. There are many goat's milk formula recipes on the Internet. Of course, the medical system does not approve of these web sites, and hates the fact that so many people are doing their own research and finding alternatives to drugs and "approved" commercial products based on GMOs. So as the United States moves closer and closer to becoming a police state, there is no telling how much longer these websites and others like Health Impact News will be available.
As to the dangers of commercial soy infant formulas, see: How Soy Might Decimate the Health of Your Unborn Baby and the Fertility of Future Generations
Source: http://www.wave3.com/story/23089938/babys-mother-in-trouble-with-state-over-goats-milk-formula (Wave 3 News has apparently removed this story from their website)
UPDATE September 2013
Bangor Daily News has reported that a team of four doctors cleared Alorah's baby and released him from the hospital with a clean bill of health. The child abuse charge was apparently also dropped. As to the doctor's directive that she should purchase store-bought "approved" infant formula, Alorah reported that she tried three different kinds, but that they all made him throw up or have constipation, so she has since returned to the goat's milk formula. Full story here: http://bangordailynews.com/2013/09/05/news/bangor/group-protests-dhhs-overreach-of-authority-involving-brooklin-teen-who-feeds-her-baby-homemade-goat-milk-formula-avoids-vaccines/
The Whole Soy Story: The Dark Side of America's Favorite Health Food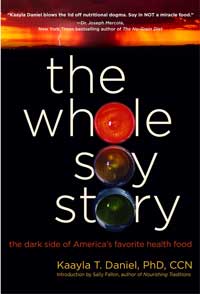 by Kaayla T. Daniel, PhD, CCN
Free Shipping Available!
Published on August 12, 2013