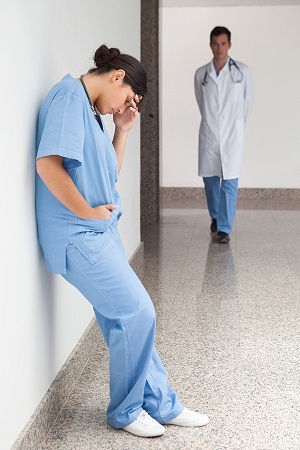 Health Impact News Editor Comments: I applaud these nurses who stood up for their beliefs, and in some cases their faith in God and what they felt God was leading them to do, even though it cost them their jobs. If we are going to STOP the medical system's take over of all our personal health freedoms, this is what it is going to take. The pharmaceutical companies who manufacture these vaccines are among the worst criminals in our society today, showing they care more about profits than they do people's actual health. (See: Pharmaceutical companies now among largest corporate criminals in the world: no better than white-collar drug dealers )
Also, the CDC's claim that the flu shot is about "60% effective" has been shown to be completely false by good science. See: Flu Vaccines Offer No Benefit: Cochrane Review of Evidence  and Scientists Conclude: Flu Shots "Overpromoted and Overhyped")
Eight hospital employees oppose mandatory flu shots, get fired
By: Angelle Barbazon
The Elkhart Truth
Goshen, Indiana
Excerpts:
Joyce Gingerich, an oncology nurse at IU Health Goshen Hospital, had two options — get a flu shot or lose her job. It was a tough choice, but Gingerich and seven others at the hospital stood their ground and refused to receive the vaccination. Their last day of work was Tuesday.
"I knew that I could not compromise my personal belief system for a job," explained Gingerich, who had worked at the hospital on and off since 1987. "It was really sad to leave that job. In all my years of nursing, it was my favorite."
Gingerich does not discount the hospital's position of wanting to protect patients from illness, but she said the flu vaccination is not right for her.
"We all have different faith walks," said Gingerich, who describes herself as a nondenominational Christian. "I feel like in my personal faith walk, I have felt instructed not to get a flu vaccination, but it's also the whole matter of the right to choose what I put in my body and what I feel God wants me to put in versus someone mandating what I put in. It is a very big issue for me."
Gingerich was horrified that she was forced to choose between her beliefs and her job, but ultimately she said she knew what the right path was for her.
"I feel like our religious freedoms are being challenged and not honored in a country that supposedly has these freedoms," she said.
Ethel Hoover, who was a critical care nurse at the Goshen hospital, wrestled with the idea of receiving a flu shot and ultimately refused the vaccination. Hoover's exemption request was denied, and she was let go from her job roughly a month short of her 22nd anniversary at the hospital.
The last time Hoover had a flu shot was about 20 years ago. Hoover said she got sick and decided to never take one again, adding that she was also worried about long-term health effects from the vaccination.
"Your body has its natural responses to fight off certain viruses and infections, and if you continually inoculate your body with something that's not even guaranteed from preventing you from getting it, why would you do it," Hoover asked.
Hoover pointed out that patients are given the option to refuse flu vaccinations and said she should be afforded that same right.
"As a nurse, my passion was to be the best advocate I could be for my patients," she said. "They knew I could be there for them even if sometimes it caused a rippling of the waters, but as a nurse there was no advocate for me except for several physicians who attempted to go to bat for our cause, but they were denied. So, what message is this sending to the public if this institution shoots down their own patient advocates?"
Sue Schrock started hearing talk about a vaccination mandate last year. Schrock, like Gingerich and Hoover, was a nurse at the hospital in Goshen, and like her two colleagues was let go from her job after her exemption application was rejected, and she refused to receive a vaccination.
Schrock believes that there are other steps people can take to stay healthy rather than getting a flu shot, like taking natural vitamins, eating well and exercising. The last time she had a flu shot was about 30 years ago.
"I just learned more and more about natural healing," she said. "We've been using natural products for a good 20 years, and that's the way we believe healing takes place."
Schrock said her decision to decline the vaccination was, in part, "God-led."
"I'm a pretty quiet, spiritual person, and for me, it was a big decision, but it was something that was very meaningful for me not to have in my body," she said.
This experience has changed Schrock's outlook on IU Health Goshen Hospital.
"I don't care if I ever walk through those doors again, but I'm going to miss it," she said. "I love my hospice patients, and I love my hospice colleagues. I will miss them immensely."
Read the Full Story Here: http://www.etruth.com/article/20121231/NEWS01/712319946
Flu and Flu Vaccines:
What's Coming Through That Needle – DVD
More Info
FREE Shipping Available!
Published on January 2, 2013