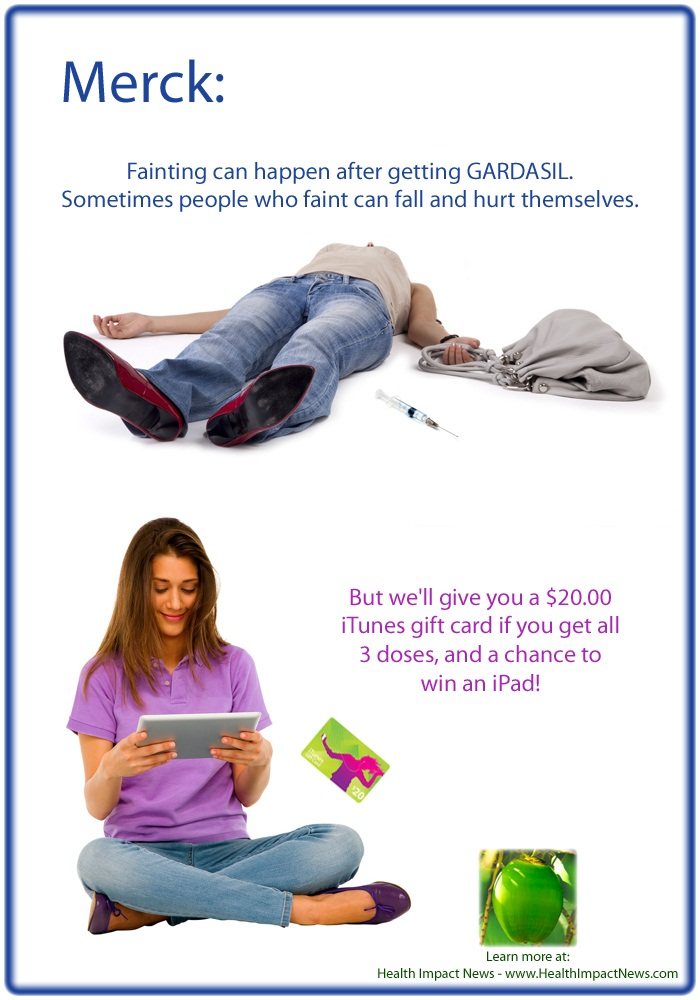 Earlier this year it was reported that Merck was bribing college girls to complete all three doses of the Gardasil vaccine (story here).
Cervix vaccine issues trigger health notice
Excerpts:
The health ministry has issued a nationwide notice that cervical cancer vaccinations should no longer be recommended for girls aged 12 to 16 because several adverse reactions to the medicines have been reported.
"It is necessary to gather information immediately to accurately grasp how often (the side effects) are occurring," said Mariko Momoi, who chairs the panel at the Health, Labor and Welfare Ministry that decided to suspend the recommendation. Momoi is vice president of the International University of Health and Welfare.
Mika Matsufuji, 46, who represents an association of cervical cancer vaccination victims' parents, said the health panel's decision was a "big step forward." Her daughter, who was vaccinated with Cervarix in 2011, lost the ability to walk and is now in a wheelchair, she said.
The group is calling for the vaccinations to be halted.
Read the Full Article Here: http://www.japantimes.co.jp/news/2013/06/15/national/cervix-vaccine-issues-trigger-health-notice/
More information on HPV vaccines.
See Also: 
Documents Obtained by Judicial Watch Reveal 200 Claims Filed for HPV Vaccine Injuries and Deaths
HPV Vaccines: Betrayal of the Public Trust?
Vaccine Epidemic
by Louise Kuo Habakus and Mary Holland J.D.
FREE Shipping Available!
Published on June 16, 2013