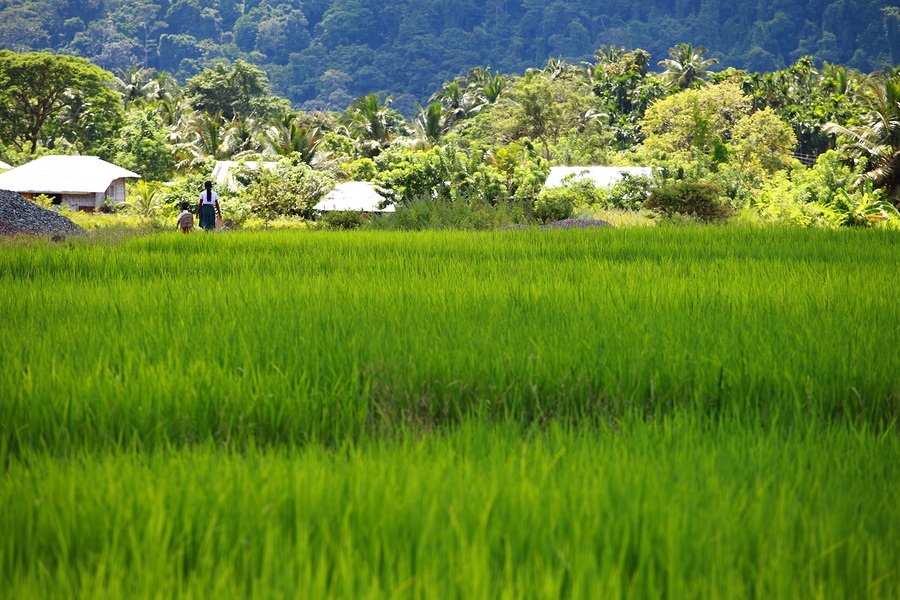 In a village in India's poorest state, Bihar, farmers are growing world record amounts of rice – with no GM, and no herbicide. Is this one solution to world food shortages?
by John Vidal in Bihar, India
The Guardian
Excerpts:
Sumant Kumar was overjoyed when he harvested his rice last year. There had been good rains in his village of Darveshpura in north-east India and he knew he could improve on the four or five tonnes per hectare that he usually managed. But every stalk he cut on his paddy field near the bank of the Sakri river seemed to weigh heavier than usual, every grain of rice was bigger and when his crop was weighed on the old village scales, even Kumar was shocked.
This was not six or even 10 or 20 tonnes. Kumar, a shy young farmer in Nalanda district of India's poorest state Bihar, had – using only farmyard manure and without any herbicides – grown an astonishing 22.4 tonnes of rice on one hectare of land. This was a world record and with rice the staple food of more than half the world's population of seven billion, big news.
It beat not just the 19.4 tonnes achieved by the "father of rice", the Chinese agricultural scientist Yuan Longping, but the World Bank-funded scientists at the International Rice Research Institute in the Philippines, and anything achieved by the biggest European and American seed and GM companies. And it was not just Sumant Kumar. Krishna, Nitish, Sanjay and Bijay, his friends and rivals in Darveshpura, all recorded over 17 tonnes, and many others in the villages around claimed to have more than doubled their usual yields.
But the Bihar state agricultural universities didn't believe them at first, while India's leading rice scientists muttered about freak results. The Nalanda farmers were accused of cheating. Only when the state's head of agriculture, a rice farmer himself, came to the village with his own men and personally verified Sumant's crop, was the record confirmed.
Shortly after Ravindra Kumar, a small farmer from a nearby Bihari village, broke the Indian record for growing wheat. Darveshpura became known as India's "miracle village", Nalanda became famous and teams of scientists, development groups, farmers, civil servants and politicians all descended to discover its secret.
What happened in Darveshpura has divided scientists and is exciting governments and development experts. Tests on the soil show it is particularly rich in silicon but the reason for the "super yields" is entirely down to a method of growing crops called System of Root Intensification (SRI). It has dramatically increased yields with wheat, potatoes, sugar cane, yams, tomatoes, garlic, aubergine and many other crops and is being hailed as one of the most significant developments of the past 50 years for the world's 500 million small-scale farmers and the two billion people who depend on them.
Read the Full Article Here.
See Also: Hawaii War Zone: GMO Biotech versus Korean Natural Farming
Published on February 18, 2013