Health Impact News Editor Comments:
This is a very sad story of how one family lost custody of their children for a whole year simply because the father was using marijuana, legally prescribed by a doctor, to treat his headaches that he says were the result of all the chemicals he was exposed to while serving his country in the Gulf War. Active duty military personnel are also subjected to many vaccines not used in the general public.
Child Protection Services in San Diego removed the children from their home and from their family, without a warrant or probable cause, and it took the parents a year to get them back. As we have reported recently, today CPS has more authority than the police, sheriff, or FBI, and they can come into your home and remove your child without a search warrant or court order, simply because of an anonymous tip. (See: How Child "Protection" Services is Legally Abducting Children in the U.S.)
It is quite ironic to think of how many parents today have medicine cabinets full of toxic "legal" prescription drugs which have far more serious side effects than marijuana, and yet would never come under suspicion of Child Protection Services, as this would probably constitute the majority of American families in the U.S. today.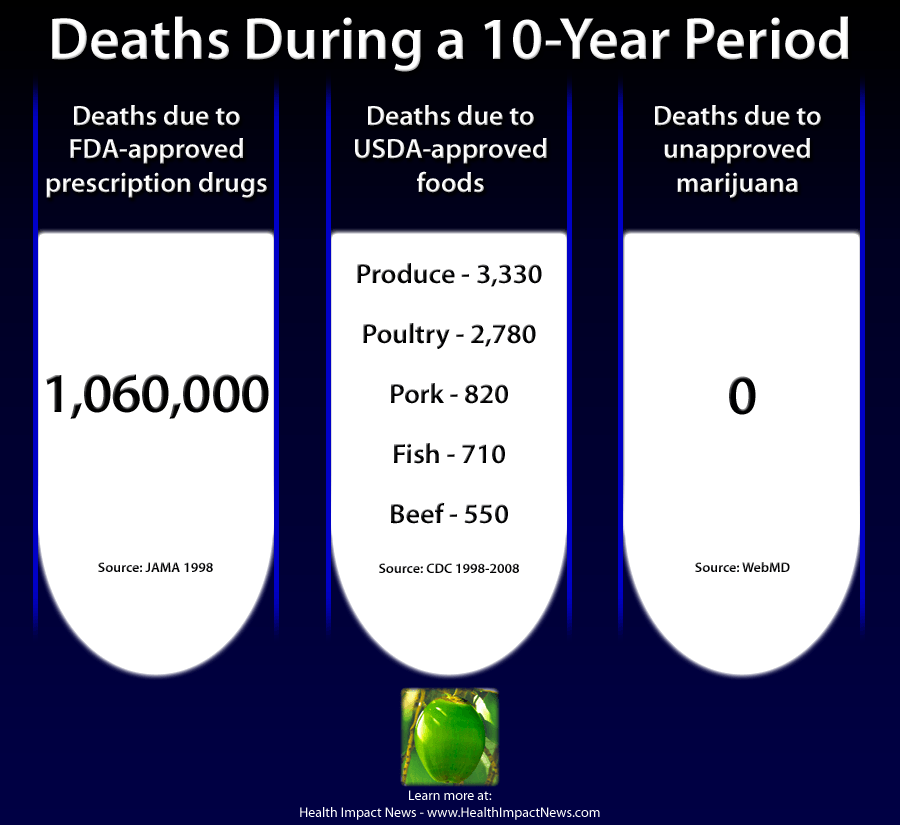 It is not surprising that this Gulf War veteran found a doctor to prescribe marijuana for his headaches in San Diego, since the University of California in San Diego has a center for the "Medicinal Cannabis Research" which conducts clinical research on marijuana. Contrary to what one may read in the mainstream media, the evidence for medicinal uses (as opposed to recreational uses) of marijuana is extensive.
In this 10 minute video below produced by PBS a few years ago, you can learn about some of this medical research on marijuana conducted at the University of California in San Diego. You can also hear how marijuana helped one woman become seizure free when all other drugs failed. When PBS interviewed a doctor who is against marijuana, his main complaint was that marijuana was not tested and approved by the FDA. He correctly observed that the natural herb contains more than 60 active components that have never been tested in isolation, which is how drugs are produced and patented.
PBS also interviewed an Oncology physician who has studied marijuana and states that it contains: "anti-inflammatory, antioxidant, and probably anti-cancer compounds in it." He prescribes marijuana for his cancer patients for "their loss of appetite, nausea, pain, depression, and insomnia." He says this one drug, marijuana, can replace 5 prescription drugs.
The video by PBS will also show that although the pharmaceutical industry is trying to convince people marijuana is "untested" or even dangerous, major pharmaceutical companies have already filed many patents on synthetic versions of the Cannabinoids found in marijuana for a variety of diseases, including cancer.
Watch the full episode. See more PBS NewsHour.
Dad Says Medical Pot Use Cost Family Custody
San Diego County took two little children away from their parents for a year, and lied about it, because the father used medical marijuana on the advice of a doctor, the reunited family claims in court.
Michael Lewis, Lauren Taylor and their young children Cameran and Bailey Lewis sued San Diego County and seven of its officers, the City of Coronado and two of its police officers for civil rights violations, battery, false imprisonment and negligence, Superior Court.
Defendants include Coronado police Officers Patrick O'Malley and Robert Cline, and San Diego County Health and Human Services agents Ian Baxter, N. Quinteros, Benita Jemison, Abigail Joseph, Antonia Torres, Brooke Guild and Alfredo Guardado.
Michael Lewis – a Gulf War veteran who was exposed to chemicals during there that cause debilitating migraines – obtained a medical marijuana recommendation from a doctor to relieve the pressure of his headaches, he says in the complaint.
Lewis says he kept the marijuana at home, but the children were not exposed to the pot itself or to its smoke.
On Aug. 5, 2011, Coronado police received an anonymous tip that Lewis and Taylor were running a day care and smoking marijuana around the children, according to the lawsuit. Lewis says he allowed officers to enter the home, and they photographed it, and saw that there was no illegal daycare facility there.
"Although the officers found marijuana in the home, Michael Lewis had a medical marijuana recommendation and his use was legal. Michael presented his medical marijuana recommendation to the officers. The officers then left and wrote a report. In their report, the officers identified marijuana as the only purported 'hazard' in the residence. Neither Lewis nor Taylor were ever criminally prosecuted for the possession and/or use of the marijuana," the family states in the complaint.
Defendant officers O'Malley and Cline returned three days later with HHS agents Baxter and Quinteros.
"Defendants Baxter and Quinteros, after consulting their supervisors and O'Malley and Cline and obtaining their advice and agreement, seized 4-year-old C.L. and 2-year-old B.L. from their home and their parents' care. Defendants then deposited the children at the Polinsky Center, an emergency shelter for allegedly abused and neglected children in San Diego County. The children were there for approximately two weeks without their parents and were no doubt terrified," the complaint states.
"The only allegations against Lewis and Taylor were, essentially, that Lewis legally used marijuana, and police found marijuana in the home.
"Based on these facts, defendants seized C.L. and B.L. without a warrant based on allegations of 'general neglect,' where no exigency existed at all. Specifically, there was no reasonable or articulable evidence to suggest that either child was in immediate danger of suffering severe bodily injury or death at the hands of either Lewis or Taylor in the time it would have taken to obtain a protective custody warrant.
"Nonetheless, even though they knew Michael Lewis' use of medical marijuana was completely legal in that he had obtained a medical marijuana recommendation after an evaluation from a licensed medical doctor, and that Lewis only used the marijuana outside the presence of the children and only for amelioration of pain, these defendants seized and detained the children. They failed to conduct any independent investigation prior to seizing the children. Michael and Lauren were shocked, stunned, amazed, and terrified.
"After entering the Polinsky Center, the center confirmed that the children were developmentally on target and there were no concerns for them (i.e., no signs of physical abuse, emotional abuse, or other abuse)." (Parentheses in complaint.)
To get their children back, Lewis and Taylor, say they submitted photographs showing their clean kitchen to Baxter, and got a lockbox for the pot and a padlock for Lewis' growing area. Baxter ignored this and filed an emergency placement petition with a juvenile court, the parents say.
"Despite this evidence, Baxter and Quinteros continued to detain C.L. and B.L. from their family home and loving parents. Supervisors Jemison and Guardado, after having conducted a detailed review of the matter agreed with, ratified, and condoned the conduct of Baxter and Quinteros," the lawsuit states.
"Baxter filed a petition with the juvenile court in the County of San Diego and on behalf of the defendant county. The petition sets out a series of supporting 'facts.'
"The petition is verified by Baxter and signed under penalty of perjury.
"The 'facts' set out in the petition are false, and Baxter knew they were false at the time he verified the petition under penalty of perjury and filed it with the juvenile court.
"The false allegations misled the juvenile court into believing the children were in danger, when in fact they were not and Baxter knew they were not.
"Defendant San Diego County and Baxter asserted one count against Michael and Lauren.
"Baxter misled the court by stating that he did not need to conduct any pre-placement preventive services because of the 'emergent nature' of the situation and asserted that Michael and Lauren left their children 'inadequately attended and inadequately supervised' around the marijuana. This statement was totally false, and Baxter knew it, or – even worse – simply didn't care."
During the proceedings, defendant Abigail Joseph took over for Baxter, while defendant Antonia Torres took over as supervisor for Jemison. With defendant Brooke Guild, they built their "case" against Lewis and Taylor.
"Despite the fact that Lewis' use of marijuana was totally legal under California law, and despite the fact that all drug tests for Lauren Taylor were negative and there were no signs of abuse or neglect of the children, defendant Joseph continued to lie to the juvenile court by making false statements calculated to lead the juvenile court to believe that Ms. Taylor used marijuana and that such use posed a danger to the children," the complaint states.
"Joseph and her supervisor, Torres, acted in concert in providing knowingly false information to the court. Mr. Lewis promptly provided all defendants including Joseph exculpatory information demonstrating that his use of marijuana was legal and permissible, i.e., that he received a doctor recommendation for the use of marijuana from a Dr. Robert Robertson.
"Defendants Joseph and Torres completely disregarded this exculpatory evidence and made no effort to investigate it by, for example, contacting the doctor or obtaining records from him.
"Instead, they lied to the court by stating that Mr. Lewis' use of marijuana for his medical condition was not verified by his medical doctor. They assumed that Mr. Lewis had substance abuse issues and misrepresented this information to the court. They left the juvenile court with the false impression that Lewis was a serious substance abuser, someone who forged records, a drug dealer, and a serious danger to the children when all those inferences were untrue.
"Based on Joseph's and Torres' multiple false statements to the juvenile court, the children continued to be detained in county facilities and not at home with their loving parents. As a result, they were deprived of regular, open, and free contact and companionship of family and friends, including their parents."
The parents says that on Feb. 3, 2012 Joseph and Torres added a second count to the county's petition, this time alleging that Lewis had a mental illness that posed a danger to his children.
Three days later, the juvenile court made Cameran and Bailey wards of the court and placed them in a foster home.
Lewis and Taylor appealed and on Aug. 2, 2012 a Fourth Appellate District Court panel reversed the lower court finding in an unpublished opinion. The appeals court stated that "'the record does not support a finding that Lewis' marijuana use or alleged mental illness had any negative impact on the children,'" according to the lawsuit.
Five days later -364 days after they were seized by HHS agents – Cameran and Bailey were returned to their parents.
The family says the misconduct by city and county officials cost them physically and emotionally – from costly drug tests and supervised visitation to eviction and going a year without the bond of family life.
"Throughout the ordeal, Taylor and the children never tested positive for any drug. Although Michael Lewis ingested marijuana for medicinal purposes pursuant to a physician's recommendation, he never tested positive for any other drugs. Further, there was (1) no evidence of abuse or neglect by either parent, (2) no evidence that Michael's marijuana use impaired his parenting skills or judgment, and (3) no evidence that Michael Lewis acted inappropriately toward his children at any time – ever.
"To the contrary, there was ample evidence – which the county agent defendants suppressed from the juvenile court as part of their effort to build a false case – that the children were intelligent, well nourished, lived without abuse or neglect, and that the removal from their parents was significantly detrimental to them.
"Defendant San Diego County and defendant Joseph were informed that the children would often cry for more than an hour after they were only allowed brief and fleeting visitations with their parents and they would wake up crying for their parents at night and during naps – none of this exculpatory evidence was ever disclosed to the juvenile court. Rather, the defendants actively concealed the information from the court.
"At all times herein, supervisor defendants Jemison, Torres and Guardado (1) personally and directly took the offensive and tortuous actions in concert with their subordinate defendants and/or (2) directed subordinates to commit the actions that violated plaintiffs' rights and/or (3) set in motion a series of actions by their subordinates that they knew or reasonably should have known would cause the subordinates to deprive the plaintiffs of their rights and/or (4) knew or reasonably should have known that their subordinates were engaging in these acts and that their conduct would deprive the plaintiffs of these rights and the defendants failed to act to prevent their subordinates from engaging in such conduct," the family says in the complaint.
Lewis and Taylor say the California Welfare Code obligates social workers to err on the side of keeping children at home with their parents so long as it is safe to do so. Government code forbids its agents to commit perjury, fabricate evidence, withhold exculpatory evidence or obtain testimony through duress.
"Had the abovementioned acts been performed by private citizens, the acts would not only have been criminal, but would entitle plaintiffs to bring claims against each such persons for, among others, abduction of a child, invasion of privacy, intentional infliction of emotional distress, negligent infliction of emotional distress, and false imprisonment," the family says in the complaint.
The family seeks punitive damages.
They are represented by Gerald Singleton of Encinitas, and by Shawn McMillan and Lance Rogers of San Diego.
See Also:
Read the Full Story Here: http://www.courthousenews.com/2013/08/12/60182.htm
Published on September 8, 2013