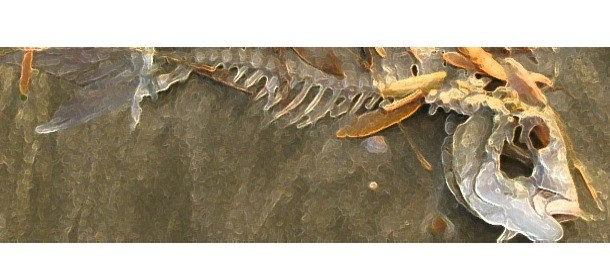 Fish Skeleton, by Erica Hargreave (Filter applied)
by Heidi Stevenson
Gaia-Health.com 
"I've never seen scientific evidence discounted and refused to be looked at the way they're doing with fluoride." We're facing a bottom-line reality. There can be no question that the US government's policy is that water will be fluoridated no matter how much harm is done to the people. 
In this age of repression on genuine scientific research, we need to take note that scientists free to do open and honest research, and report on it, have often taken stands that dispute their agencies' officials stances. Nowhere has that been more true than in the Environmental Protection Agency (EPA) on the issue of fluoride. Rank and file EPA scientists have strongly opposed water fluoridation.
EPA scientists protected by the National Treasury Employees Union were approached by an employee in 1985. His concern was that he was:
… being forced to write into the regulation a statement to the effect that EPA thought it was alright for children to have "funky" teeth. It was OK, EPA said, because it considered that condition to be only a cosmetic effect, not an adverse health effect. The reason for this EPA position was that it was under political pressure to set its health-based standard for fluoride at 4 mg/liter. At that level, EPA knew that a significant number of children develop moderate to severe dental fluorosis, but since it had deemed the effect as only cosmetic, EPA didn't have to set its health-based standard at a lower level to prevent it.[1]
A statement issued by EPA scientists stated that they tried to "settle this ethics issue quietly, within the family, but EPA was unable or unwilling to resist external political pressure." Therefore, they went public with it and filed an amicus curiae brief supporting a public interest group's suit against the EPA. In their statement, from which the above quote was extracted, the scientists avered that their opposition to fluoridation only grew stronger after that incident.
Studies Showing Fluoride Lowers Intelligence
That article goes on to document research by Phyllis Mullenix, PhD, who had established the Department of Toxicology at the Forsyth Dental Research Institute. She was also involved with a research program at Harvard's Department of Neuropathology and Psychiatry. That research documented significant neurotoxic effects of fluoride.
Dr. Mullenix described going to a conference of the National Institute of Dental Research, a division of the National Institutes of Health (NIH), to present her findings and realizing, on walking in, that she was in hostile territory. The entry areas were filled with propaganda declaring "The Miracle of Fluoride". Of her experience at that conference, she stated:
The fluoride pattern of behavioral problems matches up with the same results of administering radiation and chemotherapy [to cancer patients]. All of these really nasty treatments that are used clinically in cancer therapy are well known to cause I.Q. deficits in children. That's one of the best studied effects they know of. The behavioral pattern that results from the use of fluoride matches that produced by cancer treatment that causes a reduction in intelligence.[2]
On meeting with dental industry representatives afterwards, she was asked if she'd been saying that fluoride lowers children's IQ. She says, "And I told them, 'basically, yes.'"[2]
That was the end of her career. She was fired from Forsyth Dental Center and has gotten no related grants since then. Shortly after her firing, Forsyth received a quarter million dollar grant from Colgate, the toothpaste manufacturer. She has since stated:
I got into science because it was fun, and I would like to go back and do further studies, but I no longer have any faith in the integrity of the system. I find research is utterly controlled.
EPA scientists also noted a Chinese study documenting that children between ages 8 and 13 consistently score 5-10 IQ points lower than children subjected to less fluoride.
Fluoride and Cancer
Dr. William Marcus, the chief toxicologist of the EPA's Office of Drinking Water, was fired for his refusal to be silent about his work on fluoride.
Dr. Marcus was particularly concerned about several studies showing that fluoride causes osteosarcoma (bone cancer), particularly in young men. A 2-year study was conducted by the National Toxicology Program. It documented bone cancer and cancer in other tissues in rats. This coincided with other studies documenting fluoride's ability to cause cellular mutations, which are associated with cancer, and osteosarcomas in young men in New Jersey.
Dr. Marcus called for an unbiased evaluation of these studies. He was vindicated, though it didn't result in full restitution of his losses, when he won his lawsuit against the EPA, which found that he was clearly dismissed for his anti-fluoride advocacy.
Brain and Kidney Damaging Effects of Fluoride
The EPA scientists then noted a study by JA Varner, KF Jensen, W Horvath, and RL Isaacson[3] that demonstrated as little as 1 ppm (part per million) of fluoride in water causes damage to the brains and kidneys of rats. The scientists referred to this as:
… especially disturbing because of the low dose level of fluoride that shows the toxic effect in rats – rats are more resistant to fluoride than humans.
Most significantly, the EPA considers such doses to be benign.
Pineal Gland and Early Maturation
The scientists reported on a study documenting that fluoride collects in the pineal gland, resulting in early sexual maturation in children. A comparison of girls in two different towns, one with flouridated water and one without, showed that those drinking the treated water matured an average of six months earlier.
Bone Pathology Caused by Fluoride
EPA scientists expressed concerns about crippling skeletal fluorosis. It was ethical deficiencies in the standards-setting process that resulted in them filing the amicus curiae brief discussed above.
Many of the symptoms from dioxin poisoning are indistinguishable from fluoride poisoning, an unsurprising fact, since dioxins usually contain fluoride. It's probaby the primary reason for dioxin's devastating effects.
Lack of Efficacy in Preventing Dental Decay
Finally, the scientists pointed to the lack of double-blind studies in support of caries prevention. They pointed out that a study done by dentists of the National Institute of Dental Research, involving more than 39,000 children aged 5-17, documented no significant differences in tooth health among fluoridated, partially fluoridated, and nonfluoridated communities. The study considered decayed, missing, and filled teeth.
They also reported a 50-year study comparing two New York communities, Newburgh and Kingston. It documented no benefit from fluoridation, but showed double the amount of fluorosis in the teeth of children drinking fluoridated water, the first sign of fluoride toxicity.
They cited a publication by John Colquhoun, Principal Dental Officer for Auckland, New Zealand, titled "Why I changed My Mind About Water Fluoridation". The article stated that:
Colquhoun provides details on how data were manipulated to support fluoridation in English speaking countries, especially the U.S. and New Zealand. This paper explains why an ethical public health professional was compelled to do a 180 degree turn on fluoridation.
EPA Scientists' Conclusion
The EPA scientists' report stated:
For governmental and other organizations to continue to push for more exposure in the face of current levels of over-exposure coupled with an increasing crescendo of adverse toxicity findings is irrational and irresponsible at best.
They used the EPA's own risk control methodology, called the Reference Dose, to determine what an acceptable fluoride dose is. By that method, they determined that the Reference Dose for fluoride is 0.000007 mg/kg of body weight/day.
In Washington DC, they determined that people drinking only one quart from the public water supply each day ingest 0.01 mg/kg a day. That is more than 1,428 times the safe dose of fluoride!
The EPA scientists concluded:
The implication for the general public of these calculations is clear. Recent, peer-reviewed toxicity data, when applied to EPA's standard method for controlling risks from toxic chemicals, require an immediate halt to the use of the nation's drinking water reservoirs as disposal sites for the toxic waste of the phosphate fertilizer industry.
The EPA's Current Policy
The EPA has set a standard of no more than 4.0 mg/liter of water as a maximum allowed. In minor deference to children, who are at far greater risk, they set a secondary standard of 2.0 mg/liter. They don't regulate against it; rather, they merely require that communities with fluoridation at that level must be informed.
This is nothing less than a declaration of war on the people, especially those without the funding to protect themselves by drinking bottled water (which carries its own environmental issues) or purifying tap water. It also means that farm animals are at risk for fluoridation, as documented in this video:
The Environmental Protection Agency is charged with protecting the environment and protecting people's health from environmental contamination. Clearly, the EPA doesn't take this seriously. Its own scientists, the ones charged with studying issues of environmental health, are ignored and forced to silence on fluoride, a substance that's been shown to provide none of the claimed benefit for teeth and a host of devastating health effects. Children are losing their full potential in intelligence and health.
In 2005, 11 EPA employee unions representing more than 700 professional environmental and public health officials, officially called for a moratorium on fluoridation.[4] It was based primarily on "an apparent cover-up of evidence from Harvard School of Dental Medicine linking fluoridation with elevated risk of a fatal bone cancer in young boys" by the EPA.
The EPA still hasn't taken a stand on the dangers of fluoride in the environment or water. They even help in the promulgation of outright lies about its safety. Who does the EPA really represent? It certainly isn't the people.
As Dr. Robert Carton, former President of the EPA Headquarters Union, stated:
This whole thing is politics. You're not talking science at all.
Read the full article here: http://gaia-health.com/gaia-blog/2013-01-31/epa-scientists-oppose-water-fluoridation/
Sources:
Published on January 31, 2013