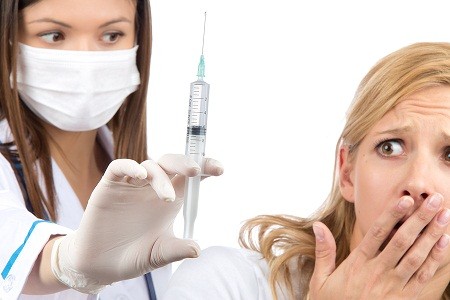 Health Impact News
Earlier this week we reported the story of the eight hospital workers in Goshen Indiana who lost their jobs because they refused a mandatory flu shot (see: More Nurses Refuse Flu Vaccine and Lose Their Jobs – Will only pro-vaccine people soon work at hospitals?)
Two of the nurses also made rounds on the major network TV news channels earlier this week, and you can watch them interviewed on Fox and Friends here: http://foxnewsinsider.com/2013/01/03/nurses-fired-for-refusing-to-get-flu-shot-speak-out/ – Quote:
"Despite the hospital's claims that the flu-shot mandate was enacted in an effort to protect patients, the women say that the hospital failed to provide concrete medical evidence that the flu vaccine would actually prevent employees from passing the flu on to patients. Gingerich suggested that common sense solutions like washing one's hands frequently and staying home when you are sick would be more effective."
(Editor's note: See: Study Shows Soap May Be More Effective Than Vaccines with some solid science backing up Joyce Gingerich's statement.)
As we have repeatedly reported here on Health Impact News, the entire belief system that the flu vaccine prevents people from getting the flu is a belief that is not based on any sound science. Even the CDC states that if they get a good flu strain match the vaccine will only help 60% of the people who get the flu shot, which means by the government's own claims 40% of the people (in the best case scenarios) who get the flu shot will still get the flu!
But there is solid science which would appear to even question the CDC's claims of "60% effectiveness" in good years where they get the right virus strains into their vaccines (See: Flu Vaccines Offer No Benefit: Cochrane Review of Evidence  and Scientists Conclude: Flu Shots "Overpromoted and Overhyped.")
So while Joyce Gingerich and Sue Schrock made the rounds of the network news shows earlier this week, none of the reporters doing the interviews asked the important questions. It is doubtful that any of them had done their homework to learn basic facts about the flu vaccine, such as the fact that it is not a guarantee that one will not be affected by the flu simply by getting the flu shot, or what the side effects are of the vaccine.
There was one nurse from Indiana, however, a nurse who has a vaccine-damaged child, that DID ask the right questions when she called up someone in the Infection Prevention program in the Indiana University hospital system. As one of the members of the Indiana Coalition for Vaccination Choice, she decided to contact the person leading the Infection Prevention program within the Indiana University Health that includes the healthcare facilities across the state of Indiana. This nurse asked the tough questions the media is NOT asking, such as: Who is actively monitoring these mandatory flu vaccine programs for efficacy and adverse reactions? Why are some exemptions granted, but those with religious convictions are not? Who pays when an employee is harmed by the vaccine? How do they justify robbing their employees constitutional rights by mandating a drug that can't even be proven to work for them?
Here is the record of her conversation:
I began by introducing myself as a nurse that has an interest in vaccines and vaccine policies. I spoke of the recent reports I have seen on one facility in Goshen firing nurses for refusing this drug due to religious convictions. I asked for answers as to why these policies are being enacted, who is actively monitoring these programs for efficacy and adverse reactions and who pays in the event of an adverse reaction.
I also wanted to know how many exemptions were filed. How many were approved and who decides?
She started with why they are mandating the flu vaccine. Her group of facilities has implemented this mandate due to public and infection control outcry to increase the numbers of HCW being vaccinated. No matter what they have tried; education, making it available, NOTHING "moved the dot" on levels of vaccination. HCW just would not get the vaccine in appropriate numbers to reach our objective of 90% or greater.
She went on to explain her many years of experience in infection control and now the goal of preventing harm to patients is escalating. I had to throw out my credentials of years as a public health nurse and even more years as a parent of a severely vaccine injured child. I told her my son's story in a nut shell. I kept it short as I was very aware she had pressing matters she needed to attend to. Her response was "It makes me very sad that you have had that experience with vaccination but I do not believe vaccination causes autism".
I told her of Hannah Poling, the Italy case and the tens of thousands of us reporting the same post marketing experience with these drugs. She knew nothing of Hannah Poling or the recent Italy judgement, but she is sure vaccines do not cause autism. We were knocking heads over this when she asked if I had any further questions as we were getting nowhere.
I asked about the committee deciding religious exemptions. I asked if they are refusing exemptions based on trying to keep their vaccinated numbers in a certain percentage.
She said absolutely not.
I asked how a committee can decide if another persons religious convictions are legitimate or not. I told her I attended a Mennonite church. I keep my hair long. I do not wear jewelry. I do not vaccinate based on my religious beliefs. I asked how that committee would know about my religious beliefs. She said they review them and make their decision. Period. She did not give me an answer on how they would possibly discern my religious convictions.
I moved on to active surveillance of adverse reactions to these products. She said no active surveillance is being done.
I asked if the employees were educated on signs of the many possible adverse reactions and how to report them. She said no, but they had already received some reports of adverse reactions and she has no doubt that serious reactions would get reported.
I explained that most people do not think about the vaccine they got as correlated to symptoms months down the road. She said they are only concerned about adverse reactions that take place within 6 weeks of the vaccine because reactions do not occur after that.
I said how do we know they do not occur after that if we're are not actively looking for evidence that they might or do? She said the CDC actively monitors that through VAERS. I corrected her that VAERS is only a passive system and most never get reported.
She said serious adverse reactions are very very rare and they are not concerned about their employees suffering any harm.
She confidently told me the risk for Guillian Barre is far greater after the flu than the vaccine. She then told me the CDC is their bible in infection control.
I asked how they will track the effectiveness of this vaccine in their employees. She said they are not tracking how many vaccinated employees get the flu because that is impossible as many employees will not even know they have the flu. Everyone will not get tested, and even if they do, the rapid test kits are very inaccurate.
I asked if it is impossible to track vaccine effectiveness, how do they justify robbing their employees constitutional rights by mandating a drug that can't even be proven to work for them?
That was it. She said she had to go and that I will not change her mind.
I told her I am calling for the HCW's who want the right to choose. She said they are working with us.
I said no, they are not. "You are firing them if they refuse these drugs. How is that working with you? They will lose their homes and starve."
I wanted to know who is responsible for an employee being harmed by these drugs? (I might be wrong, but I get the feeling some people do not like for me to refer to vaccines as drugs.) I wanted to know who pays when an employee is harmed? She said vaccines are safe and that is where she and I are not in agreement.
I asked if she thinks the manufacturer puts "death and life-long disability" on the package insert for a reason?
She said there are those that can have a bad reaction and they need to be screened out. I asked: "How that is possibly being done when everyone is mandated to get these drugs?"
She assured me she had to go now.
I asked one more question.
I asked if Pertussis vaccination was next to be mandated? She said they were looking at that.
I thanked her for her time. Please understand, I am not trying to argue with these people. I am defending these individuals right to determine what risks they are willing to take with their own lives, and their right to protect their religious beliefs.
Vaccines are drugs KNOWN to cause death, severe impairment and life-long disability. How does a person know they are at risk for an adverse reaction until it happens? No studies are being done on all the individuals that have received compensation from the vaccine injury compensation program to determine those risk factors. If we never actively look, we will never find.
————————————————————–
I thank the members of the Indiana Coalition for Vaccination Choice for their efforts in exposing the beliefs and policies in place in Indiana that caused these brave nurses to lose their jobs, so that hopefully others can be more informed before making such a serious decision as to be forcibly vaccinated against one's own convictions in order to save their employment in the medical care industry.
See also: Are Mandatory Flu Vaccines for Healthcare Workers part of Obamacare and Linked to Financial Reimbursement to Healthcare Facilities?
Flu and Flu Vaccines:
What's Coming Through That Needle – DVD
More Info
FREE Shipping Available!
Published on January 5, 2013