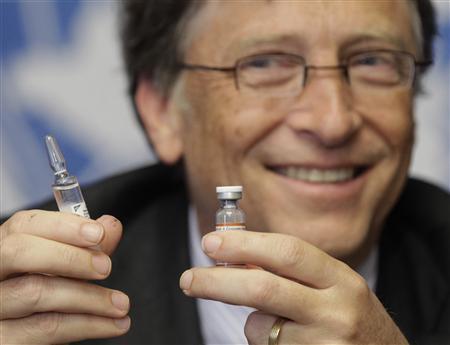 Health Impact News Editor
Earlier this week VaxTrac, a non-profit organization supported by The Bill and Melinda Gates Foundation, announced it's new "Lumidigm multispectral imaging fingerprint sensors" were being used to build a biometric vaccination registry.  The device is currently being used to build vaccine registries in some of the world's poorest countries: Kenya, Uganda, Zambia, and Benin.
The new device  is operated and managed in the field with low-cost mobile devices. Adult and child patients are identified in the registry with fingerprint sensors. By scanning finger prints, medical professionals can pull up their vaccination records with the touch of a finger.
The stated goal of developing the registry is higher vaccination rates. Bill Spence, Lumidigm vice president of sales-North America, Europe and Australia states: "Biometric authentication has reduced the waste of vaccine dramatically, helping so many more people get vaccinated."
It appears that poor African countries were targeted for this new technology, because of low vaccination rates. It also appears that the system was developed to allow uneducated, illiterate healthcare workers to use it and increase vaccination rates, using an "intuitive graphical interface" (Hmm… where have we heard that terminology before from a Bill Gates company?):
The simple, user-friendly system was especially developed for workers with limited literacy. With the biometric VaxTrac system, expensive, specialized training is not necessary for vaccine delivery in remote areas. "My favorite part is to see the shock on healthcare workers' faces after their first scan of another person's fingerprint," Thomas adds. "The patient is identified instantly and all their vaccination information is available on the computer screen in an intuitive graphic interface. Workers know immediately what vaccines to administer and which doses are not needed and may be reserved for other citizens." Source [1].
The goal of the Bill and Melinda Gates Foundation to push their vaccine agenda in Africa on unsuspecting people has been met with increasing criticism lately. Last month, a human rights group in Washington D.C. accused the group of pushing a dangerous contraceptive vaccine that "No African woman would agree to being injected if she had full knowledge of the contraceptives' dangerous side effects." The dangerous vaccine is banned in many countries, but not in the U.S., where 84% of those receiving it are African American women. Story here [2].
One American family documented what they saw in Uganda in the aftermath of a Bill and Melinda vaccine campaign: Poor African Countries Get Vaccines but No Food or Clean Water [3]
Could this fingerprint scanning, which is so clearly a violation of basic privacy rights, be used here in the U.S. to track children and increase vaccination rates? Probably. According to the VaxTac website [4], the U.S. Centers for Disease Control (CDC) is participating in the Africa trials.
Vaccine Registries the Goal for Pharmaceutical Manufacturers and Governments
Earlier this year, Jeffry John Aufderheide of VacTruth wrote about  how a "Police State" registry system [5]is being set up here in the U.S. to track the vaccination status of all U.S. residents by the CDC. With the new fingerprint technology developed by Lumidigm and currently being tested in Africa, every single school-age child in America could easily be scanned and registered, even without their parent's knowledge or consent. The powerful pharmaceutical lobbies are pushing for laws at the state level to allow vaccinations of children at schools without parental knowledge or approval, as we saw last year in California with the HPV vaccine, which can now be administered at school without parental approval. A similar measure was proposed in Texas in 2007, but repealed. See: Merck Bankrolled Anti-Parent Gardasil Bill [6]
With many of the blockbuster drugs coming to an end in their patent period, which allows cheaper generics to replace them in the market, the major pharmaceutical companies are looking for new markets, and vaccines offer a huge market potential in almost all age groups. The U.S. population is among the most vaccinated people in the world, but among the least healthy of the developed nations. (See: U.S. Ranks First in Healthcare Spending – Last in Life Expectancy [7])
There is a near total blackout in the mainstream national media regarding the risks and side effects associated with vaccines. But thanks to the alternative media, as well as media sources in places outside the U.S., much of this information is getting out, and vaccination rates are dropping. In order for the vaccine market to be sustained, it needs government to enforce and guarantee its market. New technology, like this finger printing technology, which can be used to develop national vaccine registries showing who is vaccinated and who is not on all vaccines, is another step to increase vaccination rates.
Press Release Source [1].
Vaccine Epidemic
How Corporate Greed, Biased Science, and Coercive Government Threaten Our Human Rights, Our Health, and Our Children
by Louise Kuo Habakus and Mary Holland J.D.
[8]
FREE Shipping Available!
More Info [8]