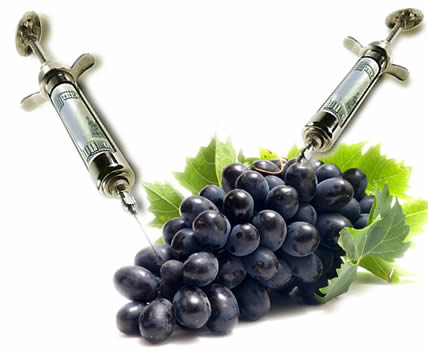 by Dave Mihalovic
PreventDisease.com
Big money just loves to prostitute nature. The grape polyphenol powerhouse resveratrol, has been erroneously credited to the wine industry for years to further promote red wines around the world as healthy and even anti-aging beverages. However, the consumption of wine is not necessary to benefit from resveratrol–all you need are grapes. Big Pharma is now taking a page out of the alcohol industry's marketing book of deception and promoting synthetic versions of resveratrol through topical and oral patented drugs they claim will help combat aging and allow people to live to 150 years.
Resveratrol is believed to have an anti-aging effect as it boosts activity of a protein called SIRT1.
Rats fed resveratrol do not develop insulin resistance or a loss of bone mineral density, as those who were not fed resveratrol.
The potential health benefits of resveratrol may be due to its ability to activate the powerful fat controlling hormone adiponectin. Writing in the International Journal of Obesity, researchers from Aarhus University report that resveratrol changed the production of certain compounds called adipokines from human fat cells, and produced an anti-inflammatory effect.
What's interesting is that low doses of resveratrol improve cell survival as a component of cardio- and neuro-protection, while high doses increase cell death.
"Reports on the benefits of red wine are almost two centuries old," said Lindsay Brown, associate professor in the School of Biomedical Sciences at The University of Queensland and corresponding author for the study. "The media developed the more recent story of the French paradox in the early 1990s. However, studies on the actions of resveratrol, one of the active non-alcoholic ingredients, were uncommon until research around 1997 showed prevention of cancers. This led to a dramatic interest in this compound." Only then did the alcohol industry decide to incorporate the ingredient in all forms of media to further boost sales of red wine.
Rochester researchers showed for the first time that the natural antioxidant found in grape skins can help destroy pancreatic cancer cells by reaching to the cell's core energy source, or mitochondria, and crippling its function.
* Resveratrol exhibits therapeutic potential for cancer chemoprevention as well as cardioprotection.
"It sounds contradictory that a single compound can benefit the heart by preventing damage to cells, yet prevent cancer by causing cell death, said Brown. "The most likely explanation for this, still to be rigorously proved in many organs, is that low concentrations activate survival mechanisms of cells while high concentrations turn on the in-built death signals in these cells."
* Resveratrol may aid in the prevention of age-related disorders, such as neurodegenerative diseases, inflammation, diabetes, and cardiovascular disease.
"The simplest explanation is that resveratrol turns on the cell's own survival pathways, preventing damage to individual cells," said Brown. "Further mechanisms help, including removing very reactive oxidants in the body and improving blood supply to cells."
* Low doses of resveratrol improve cell survival as a mechanism of cardio- and neuro-protection, while high doses increase cell death.
"The key difference is probably the result of activation of the sirtuins in the nucleus," said Brown. "Low activation reverses age-associated changes, while high activation increases the process of apoptosis or programmed cell death to remove cellular debris. Similar changes are seen with low-dose versus high-dose resveratrol: low-dose resveratrol produces cellular protection and reduces damage, while high-dose resveratrol prevents cancers."
"The breadth of benefits is remarkable — cancer prevention, protection of the heart and brain from damage, reducing age-related diseases such as inflammation, reversing diabetes and obesity, and many more," said Brown. "It has long been a question as to how such a simple compound could have these effects but now the puzzle is becoming clearer with the discovery of the pathways, especially the sirtuins, a family of enzymes that regulate the production of cellular components by the nucleus."
Taking From Nature And Making Synthetic Versions

As evident from the plethora of pharmaceutical drugs that have attempted to mimic natural subtances, failure is always imminent when we attempt to duplicate nature.
Pharmaceutical giant GlaxoSmithKline (GSK) has been testing synthetic versions of resveratrol on patients suffering with medical conditions including cancer, diabetes and heart disease.
Through manufactured medications GSK is attempting to prove that a single artificial anti-aging enzyme in the body can be targeted, with the potential to prevent age-related diseases and extend lifespans.
As each of the 117 drugs tested work on the single enzyme through a common mechanism, it means that a whole new class of anti-aging drugs is now viable, which could ultimately be targeted to cancer, Alzheimer's type 2 diabetes patients with a combined potential market value of over $300 billion.
Although research surrounding resveratrol has been going on for a decade, only natural supplement manufacturers have rose to the occasion of producing quality supplements which could translate the benefits through extracts and capsules. For this reason, the basic science was widely contested since pharmaceutical companies did not have their market formulations ready. It is only now during the testing phases and trials are they discovering that no other drug has been able to tweak an enzyme to make it run faster. The technology was sold to GlaxoSmithKline in 2008.
Writing in the journal Science, Professor Sinclair, who suggests the first therapeutic to be marketed will be for diabetes, said: 'Our drugs can mimic the benefits of diet and exercise.'
Drugs that mimic the benefits of diet and exercise? Haven't we heard this scenario before? Pay close attention to the side effects warnings on this one. These drugs are being marketed as preventative as well which generally includes a host of problems similar to other so-called preventative drugs such as statins which cause cancer, diabetes, alzheimer's, memory loss, dementia, depression, kidney damage and overall work much better in a lab than on any human being.
The drugs will also be marketed to those in good health. Professor Sinclair added: 'Now we are looking at whether there are benefits for those who are already healthy.
'Some of us could live to 150, but we won't get there without more research.'
Read the full article here: http://preventdisease.com/news/13/031213_Big-Pharma-Robs-Compound-From-Grapes-Makes-Patented-Drug-Help-People-Live-150-Years.shtml
Dave Mihalovic is a Naturopathic Doctor who specializes in vaccine research, cancer prevention and a natural approach to treatment.
Published on March 15, 2013