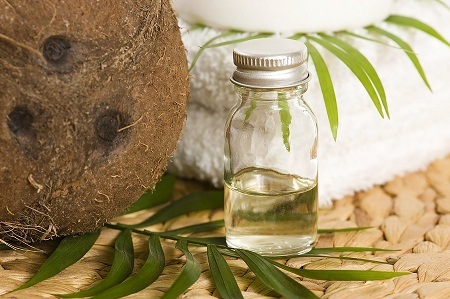 [Health Impact News] A study was published in India recently comparing the effectiveness of "oil pulling" versus chlorhexidine mouthwash in preventing bad breath and the organisms that cause it. It was a small sample size for a study, but oil pulling was more effective than the chlorhexidine mouthwash when measuring marginal gingival index, plaque index, and organoleptic breath assessment. The study notes that "Oil pulling therapy has been used extensively as a traditional Indian folk remedy for many years for strengthening teeth, gums, and jaws and to prevent decay, oral malodor, bleeding gums and dryness of throat, and cracked lips." Oil pulling is gargling and swishing oil around in your mouth to clean your gums and teeth.
The oil used in this study was sesame oil. However, we have seen many testimonies about how coconut oil is even more effective, and also testimonials about positive results that exceed just oral health when using coconut oil for oil pulling. Here are some samples from the Coconut Diet Forums:
I have done the antibiotic/chlorohex. thing for my abscess and dental problems, they ALWAYS came back. I have not had ONE since I started the 'oil pulling' with coconut oil. My tooth does not need a root canal anymore-my dentist aggreed that my gum and dental problems have gone way down since I started-with no drugs! One could say that it must be the placebo effect-but I don't think so. I have also spread the word with many of my own friends and family-it's also worked for them…..whiter, shinier teeth too! If it's working so amazingly for myself and people I care about-I'd much rather put something from nature in my body instead of harsh drugs that don't work anyways. Antibiotics are part of what I beleive has caused my systemic yeast problems anyways-which the coconut oil is working for too. – Lisa
I found an article on "oil pulling" with Virgin Coconut Oil, and started doing that. After just 2 or 3 times I noticed my teeth were whiter. I also liked how my mouth felt after "pulling". – Laura
I am not sure about coconut oil for your gum problems, but I DO know that oil pulling would definitely help. Do a search on oil pulling and you will get all kinds of info. Our dentist says that our teeth and gums have never looked so good. My husband never flosses because his teeth are so close together that it is difficult and he had the start of gum disease. We have been oil pulling for probably 1 1/2 years and our dentist said my husbands mouth looks great. I know the dentist doesn't understand how or why it works and probably doesn't care to but he did have to say to keep it up because it was working. – Anita
Definitely look up 'oil pulling' as per Carol……I've posted a few notes on here on the subject. VIRGIN COCONUT OIL WILL HELP, IF NOT CURE IT! It is such an amazing gift from nature!…I can't say enough about it. I have been enduring major dental problems in the last few years (ie abscesses, cavities, gingivitis, and enflamed taste buds). I tried all the conventional/Western remedies (anitibiotics, etc)-NOTHING WORKED! My friend suggested oil pulling….I have to be honest, when I first heard about it, I thought, YEAH RIGHT! I was wrong, it works like a charm. Now I use it as a preventive by gargling with it once or twice a week. Most of my dental problems are under control, my daughter and Dad haven't had it since I started them on it. – Lisa
Here are some more testimonies from our Coconut Health Facebook Page:
I'm oil pulling right now with coconut oil. My gums are healthier than they have ever been, my teeth are whiter and my breath is awesome. It even helped me quit smoking. I love it. – Allison
I oil pull with coconut and I love it, my teeth feel like I have had a cleaning at the dentist, I also had a tooth that was bothing me a bit that no longer hurts. Love it! – Aimee
Yes! Just had a dental checkup and the hygienist had difficulty finding any placque. I use coconut oil and my teeth are white without all those harsh chemicals. – Darleen
In this video Bonnie talks about her experiences in oil pulling with coconut oil, and shows how she does it:
By swishing and pulling the oil through the teeth and around the mouth, the toxins, bacteria & latent infections are pulled out and into the oil. We harbor an unbelievable amount of toxins in our mouth and because of that, our immune systems are kept quite busy in that region. When we eliminate that energy drain by oil pulling, our immune system can then focus on other things. My immune system is compromised. I have an auto immune disease. By doing oil pulling, I feel so much better in the mornings, especially sinus and congestion. I have not had a cold or cough in years. I feel the coconut oil is a healthy oil to have. – Bonnie
References:
Effect of oil pulling on halitosis and microorganisms causing halitosis: a randomized controlled pilot trial. J Indian Soc Pedod Prev Dent. 2011 Apr-Jun;29(2):90-4.
Effect of oil pulling on plaque induced gingivitis: a randomized, controlled, triple-blind study. Indian J Dent Res. 2009 Jan-Mar;20(1):47-51.
Virgin Coconut Oil:
How it has changed people's lives and how it can change yours!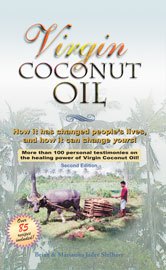 Includes 85 recipes – Free shipping available!
Organic Herbal Breath Spray!

No sweeteners, no preservatives!
Published on February 20, 2012