by Alliance for Natural Health
LDL cholesterol is demonized, but we've told you the other side of the story. Now a new discovery adds to the growing list of health benefits.
There may be a link between low levels of "bad" low-density lipoprotein (LDL) cholesterol—that is, not enough of it—and increased cancer risk, according to new research. Scientists at Tufts University looked at 201 cancer patients and 402 cancer-free patients. They found that cancer patients who never took cholesterol-lowering drugs on average had lower LDL cholesterol levels for an average of about 19 years prior to their cancer diagnosis. In other words, they were "healthier" according to the LDL demonizers in today's medicine.
Previous studies, which looked at patients who did take cholesterol-lowering drugs, also suggested a strong link between low LDL cholesterol levels and higher cancer risk.
This finding underscores what we have said before. The "HDL cholesterol is good and LDL is bad" message being perpetrated by mainstream medicine is at the very least an oversimplification. LDL is needed by the body to build new muscle, which is important as we age. LDL can protect the brain as we age, and low levels of it can escalate problems such as dementia and memory loss. As Dr. Joseph A. Mercola points out, cholesterol is neither "good" nor "bad," and attempts to artificially lower your cholesterol can be quite dangerous, in part because of serious side effects such as muscle damage.
So why does mainstream medicine demonize LDL cholesterol? Could it be because it benefits the billion-dollar cholesterol drug industry?Statin drugs are taken by one in four Americans over age of 45, and if patients stopped buying cholesterol drugs, Big Pharma would be in a serious financial crisis. In fact, as soon as the study's cancer findings were published, a heart "expert" immediately warned that "statins used for LDL reduction shouldn't be stopped if there is an appropriate use to lower heart disease risk."
So mainstream medicine's advice is to hang onto these "miracle drugs" even though they have been linked to nerve damage, muscle damage, liver enzyme derangement, tendon problems, anemia, acidosis, cataracts, sexual dysfunction, an increase in type 2 diabetes, and now cancer.
In the long run, statins are going to be a bonanza, but for the trial lawyers, not the drug companies. But by then it will be too late for those taking them now.
We Lost the War on Cancer – Review of Alternative Cancer Therapies

eBook
Retail : $999
Now : $599
We have lost the war on cancer. At the beginning of the last century, one person in twenty would get cancer. In the 1940s it was one out of every sixteen people. In the 1970s it was one person out of ten. Today one person out of three gets cancer in the course of their life.
The cancer industry is probably the most prosperous business in the United States. In 2014, there will be an estimated 1,665,540 new cancer cases diagnosed and 585,720 cancer deaths in the US. $6 billion of tax-payer funds are cycled through various federal agencies for cancer research, such as the National Cancer Institute (NCI). The NCI states that the medical costs of cancer care are $125 billion, with a projected 39 percent increase to $173 billion by 2020.
The simple fact is that the cancer industry employs too many people and produces too much income to allow a cure to be found. All of the current research on cancer drugs is based on the premise that the cancer market will grow, not shrink.
John Thomas explains to us why the current cancer industry prospers while treating cancer, but cannot afford to cure it in Part I. In Part II, he surveys the various alternative cancer therapies that have been proven effective, but that are not approved by the FDA.
Read We Lost the War on Cancer – Review of Alternative Cancer Therapies on your mobile device!
Fat and Cholesterol are Good for You!
What REALLY Causes Heart Disease
by Uffe Ravnskov, MD, PhD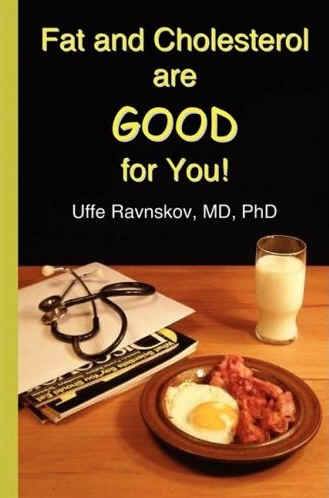 Published on April 3, 2012