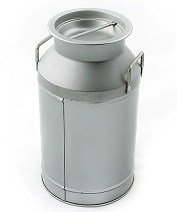 Health Impact News Editor Comments: In a recent town hall meeting in New Hampshire, Presidential candidate Ron Paul talked about the topic of Health Freedom. As a Congressman, he actually introduced legislation to repeal the FDA's prohibition on interstate sales of raw milk (it is legal in some states, and illegal in others.) No other current candidate seems to be addressing the issue of health freedom, and the freedom to choose the foods we want. Dr. Paul is also a physician, and the only candidate who has not been influenced by the pharmaceutical lobbiests in Washington D.C. Every other candidate has benefited financially by the pharmaceutical industry, leading to a proliferation of prescription drugs in this country that is now the third leading cause of death in America.
Rep. Ron Paul's biggest applause line in a town hall meeting Tuesday night was not about ending wars abroad, the income tax or the Fed but — but rather regulations on the sale of raw milk.
"We have to make our own decisions on most dangers in life … whether it's alcohol or whatnot" Paul, a congressman from Texas, said in response to a question about how he would stop prescription drug abuse. "But this idea that the [Food and Drug Administration] is going to take care of us — they end up interfering with choices."
The FDA's efforts to limit Americans' health care choices, Paul said, are carried out in collusion with special interests whose own interests include stifling competition.
"Whether it's the Republican prescription drug program or the Democrats with Obamacare, the drug companies, the insurance companies — they're the big lobbyists, and they promote things," Paul said.
"And they would also like to regulate all alternative care and vitamin alternative products, and keep people from it.
"So my ideal, as a symbol of moving in a different direction, I would like to restore your right to drink raw milk any time you want to drink it," Paul said to wild and sustained applause.
Read the Full Article: http://dailycaller.com/2011/12/14/ron-paul-stands-up-for-raw-milk-in-new-hampshire
See also:
Published on December 14, 2011