by David Gumpert
The Complete Patient
I think I've found the most difficult job assignment in America: Go out and recruit a single volunteer to appear at an anti-raw-milk rally or at a legislative hearing on the subject. Surely there must be one person in all the land who would join such a rally?
Over the last three years, there have been many opportunities, and the promise of opponents, but I have yet to become aware of a single person who came out voluntarily–apart from paid public officials or professionals.
I've been to raw milk rallies and hearings around the country, and have monitored a number I couldn't attend–from California to Wisconsin to Connecticut to Massachusetts– and like I said, I have yet to see anyone present to oppose raw dairy who wasn't being paid…by us. At a hearing in Framingham, MA, last year on whether to allow a local farm to product raw milk, one man spoke out against the proposal. It turned out he was an employee of thestate Department of Public Health who happened to live in Framingham.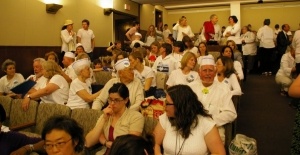 Minnesota consumers and farmers wait to testify at a hearing Wednesday on a proposal to expand the availability of raw milk. (Photo by Kathryn Berg)
The latest opportunity for the opponents to show up came in Minnesota, where last week 200 pro-raw-milk consumers and farmers sat, many with small children, in an over-heated auditorium for more than four hours to make their case for allowing raw milk to be picked up from the farm and brought to farmers markets and homes. This would free consumers from driving hours to obtain their milk. The original promise was that pro and anti raw milk consumers would face off, but once again, there wasn't a single anti-raw-milk consumer in sight.
Many of the consumers then testified for three minutes apiece on their own personal experiences. The opposing view, that raw milk is inherently dangerous, was presented by the hired hands–the head of the Minnesota Department of Agriculture and the health commissioner, among others.
What's becoming ever more clear is that the vast majority of Americans either favor the availability of raw dairy, or don't oppose it. As the discussion following my previous post suggests, many of the most passionate supporters are open to realistic safety standards for raw dairies.
Moreover, there's a growing sense that ever more people are becoming outraged by the aggressive government stance against raw dairy. A Washington Times columnist stated yesterday that, "The sting operation against (Pennsylvania farmer Dan) Allgyer's Rainbow Acres Farm has touched a nerve around the country and across the ideological divide…"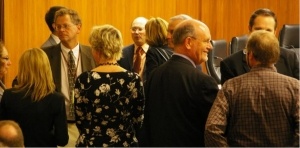 Minnesota public health and agriculture officials, the "suits", prepare to testify Wednesday against the proposal to expand availability of raw milk. (Photo by Kathryn Berg)
The term "public health" strongly suggests that the public has an interest in how the rules regarding its health are set and enforced. But the professionals who administer these rules clearly don't have any interest in what the public thinks. Otherwise, why would it be so difficult to find a single member of the public willing to show up and side with these professionals at a hearing or rally?
By the way, don't expect to see the trend change in Washington at 10 Monday morning at the rally to support Amish farmer Dan Allgyer, who was targeted for court action by the U.S. Food and Drug Administration…unless it's a hired agent recruited to keep tabs on the rally. If you're in Washington Monday, please join us.
Read the full article here: http://www.thecompletepatient.com/journal/2011/5/14/excuse-me-but-would-you-join-my-rally-against-raw-milksurely.html
The Raw Milk Revolution
Behind America's Emerging Battle Over Food Rights
by David E. Gumpert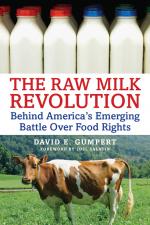 FREE Shipping Available!
More Info
Published on May 14, 2011