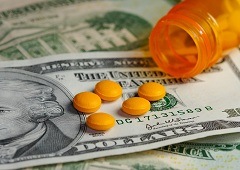 by Dr. Carolyn Dean
NaturalNews
(NaturalNews) Global Industry Analysts, Inc. (GIA) released their comprehensive global report on Pain Management markets in January 2011. The Pain-for-Profit Industry is so darn lucrative that you have to pay $4500 just to read the report but I'll give you the highlights for free.
The Pain-for-Profit Industry will earn US$60 billion by the year 2015. GIA cites the following factors that are driving this growth industry:
1. An aging population worldwide
2. More surgical procedures being performed
3. Changing lifestyles (for the worse)
4. An increasing incidence of cancer
GIA claims that people want more efficient drugs and medical devices for pain treatment but they don't comment on the fact that what people really want is drugs that don't have side effects. Or better yet, healthier lifestyles so they don't get caught in the vicious cycle of pain and pain meds.
Read the Full Article Here: http://www.naturalnews.com/031333_pain_drugs.html
Published on February 15, 2011