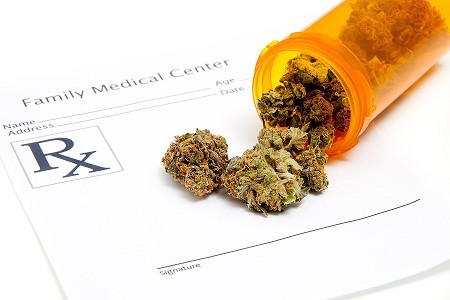 Health Impact News
The Obama administration made it clear this week that they are intent on shutting down the legalized medical marijuana industry in California. First, the IRS ruled that Harborside Health Center in Oakland owed $2.5 million in back taxes from 2007 and 2008. This is $2 million more they paid in taxes during those years, because the IRS ruled that standard business expenses such as payroll, security or rent were not deductible.
The IRS ruling is based on an obscure portion of the tax code — section 280E — passed into law by Congress in 1982, at the height of Reagan administration's "war on drugs." The law, originally targeted at drug kingpins and cartels, bans any tax deductions related to "trafficking in controlled substances." Marijuana is legal, however, in the state of California. The IRS ruling would have effectively put Harborside out of business.
But today the Obama administration took even more drastic measures, as Lisa Leff with the Associated Press reports:
Federal prosecutors have launched a crackdown on [marijuana] dispensaries in California, warning the stores that they must shut down in 45 days or face criminal charges and confiscation of their property even if they are operating legally under the state's 15-year-old medical marijuana law. In an escalation of the ongoing conflict between the U.S. government and the nation's burgeoning medical marijuana industry, at least 16 shops or their landlords received letters this week notifying them that they are violating federal drug laws, even though medical marijuana is legal in California. They state that federal law "takes precedence over state law and applies regardless of the particular uses for which a dispensary is selling and distributing marijuana."
So much for states rights. Medical marijuana is often prescribed for cancer patients suffering from the effects of radiation. It is also often prescribed as a pain killer or anti-psychotic without the known side effects of such drugs produced by pharmaceutical companies.
Nick Schou of ocweekly.com reports that the Obama administration is going after the landlords of the medical marijuana dispensaries, seizing their property as well as the property where the marijuana grows:
"With the blink of an eye and the flick of the wrist, they can shut down medical marijuana in California," said Christopher Glew, who represents several cannabis collectives in Orange County and elsewhere in California. "The funny thing is they have the absolute right to do it and there's nothing anyone can do to stop it. By going after landowners, they can grab a bunch of land, make a bunch of money, and save face politically by saying, 'Hey, we're not going after sick patients or arresting little old ladies–we're going after rich landlords.'"
The actual decision to go after landlords appears to have been made back in February, in the form of a letter to Oakland's city attorney from the U.S. Attorney's office warning that the feds would have no problem seizing land used for pot production whether or not Oakland was issuing permits for such activity. But nobody really noticed the memo until now, when the feds actually started warning specific landowners.
"They are starting up north and working their way down south," Glew said. "I think the feds are seeing how much land, especially in northern California, is being used for marijuana growing, and realize they can start seizing these properties and turn it into federal land. And the thing with federal forfeiture is that it can take two or three years before it goes to court, but meanwhile you lose all your property."
So what could be behind these actions by the Obama administration that seemed to be designed to shut down the growing medical marijuana industry? The current national market in the states that allow legalized sales of marijuana for medical purposes is estimated to be worth $1.7 billion with a projected growth to $9 billion in the next 5 years. And since the dispensaries that sell them are legal in the states where they reside, they pay federal and state taxes at a time where tax revenues are dropping and our nation's debt is skyrocketing.
Earlier this year Dr. Joseph Mercola published an article regarding medical marijuana where the discussed the government's motive for wanting to shut down the booming medical marijuana industry, and why the FDA was not studying the medical benefits of this traditional medicinal herb:
Even a quick review of the data suggests that cannabis deserves more than a passing glance as a potential treatment for various diseases.  But in the United States, these studies are not being done. According to a report by Americans for Safe Access:
"In the past three decades, there has been an explosion of international studies designed to investigate the therapeutic value of cannabis (marijuana). However, drastic restrictions on research in the U.S. have meant that few clinical trials are being conducted domestically and none are being conducted as part of a sponsor-funded drug development plan aimed at obtaining Food & Drug Administration (FDA) approval for the prescription use of the botanical plant itself. Meanwhile, research teams in Great Britain, Spain, Italy, Israel, and elsewhere have confirmed – through case studies, basic research, pre-clinical, and preliminary clinical investigations – the medical value of cannabis … "
It is easy to see why drug companies would want no part in funding research studies on a plant that can't be patented. If they were to discover that it could cure cancer, patients would be able to grow it themselves right in their own backyard … this is not something the pharmaceutical companies would want you to know about.
PBS recently ran a documentary on the medical research behind cannabis, and showed how doctors representing pharmaceutical drugs are the most critical of the use of marijuana for medical purposes, doubting all the claims made for it. At the same time, however, pharmaceutical companies are trying to extract the cannabis and patent drugs that are making the exact same claims. Watch this very informative 10 minute documentary:
Watch the full episode. See more PBS NewsHour.
Sources:
http://www.msnbc.msn.com/id/44806723/ns/us_news-crime_and_courts/#.To45Yp4k6dA
http://blogs.ocweekly.com/navelgazing/2011/10/obama_administration_memo_spel.php
http://bottomline.msnbc.msn.com/_news/2011/10/04/8153459-irs-ruling-strikes-fear-in-medical-marijuana-industry
http://articles.mercola.com/sites/articles/archive/2011/05/07/medical-marijuana-becoming-blockbuster-drug.aspx
See Also:
Global Censorship of Health Information
The Politics of Controlling Therapeutic Information to Protect State-Sponsored Drug Monopolies
by Jonathan Emord, Esq.

FREE Shipping Available!
More Info
Published on October 6, 2011