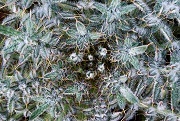 (NaturalNews) The liver is our largest internal organ, weighing in at around 3 pounds (1.5 kg). A strong liver is needed for good health and a strong immune system, as it plays a main role in keeping all of our body's systems in balance. The herb milk thistle has been used for many centuries as a powerful way to protect, strengthen, and revitalize the liver.
Read the Full Article Here: http://www.naturalnews.com/031567_milk_thistle_liver.html
About the author
Melissa Makris is a researcher with a technical background in immunology. She is passionate about holistic and alternative methods of healing. Her website How to Boost Your Immune System shares information on how to improve immune system health using simple, natural methods.
Published on March 3, 2011