Dad Gives Toddler Battling Brain Cancer Medical Marijuana
by Melissa Luck | KXLY4 Executive Producer
To call what the Hyde family has been through a "parent's worst nightmare" sounds like a horrible cliche. But, it's hard to imagine what else you could call it. Their two-year old son Cash was diagnosed last year with a stage 4 brain tumor; he nearly died more times than they can count. He was miserable from the chemotherapy coursing through his body. Until his dad made a controversial decision to give cannabis to his young son.  KXLY 4's Melissa Luck reports.

Full Story on ABC affiliate KXLY.com
Background on Medical Marijuana from Dr. Mercola – Excerpts from The Illegal Herb that Fights Cancer
Political Agendas and Red Tape Make Medical Marijuana a Nightmare
Marijuana was a popular botanical medicine in the 19th and 20th centuries, common in U.S. pharmacies of the time. Yet, in 1970, the herb was declared a Schedule 1 controlled substance, labeling it a drug with a "high potential for abuse" and "no accepted medical use."

Three years later the Drug Enforcement Agency (DEA) was formed to enforce the newly created drug schedules, and the fight against marijuana use began.

The battle that has raged since is a long one, and you can read a brief history of marijuana prohibition in the Huffington Post — but suffice to say that movements to legalize marijuana have persisted ever since. The most successful to date, and the one that is set to produce the first legal marijuana market in decades, is the medical marijuana movement.

As the State of the Medical Marijuana Markets' executive summary states:

"Since 1996, marijuana proponents have pushed for individual states to recognize marijuana as a treatment for a range of illnesses. New medical research and changing public opinion have propelled these efforts.

Over the past 15 years, led by California, 15 states plus the District of Columbia have adopted laws permitting some form of marijuana consumption or distribution for medical use. These laws have been adopted by public referendums as well as legislation."

Despite its legal status, it was common for the DEA to raid medical marijuana suppliers and even arrest patients, up until 2009 when the U.S. Justice Department essentially told federal prosecutors to lay off Americans producing and using medical marijuana in accordance with state laws.

Now in 2011, the report notes that a national market for medical marijuana is worth $1.7 billion — and could grow to nearly $9 billion in the next five years. Investors are sitting on the sidelines, just waiting for the regulatory smoke to clear.

Many patients, too, are eager to get their hands on what some are calling the "cancer answer."
National Cancer Institute Changes Web Site about Cannabis' "Anti-Tumor Effect"
In March 2011, the National Cancer Institute (NCI) updated its Web site to include some of the benefits of medical marijuana, reportedly noting:

"The potential benefits of medicinal Cannabis for people living with cancer include antiemetic effects, appetite stimulation, pain relief, and improved sleep. In the practice of integrative oncology, the health care provider may recommend medicinal Cannabis not only for symptom management but also for its possible direct antitumor effect."

Being the first federal agency to publicly claim that marijuana may in fact be beneficial — and possess anti-tumor properties — it generated significant buzz on the Web. But soon after, NCI quickly changed its tune, editing the anti-tumor reference entirely out of its statement, which now reads:

"The potential benefits of medicinal Cannabis for people living with cancer include antiemetic effects, appetite stimulation, pain relief, and improved sleep. Though no relevant surveys of practice patterns exist, it appears that physicians caring for cancer patients who prescribe medicinal Cannabis predominantly do so for symptom management."

NCI then tried to account for its changes by posting this explanation on March 30:

"In light of the attention garnered by the PDQ summary statement on Cannabis and cannabinoids, reviewers for the summary on the PDQ Complementary and Alternative Medicine (CAM) Editorial Board reexamined the recently posted statement and decided to change the wording, in order to clarify the meaning that the Board originally intended to convey and to correct several possible misinterpretations."

It's a suspicious swap of wording, to say the least, but even more perplexing is why, if anti-tumor effects have been discovered from cannabis — and they have — why is this substance not the subject of major research studies?
Why are Medical Marijuana and Hemp Oil NOT Being Studied?
Even a quick review of the data suggests that cannabis deserves more than a passing glance as a potential treatment for various diseases. But in the United States, these studies are not being done.

According to a report by Americans for Safe Access:

"In the past three decades, there has been an explosion of international studies designed to investigate the therapeutic value of cannabis (marijuana).

However, drastic restrictions on research in the U.S. have meant that few clinical trials are being conducted domestically and none are being conducted as part of a sponsor-funded drug development plan aimed at obtaining Food & Drug Administration (FDA) approval for the prescription use of the botanical plant itself.

Meanwhile, research teams in Great Britain, Spain, Italy, Israel, and elsewhere have confirmed – through case studies, basic research, pre-clinical, and preliminary clinical investigations – the medical value of cannabis … "

It is easy to see why drug companies would want no part in funding research studies on a plant that can't be patented. If they were to discover that it could cure cancer, patients would be able to grow it themselves right in their own backyard … this is not something the pharmaceutical companies would want you to know about.
Marijuana is NOT Harmless …
There are certainly some downsides to marijuana use that need to be addressed, particularly if you are thinking of smoking it for recreational purposes.

Marijuana use can be addicting, and no doubt families have been broken up and jobs lost over its use. In the short-term, marijuana use can cause trouble with your ability to think clearly and may impair short-term memory. Marijuana also leads to motor skill impairment and affects alertness, coordination and reaction time, which is why it should never be used prior to driving.

There is also some evidence that marijuana use can exacerbate psychotic symptoms in those with schizophrenia or other psychotic disorders.

It's also been suggested that marijuana use can serve as a "gateway" drug that eventually leads to the use of "harder" drugs like cocaine and heroine, although this has been debated. Marijuana use among children and teens can also have dire consequences, as drug use of any kind may encourage risky choices and irresponsible behaviors.
Full Article Here: http://articles.mercola.com/sites/articles/archive/2011/05/07/medical-marijuana-becoming-blockbuster-drug.aspx

We Lost the War on Cancer – Review of Alternative Cancer Therapies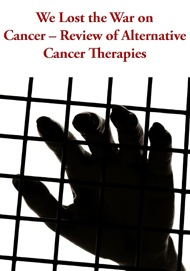 eBook
Retail : $999
Now : $599
We have lost the war on cancer. At the beginning of the last century, one person in twenty would get cancer. In the 1940s it was one out of every sixteen people. In the 1970s it was one person out of ten. Today one person out of three gets cancer in the course of their life.
The cancer industry is probably the most prosperous business in the United States. In 2014, there will be an estimated 1,665,540 new cancer cases diagnosed and 585,720 cancer deaths in the US. $6 billion of tax-payer funds are cycled through various federal agencies for cancer research, such as the National Cancer Institute (NCI). The NCI states that the medical costs of cancer care are $125 billion, with a projected 39 percent increase to $173 billion by 2020.
The simple fact is that the cancer industry employs too many people and produces too much income to allow a cure to be found. All of the current research on cancer drugs is based on the premise that the cancer market will grow, not shrink.
John Thomas explains to us why the current cancer industry prospers while treating cancer, but cannot afford to cure it in Part I. In Part II, he surveys the various alternative cancer therapies that have been proven effective, but that are not approved by the FDA.
Read We Lost the War on Cancer – Review of Alternative Cancer Therapies on your mobile device!
Global Censorship of Health Information
The Politics of Controlling Therapeutic Information to Protect State-Sponsored Drug Monopolies
by Jonathan Emord, Esq.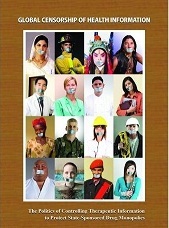 FREE Shipping Available!
More Info
Published on June 28, 2011