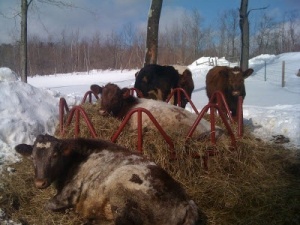 The Little Dairy Herd on Joshua's Farm
Steep Snow Caused Thyme (center) to Climb into Hay Rack, the farmer shooed her out, as it is not her bed, but her dinner.
America's Tiniest Dairy Farm is at Risk, Who Will Speak Out for Joshua's Farm?
by Kimberly Hartke, Publicist, The Campaign for Real Milk
The bill presented by Massachusetts State House member, William Smitty Pignatelli to make herdshare/cowshare legal as a CSA model in Massachusetts seems to be losing steam even before it has been assigned a bill number or hearing date.
Brigitte Ruthman's attempts to gain information from Smitty's very able assistants have resulted in "wait until it gets assigned to a committee". And yet, the word back from a reporter who called her from the Berkshire Record is that Senator Ben Downing isn't inspired by the measure because he has received no communication from constituents wanting to support it.
By contrast, the NOFA MASS bill aimed at allowing certificate of registry holders to sell milk off the farm has broader support – and seems to have eclipsed the herdshare bill.
It seems the people who support the herdshare measure are not making their voices heard in the shadow of NOFA- which is promoting its measure but has voted to remain silent on herdshare. Unless herdshare gains a groundswell of support- i.e. the Commonwealth vs. one small farmer, it will fail.
Not one of the 25 fresh milk farms selling cow milk off the farm was created from nothing, i.e. all were retrofitted from existing dairies which made it financially feasible. In the case of Brigitte's bootstrap farm, she needs to operate by the herdshare model, because of the expensive and onerous regulations.
See our previous story Joshua's Farm vs. The Commonwealth of Massachusetts.
What You Can Do
Please let these legislators know that you support the herdshare legislation- or it will be dropped. Especially if you live in Massachusetts, take time today to contact your State Senator and House Member, plus the bill sponsors mentioned below.
If this bill doesn't get any attention, the Massachusetts Department of Agriculture will surely renew its attack against a part time farmer, with one milking cow and two share holders, Brigitte Ruthman. Joshua's Farm, the tiniest of dairy farms needs your help to continue to exist!
Smitty Pignatelli's phone is 617-722-2582 in Boston (where you will get his able assistant Henry Barrett) and in Lenox, Mass 413-637-0631 where you will get Keri. His email address is rep.smitty@mahouse.gov
Anne Gobi is 617-722-2210, email is Anne.Gobi@mahouse.gov. Her legislative assistants are Stuart Loosemoore, and Henry Barrett. Their emails are Stuart.Loosemoore@mahouse.gov and Henry.Barrett@mahouse.gov.
Contact also, Senator Ben Downing, 617-722-1625, Benjamin.Downing@massenate.gov
See today's related post by farmer Brigitte Ruthman, about a rescue calf on Joshua's Farm:
Adopted Holstein Thrives in Milking Shorthorn Herd.
Kimberly Hartke is the publicist for the Weston A. Price Foundation, and their Campaign for Real Milk. She and her husband, Keith, own a cowshare and believe that in a free society, it is a citizen's right to own livestock, and board it on a nearby farm.
Read the Full Article Here: http://hartkeisonline.com/raw-milk/herdshare-bill-needs-support-in-massachusetts/
Published on February 22, 2011