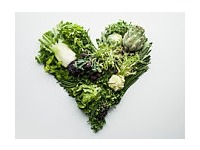 Photo by Blog & Save
by MrsMoney
Valentine's Day is fast approaching, and it's time to start thinking about Valentine's Day activities!  If you're looking to save money and be green with your Valentine's Day gifts, look no further.  I've got some fun, frugal, and eco-friendly gift and date ideas.
Plant a tree or flower for your love.  Include a note that says "As the flower grows and blossoms, so does my love for you." Every time your love sees the tree, they will see your growing love for them.
Make them a coupon book with homemade coupons.  Ideas for the coupons are "I'll wash your laundry," "One night of uninterrupted time," or even "a date night in where I cook for you."  It won't cost anything but your time, and chances are the recipient will love it!
Coconut oil is a great gift idea.  You can use it for massage oil, lotion, cooking, and even as an eco-friendly lubricant.  It's all natural, works very well, and will last you a long time.  It will also provide you with health benefits too!
Cook a romantic dinner at home.  Buy all organic foods and make a meal that's really memorable.  Burn some all natural beeswax candles for ambiance.  Use red foods like steak, beets, and red velvet cake to celebrate the holiday.
Go to your local health foods store and pick out some new eco-friendly bath products.  Shampoo, conditioner, body wash, and even maybe some bubble bath are great presents that will allow the recipient to try them and see which ones they like.  Create a little gift basket and maybe throw in a couple new bamboo towels.
Whatever you decide to do, do it from the heart.  You don't have to spend a ton of money to have a good Valentine's day!
Mrs. Money writes at the Ultimate Money Blog, where she shares tips on frugal living, how to live green, and living a simpler life.
Read the Full Article Here: http://www.savings.com/blog/post/Green-Valentines-Day-Gift-Ideas.html
Published on February 7, 2011