(Beyond Pesticides, February 23, 2011) In response to a request by beekeepers and environmentalists to remove a pesticide linked to Colony Collapse Disorder (CCD), the U.S. Environmental Protection Agency (EPA) in a letter, defended the pesticide clothianidin and the scientific study in question which was identified by beekeepers as a critically flawed study. EPA states that it does not intend to suspend or cancel clothianidin, even though independent studies have linked this chemical and others in its class to bee decline.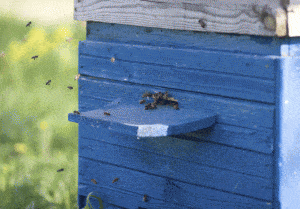 Beyond Pesticides, as a part of a group of environmentalists and beekeepers, broke the news last December that a core study underpinning the registration of the insecticide clothianidin was unsound, citing leaked EPA memos which discloses the critically flawed scientific study and its reclassification as a "core" study on which clothianidin's conditional registration was contingent on, to a "supplemental" study. Bayer CropSceicne, manufacturer of clothianidin designed and submitted to study to EPA as part of clothianidin's registration requirement. Beekeepers claim that the initial field study guidelines, which the Bayer study failed to satisfy, were insufficiently rigorous to test whether or not clothianidin contributes to CCD in a real-world scenario: the field test evaluated the wrong crop, over an insufficient time period and with inadequate controls. In a letter dated December 8, 2010, Beyond Pesticides, beekeepers and other groups called for an immediate stop-use order on the pesticide while the science is redone, and redesigned in partnership with practicing beekeepers.
EPA rejects these concerns and stands-by its continued registration of clothianidin. According to the letter, the agency asserts "we are not aware of any data that reasonably demonstrates that bee colonies are subject to elevated losses due to chronic exposure to this pesticide." Although deficiencies in the study were known by the agency, the study "does not change the agency's conclusion.."
According to beekeeper Jeff Anderson, who has testified before EPA on the topic, "The Bayer study is fatally flawed. It was an open field study with control and test plots of about 2 acres each. Bees typically forage at least 2 miles out from the hive, so it is likely they didn't ingest much of the treated crops. And corn, not canola, is the major pollen-producing crop that bees rely on for winter nutrition. This is a critical point because we see hive losses mainly after over-wintering, so there is something going on in these winter cycles. It's as if they designed the study to avoid seeing clothianidin's effects on hive health."
Clothianidin is of the neonicotinoid family of systemic pesticides, which are taken up by a plant's vascular system and expressed through pollen, nectar and gutation droplets from which bees then forage and drink. Scientists are concerned about the mix and cumulative effects of the multiple pesticides bees are exposed to in these ways. Neonicotinoids are of particular concern because they have cumulative, sublethal effects on insect pollinators that correspond to CCD symptoms – namely, neurobehavioral and immune system disruptions. Clothianidin has been on the market since 2003. With a soil half-life of up to 19 years in heavy soils, and over a year in the lightest of soils, commercial beekeepers are concerned that clothianidin will have long lasting impacts on their hives.
According to James Frazier, PhD., professor of entomology at Penn State's College of Agricultural Sciences, who is scheduled to speak at the 29th National Pesticide Forum, Sustainable Community: Practical solutions for health and the environment, April 8-9 at the Colorado School of Public Health in Denver (Aurora), Colorado, "Among the neonicotinoids, clothianidin is among those most toxic for honey bees; and this combined with its systemic movement in plants has produced a troubling mix of scientific results pointing to its potential risk for honey bees through current agricultural practices. Our own research indicates that systemic pesticides occur in pollen and nectar in much greater quantities than has been previously thought, and that interactions among pesticides occurs often and should be of wide concern." Dr. Frazier said that the most prudent course of action would be to take the pesticide off the market while the flawed study is being redone.
Research by the U.S. Department of Agriculture's (USDA) Bee Research Laboratory and Penn State University shows that the neonicotinoid insecticide imidacloprid -a cousin to clothianidin, contribute, at extremely low levels– to bee deaths and possibly colony collapse disorder (CCD), the widespread disappearance of honey bees that has killed off more than a third of commercial honey bees in the U.S. This is the first study to show that neonicotinoids impact the survival of bees at levels below the level of detection, meaning that field studies would not have considered the role of the pesticide, because they would not have detected it.
Clothianidin is Bayer's successor product to imidacloprid, which recently went off patent. Both are known to be toxic to insect pollinators, and are lead suspects as causal factors in CCD. Together, the two products accounted for over a billion dollars in sales for Bayer Crop Science in 2009. Imidacloprid is the company's best-selling product and among the most widely used insecticides in the U.S.
Additional Information:
Clothianidin & CCD Fact Sheet
Beyond Pesticides Pollinators Program Page
Source: EPA
Read the Full Article Here: http://www.beyondpesticides.org/dailynewsblog/?p=4981
Published on February 23, 2011