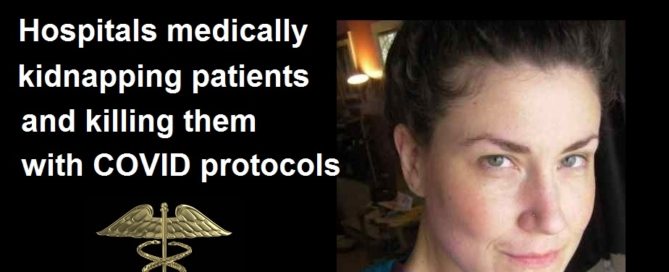 Hospitals Now #1 Cause of Death: Medical Kidnapping the Norm as Patients are Sacrificed on the Altar of COVID
Dr. Amandha Vollmer is a Naturopathic doctor based out of Canada, but provides education and and counseling for people outside of Canada as well, including the U.S. which I imagine is where most of her clients reside.
She published a video this week about the experiences of several of her clients being medically kidnapped in hospitals, and forced on to COVID protocols against their will, resulting in some of them dying.
Dr. Vollmer uses natural treatments to cure people, and is an expert on dimethyl sulfoxide (DMSO), having written a book about it. She also started a website last year called "The Big Virus Hoax."
This is not the first time we are hearing about patients being murdered by COVID protocols, as this is now being reported all over the Internet while the Pharma-owned corporate media continues to promote the official COVID narrative that all these people are dying from COVID.
We can now safely conclude that hospitals and their financially incentivized COVID protocols are the #1 cause of deaths in the U.S.
This is not as big of a revelation as one may think, since the medical system itself admitted back in 2013 that hospital errors were the 3rd leading cause of death in the U.S., just after cancer and heart disease, long before COVID arrived.