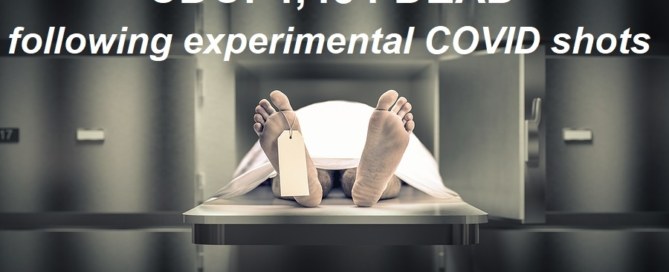 CDC: Death Toll Following Experimental COVID Injections Now at 4,434 – More than 21 Years of Recorded Vaccine Deaths from VAERS
The CDC released the latest death figures following the experimental COVID injections this week, and that death toll now stands at 4,434 people, adults and children, that have been recorded as dying after receiving one of the experimental COVID injections.
To put this number in perspective, since the CDC continues to claim that these deaths do "not establish a causal link to COVID-19 vaccines," these deaths now exceed the total number of deaths reported to VAERS following vaccination for the past 21 years!
From 1/1/2000 through 11/30/2020 (the last month before COVID shots were given emergency use) there were 4,394 deaths recorded for a span of 21 years.
Please take note that for that 21-year period, over 50% of the recorded deaths following vaccination were infants and toddlers under the age of 3, because this is the next targeted demographic to receive the experimental COVID shots: young children.
Both the Moderna and Pfizer experimental COVID shots are being injected into children as young as 6 months old in their trials, with the expectation that the FDA will grant an EUA for that age group as well. Some of those infants and toddlers in the trials have already died.
Since many governors have now taken action to prevent COVID Vaccine Passports and discrimination against those who refuse the experimental shots, will they also issue executive orders to prevent their State's local health departments from injecting children with these shots?
At this point, the fate of our nation's children is in their hands, as the federal government health agencies are completely in bed with Big Pharma and have no regard for human life whatsoever.