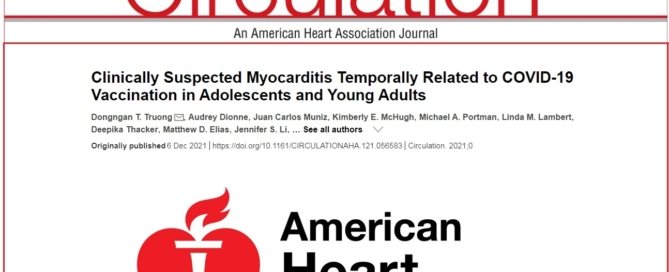 American Heart Association Journal: 97.8% Adolescents and Young Adults with Myocarditis had an mRNA COVID-19 Shot
The American Heart Association's journal Circulation has published another abstract of a study with very alarming data on the effects of the COVID-19 experimental shots on heart disease in young people.
This follows their study published a few weeks ago by cardiologist Steven R Gundry.
The new study just published is titled:
"Clinically Suspected Myocarditis Temporally Related to COVID-19 Vaccination in Adolescents and Young Adults"
It looked at cases of reported myocarditis in young people with an average age of 15.8 years old, and found that cases of myocarditis occurred in 136 patients (97.8%) following mRNA vaccine, with 131 (94.2%) following the Pfizer-BioNTech vaccine; 128 (91.4%) occurred after the 2nd dose. Symptoms started a median of 2 days (range 0-22, IQR 1-3) after vaccination.
Copy and paste this URL into your WordPress site to embed
Copy and paste this code into your site to embed