3,964 DEAD 162,610 Injuries: European Database of Adverse Drug Reactions for COVID-19 "Vaccines"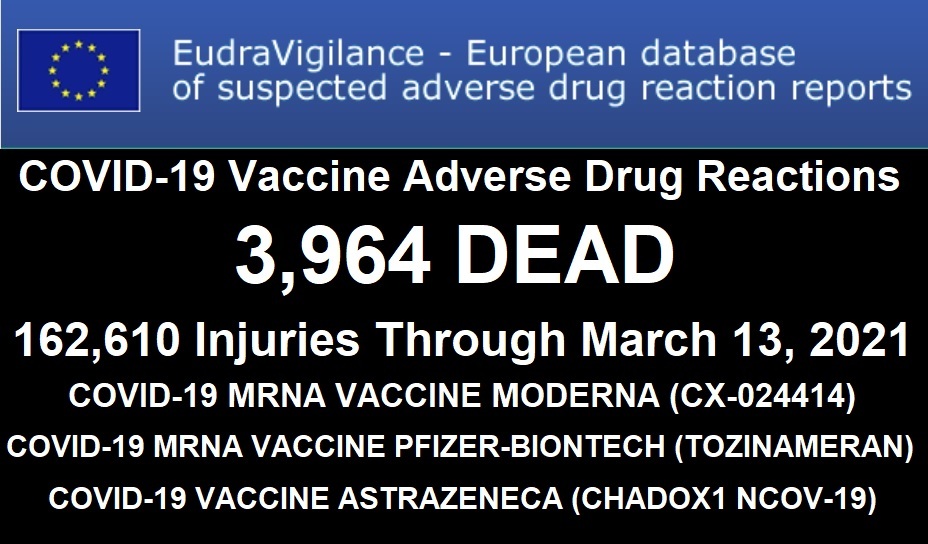 The European database of suspected drug reaction reports, EudraVigilance, is now tracking reports of injuries and deaths following the experimental COVID-19 "vaccines."
Their report through March 13, 2021 lists 3,964 deaths and 162,610 injuries following injections of three experimental COVID-19 shots:
COVID-19 MRNA VACCINE MODERNA (CX-024414), COVID-19 MRNA VACCINE PFIZER-BIONTECH (TOZINAMERAN), and COVID-19 VACCINE ASTRAZENECA (CHADOX1 NCOV-19).
There is also data for a fourth experimental COVID "vaccine," COVID-19 VACCINE JANSSEN (AD26.COV2.S). We have not included data from the Johnson and Johnson COVID shot in this report, but will do so in future reports.
A Health Impact News subscriber in Europe ran the reports for each of the three COVID-19 shots we are including here, and here is the summary data through March 13, 2021.
This is public information funded by the European Medicines Agency (EMA), but it is obviously being censored by the corporate media.