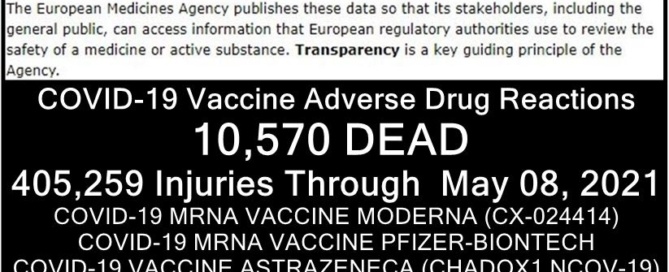 10,570 DEAD 1,050,829 Injuries: European Database of Adverse Drug Reactions for COVID-19 "Vaccines"
The European database of suspected drug reaction reports is EudraVigilance, which also tracks reports of injuries and deaths following the experimental COVID-19 "vaccines."
Their report through May 8, 2021 lists 10,570 deaths and 405,259 injuries following injections of four experimental COVID-19 shots:
COVID-19 MRNA VACCINE MODERNA (CX-024414).
COVID-19 MRNA VACCINE PFIZER-BIONTECH.
COVID-19 VACCINE ASTRAZENECA (CHADOX1 NCOV-19).
COVID-19 VACCINE JANSSEN (AD26.COV2.S).
Mordechai Sones of America's Frontline Doctors published a video yesterday illustrating the effects of the COVID-19 shots in various countries with mortality rates.
The data was compiled from healthdata.org, and The Institute for Health Metrics and Evaluation (IHME), an independent population health research center at UW Medicine, part of the University of Washington.
In almost every country, death rates INCREASED just after the COVID-19 "vaccine" roll outs.