Comments by Brian Shilhavy
Editor, Health Impact News
Since a 1986 law was passed prohibiting citizens of the United States from suing pharmaceutical companies for damages caused by vaccines, the U.S. Government, through its special "Vaccine Court," has quietly paid out BILLIONS of dollars in damages to families who have suffered injuries and death due to vaccines.
Here at Health Impact News we publish the required quarterly reports provided by the Department of Justice on these settlements, and we are, as far as I know, the only ones who publish these reports.
The one from last month's meeting (March, 2020) is reported here:
This law was passed due to the fact that too many lawsuits were being filed against pharmaceutical companies for vaccine injuries and deaths, and so the industry approached the U.S. Congress and threatened to stop making vaccines if they were not given legal immunity from these lawsuits.
Congress obliged, and President Ronald Reagan signed into law the National Vaccine Injury Compensation Program. Today, if you or any of your children are injured or killed by vaccines, you must sue the U.S. Government and go up against their top attorneys to try and get compensation.
During the first few years of the program, so many claims were being made for autism as a result of vaccine injuries, that they decided to just try a few cases before their Special Masters, and based on those handful of cases, they would determine if vaccines caused autism or not.
You can imagine how this self-appointed and self-contained court ruled. Today, if your child is diagnosed with autism after suffering a reaction to a vaccine, you have absolutely no recourse.
The rate of children being diagnosed with autism in our country has sky rocketed from 1 in 10,000 to about 1 in 50, and the U.S. Government assures us that it is NOT the result of vaccines, although they cannot tell us what is causing the sky rocketing rates.
They want us to believe it is genetic, so they can develop a drug to cure it.
I do not believe I am exaggerating when I say there are millions of families across this nation with vaccine-damaged children.
These parents were formerly pro-vaccine, and after watching their children suffer from the effects of vaccines, they are now ridiculed and ostracized by the corporate media as "anti-vaxxers."
With so many families suffering from the devastating effects of vaccines, you can imagine that the parents cross over into all sectors of our society, and can be found among medical doctors, attorneys, politicians, scientists and every other sector in our society.
We have published scores of articles by many of them, particularly doctors and scientists who don't follow the Big Pharma and corporate media narrative on vaccines, and as such are usually labeled "quacks."
They all share a common bond, as they are labeled "anti-vaxxers" and are blamed for everything from bringing back childhood diseases, to causing "epidemics" like measles outbreaks.
And now, they are being blamed for causing the COVID-19 pandemic, which allegedly was backed by Russia, according to an organization that allegedly works with the FBI.
Is this the last step in their goal of mandating vaccines for every single adult and child who lives on Planet Earth?
Some excerpts from The Guardian's article:
FBI-connected researchers suggested biggest threat in controlling outbreak was from 'those who categorically reject vaccination'
by Jason Wilson
Excerpts:
America's "anti-vaxxer movement" would pose a threat to national security in the event of a "pandemic with a novel organism", an FBI-connected non-profit research group warned last year, just months before the global coronavirus pandemic began.
In a research paper put out by the little-known in-house journal of InfraGard – a national security group affiliated with the FBI – experts warned the US anti-vaccine movement would also be connected with "social media misinformation and propaganda campaigns" orchestrated by the Russian government.
Since the virus hit America, anti-vaccination activists and some sympathetic legislators around the country have led or participated in protests against stay-at-home orders designed to slow the spread of the deadly virus.
On its website, InfraGard says it is an "FBI-affiliated nonprofit organization dedicated to strengthening national security" with a mission to protect "United States critical infrastructure". It says it consists of local chapters and that "an FBI special agent from each field office is assigned to serve as a private sector coordinator".
The paper, jointly written by a security consultant and a senior doctor in New York State's largest hospital network, warned: "The biggest threat in controlling an outbreak comes from those who categorically reject vaccination."
The paper, entitled The Anti-Vaxxers Movement and National Security, was co-written by Dr Mark Jarrett, the chief quality officer, senior vice-president and associate chief medical officer at Northwell Health; and Christine Sublett, a health industry-focused cybersecurity consultant.
It lays out a pandemic scenario remarkably similar to the one now afflicting the US along with most of the world, including that "social distancing and isolation have impacts that include loss of manufactured goods, reduced food supply, and other disruptions to the supply chain".
The article then turns to the anti-vaccine movement, arguing that sufficient resistance to vaccination would hobble the chances of reaching herd immunity to a highly infectious pathogen.
The paper also says that such movements have received a boost in recent years due to their "alignment with other conspiracy movements including the far right … and social media misinformation and propaganda campaigns by many foreign and domestic actors. Included among these actors is the Internet Research Agency, the Russian government–aligned organization."
Full Article here [1].
Comment on this article at VaccineImpact.com [3].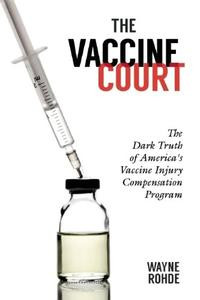 [4]
Book – The Vaccine Court [4], by Wayne Rohde – 240 pages

"The Dark Truth of America's Vaccine Injury Compensation Program"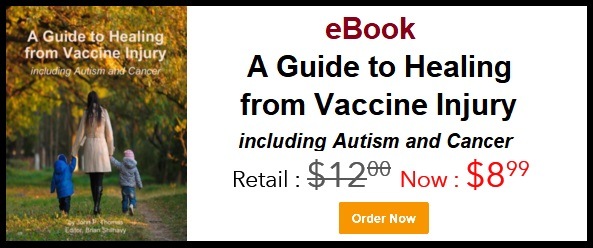 [5]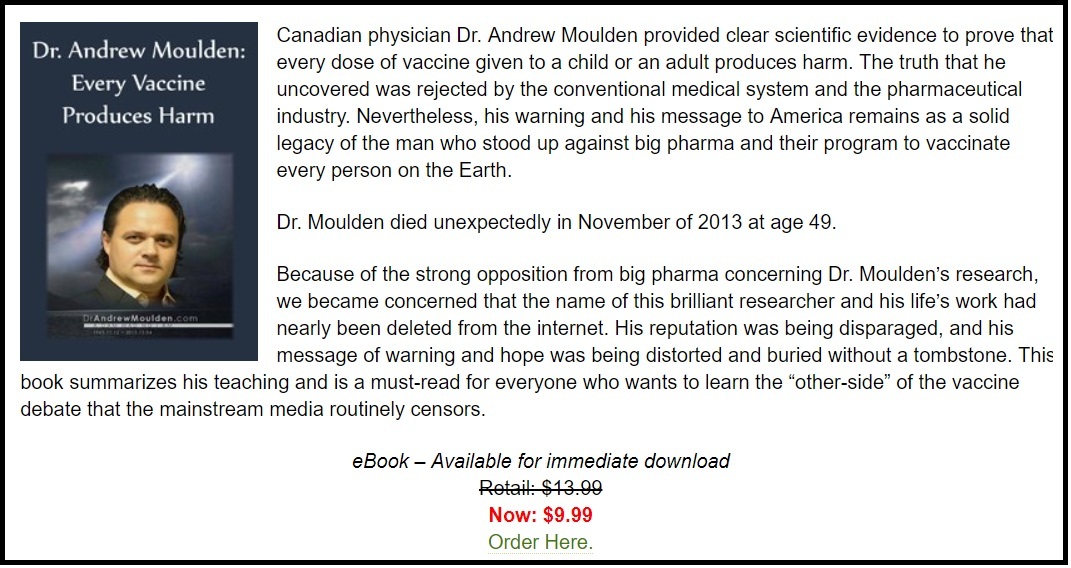 [6]
Leaving a lucrative career as a nephrologist (kidney doctor), Dr. Suzanne Humphries is now free to actually help cure people.
In this autobiography she explains why good doctors are constrained within the current corrupt medical system from practicing real, ethical medicine.
One of the sane voices when it comes to examining the science behind modern-day vaccines, no pro-vaccine extremist doctors have ever dared to debate her in public.
Say NO to Mandatory Vaccines T-Shirt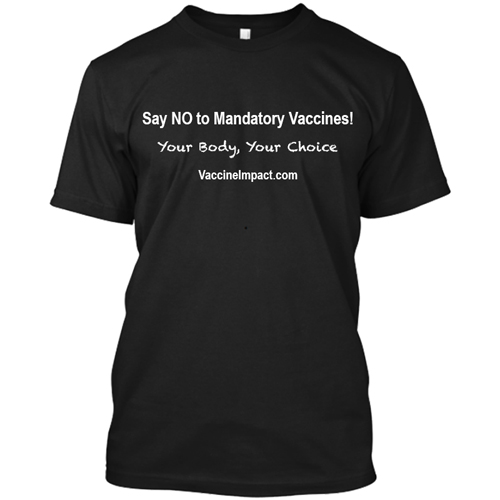 [8]
100% Pre-shrunk Cotton
Order here! [8]
Make a Statement for Health Freedom!
Big Pharma and government health authorities are trying to pass laws mandating vaccines for all children, and even adults.
Show your opposition to forced vaccinations and support the cause of Vaccine Impact [9], part of the Health Impact News network [10].
Order here! [8]