Health Impact News
The group Michigan for Vaccine Choice [1] has sent a letter to parents in Michigan informing them that the Michigan Department of Health and Human Services (MDHHS) and the Michigan Department of Education (MDE) are violating federal law (FERPA) by transferring private medical records about minor children, without the consent of their parents, regarding each student's vaccination status into a vaccine tracking database.
From Michigan for Vaccine Choice [1]:
Dear Member:
We want to make you aware of a state-wide privacy violation impacting Michigan schools related to immunization records required for school entry, including vaccine exemptions/waivers.
Per federal law [2], schools that receive federal funding are NOT ALLOWED to share your child's immunization records [3] with the local or state health department, without your consent to do so.
Despite this, the Michigan Department of Health and Human Services (MDHHS) and the Michigan Department of Education (MDE) have been allowing the unfettered transfer of this private medical information, without your consent, for decades.
They were put on notice in the summer of 2017 that they were in violation of FERPA and though they acknowledge they are in violation, their attempt at correcting the issue still violates FERPA — Mainly by continuing to mandate schools enter the student's immunization records into the MDHHS vaccine tracking system (MCIR/SIRS), even for the students whose parents do not provide consent to share.
If you can't SHARE the information without consent, what makes a school think they can enter the student's data into the health department's computer system, a third-party system, without consent?
They can't.
A state-wide violation of this nature puts Michigan's federal education support, close to 2 billion dollars, at risk.
It is our belief that this is an attempt to get around FERPA and still gain access to our children's immunization data.
It is even more egregious that MDHHS, and local health departments, have known for years that they do not have access to this data – as evidenced by this official policy statement of the National Association of County and City Health Officials [4] on the Access to School Based Data.
Yet, they continue to force schools to share this data without parental consent.
This week, Michigan for Vaccine Choice has put all Michigan schools on notice that this continues to be a state-wide violation of FERPA, by sending this letter [5] to all school administrators and officials.
Feel free to use this letter [5] to share your concerns with your school administration.
MVC will continue to advocate for your privacy rights.
If you do not want your immunization data shared with the health department, we advise that you do NOT sign any consent form provided by your school – if you have already provided consent be aware that you can withdraw that consent at any time.
With or without consent, though, your school will still enter your child's data into MCIR/SIRS, unless the school officials take a stand against this practice.
Lastly, we should make you aware that because of the efforts of a number of concerned legislators, the federal FERPA office at the US Department of Education is looking closely at Michigan statutes, regulations and practices.
They are watching how Michigan handles this issue, and clearly, MDE, with directives from MDHHS, have chosen to attempt to get around FERPA.
We encourage you to read the letter issued to schools, and review the hyperlinks within the document. Please reach out to your school administrators and/or your school board with your concerns.
Also, read the legal analysis [6] obtained by MVC last year about FERPA and state immunization sharing practices.
Together, we can ensure that Michigan agencies follow the law and protect the privacy rights of Michigan students.
Thanks,
MVC Advocacy Team
Comment on this article at VaccineImpact.com [7].
Dr. Andrew Moulden: Every Vaccine Produces Harm
Retail: $13.99
Now: $9.99
Order Here. [8]
Canadian physician Dr. Andrew Moulden provided clear scientific evidence to prove that every dose of vaccine given to a child or an adult produces harm. The truth that he uncovered was rejected by the conventional medical system and the pharmaceutical industry. Nevertheless, his warning and his message to America remains as a solid legacy of the man who stood up against big pharma and their program to vaccinate every person on the Earth.
Dr. Moulden died unexpectedly in November of 2013 at age 49.
Because of the strong opposition from big pharma concerning Dr. Moulden's research, we became concerned that the name of this brilliant researcher and his life's work had nearly been deleted from the internet. His reputation was being disparaged, and his message of warning and hope was being distorted and buried without a tombstone. This book summarizes his teaching and is a must-read for everyone who wants to learn the "other-side" of the vaccine debate that the mainstream media routinely censors.
Read Dr. Andrew Moulden: Every Vaccine Produces Harm on your mobile device or computer by ordering the eBook [8]!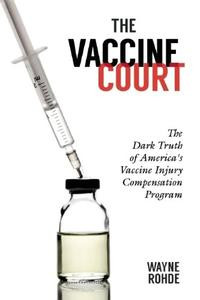 [11]
Book – The Vaccine Court [11], by Wayne Rohde – 240 pages

"The Dark Truth of America's Vaccine Injury Compensation Program"

FREE Shipping Available!
Say NO to Mandatory Vaccines T-Shirt
[12]
100% Pre-shrunk Cotton
Order here! [12]
Make a Statement for Health Freedom!
Big Pharma and government health authorities are trying to pass laws mandating vaccines for all children, and even adults.
Show your opposition to forced vaccinations and support the cause of Vaccine Impact [13], part of the Health Impact News network [14].
Order here! [12]