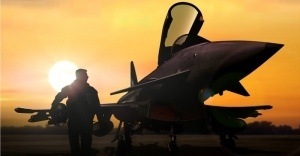 Pilots Would Rather Leave the Military than be Forced to get Anthrax Vaccine
The Food and Drug Administration (FDA) originally licensed the anthrax vaccine in 1970 for agricultural workers exposed to cutaneous (skin-acquired) anthrax.
During the Gulf War, 150,000 troops received the vaccine "as a prophylactic against inhalation anthrax," and the Department of Defense pushed mandatory rollout of the vaccine among many more U.S. military personnel beginning in the late 1990s.
Service members have been contending with anthrax-vaccine-induced illness ever since its military use began.
In 2002, the General Accounting Office (GAO) reported the results of an astonishing survey conducted with 1,253 pilots and aircrew members of the Air Force Reserve and Air National Guard to ask questions about the military's anthrax vaccine program.
Of the survey respondents who had received one or more anthrax shots, most (85%) reported experiencing an adverse reaction, including numerous systemic reactions and reactions lasting more than a week.
Affected respondents mostly did not report these reactions to the military chain of command, due to worries about "loss of flight status, a possibly adverse effect on military or civilian career, and a fear of ridicule."
These concerns were justified—airmen have been demoted and have faced court martial for refusing the anthrax vaccine. Over three-fourths (77%) of the GAO survey respondents reported that they would have declined the vaccine "if they had had a choice."
To avoid the anthrax shots, more than one in six survey respondents reported transferring to other units, changing their status to inactive or leaving the military altogether.