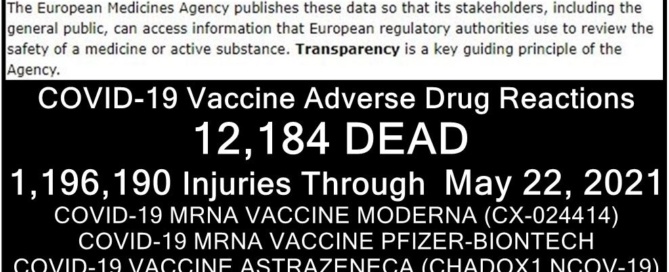 12,184 DEAD 1,196,190 Injuries: European Database of Adverse Drug Reactions for COVID-19 "Vaccines"
The European database of suspected drug reaction reports is EudraVigilance, which also tracks reports of injuries and deaths following the experimental COVID-19 "vaccines."
Their report through May 22, 2021 lists 12,184 deaths and 1,196,190 injuries following injections of four experimental COVID-19 shots:
COVID-19 MRNA VACCINE MODERNA (CX-024414).
COVID-19 MRNA VACCINE PFIZER-BIONTECH.
COVID-19 VACCINE ASTRAZENECA (CHADOX1 NCOV-19).
COVID-19 VACCINE JANSSEN (AD26.COV2.S).
From the total of injuries recorded, there are 604,744 serious injuries which equals over 50%.
"Seriousness provides information on the suspected undesirable effect; it can be classified as 'serious' if it corresponds to a medical occurrence that results in death, is life-threatening, requires inpatient hospitalisation, results in another medically important condition, or prolongation of existing hospitalisation, results in persistent or significant disability or incapacity, or is a congenital anomaly/birth defect."