Government Health Agencies Take Huge Profits from Vaccine Royalties – Gardasil the Top One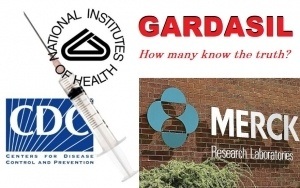 The CDC is a major player in the vaccine marketplace, buying half of all childhood vaccines in the U.S. and then selling them to contracted public health agencies through the Vaccines for Children (VFC) Program, which pushes free and low-cost vaccines on indigent children.
Over the past three decades, the CDC's vaccine purchases have increased 15-fold as the average cost of fully vaccinating a child to age 18 rose from $100 to $2192—while vaccine companies have raked in the profits.
The agency's involvement with vaccine manufacturers also extends to patents, licensing agreements and collaboration on projects to develop new vaccines.
In fact, the CDC and the National Institutes of Health (NIH) profit handsomely from their ownership or co-ownership with private sector partners of vaccine-related patents.
Some of the key technologies underlying the development of the HPV vaccines Gardasil and Cervarix emerged from research patented by the NIH's National Cancer Institute (NCI), which then licensed the technology to Merck, MedImmune and GlaxoSmithKline.
By 2009, HPV licensing had become NIH's top generator of royalty revenues.
Gardasil is "perhaps the leading example of a new form of unconstrained government self-dealing, in arrangements whereby [HHS] can transfer technology to pharmaceutical partners, [and] simultaneously both approve and protect their partners' technology licenses while also taking a cut of the profits."
It seems doubtful that agencies can remain impartial in the face of these profits.