Comments by Health Impact News Editor
Childhood obesity is now a reason why the state could take away children from their parents. The rationale is that if a child is obese, it is the parents' fault, because they failed to feed them properly. It is assumed that all childhood obesity is a result of diet.
However, most of us have probably seen first-hand just how different children are when it comes to food and putting on weight. Some children can eat junk food most of the time and never add weight, while some children can eat a healthy, organic diet and still add pounds.
Dr. J. Bart Classen has published a study claiming that the evidence for the overwhelming problem of childhood obesity is not diet, but "vaccine induced inflammation."
A newly published paper in June's Journal of Endocrinology, Diabetes & Obesity, 5(3): 1107, by immunologist J. Bart Classen, MD of Classen Immunotherapies provides further proof of the dangers of vaccines.
The paper reviews the growing evidence that many cases of obesity, type 2 diabetes and metabolic syndrome are inflammatory conditions and that vaccine induced inflammation is the cause of the epidemic of these diseases.
Upon receiving a vaccine some individuals' immune system becomes hyper active leading to autoimmune destruction of insulin secreting cells and the development of type 1 diabetes. Many other individuals produce increased cortisol and other immune suppressing molecules, to suppress the vaccine induced inflammation.
This increased production leads to type 2 diabetes, obesity and metabolic syndrome. The new paper reviews evidence supporting vaccines, not diet, as a cause of the epidemics of obesity, type 2 diabetes and metabolic syndrome.
Dr. J. Bart Classen states:
"The new paper reviews proof that vaccines are much more dangerous than the public is lead to believe. Adequate testing has never been performed to indicate that there is an overall improvement in health from immunization. One major problem with vaccines is the one dose fits all approach. In order to induce protection to infection in the 1% of the population with the weakest immune system, vaccines are over stimulating the immune system of the remaining 99% of the population and this is leading to epidemics of inflammatory diseases."
Abstract
There is an epidemic of obesity, type 2 diabetes, metabolic syndrome and associated conditions. Patients with these conditions often have markers of increased inflammation. Many researchers have published that nutrition overload caused the epidemic of obesity and the associated inflammation which leads to type 2 diabetes and metabolic syndrome. A contrasting view has provided extensive evidence that vaccine induced immune overload has caused an epidemic of inflammation and this inflammation caused epidemics of obesity, type 2 diabetes and metabolic syndrome. The data reviewed in these manuscripts provides proof that immune overload, not nutrition overload has been the major contributing factor for the epidemics and inflammation associated with the epidemics. Several lines of evidence are reviewed including evidence that inflammation precedes obesity in many patients, the lack of inflammation in many obese patients, an epidemic of inflammation in thin patients, and an epidemic of obesity in children under 6 months of age. The failure to control the obesity epidemic is blamed on the focus on nutrition and ignoring the root cause, vaccine induced immune overload. Once a patient has developed metabolic syndrome with type 2 diabetes providers are too frequently subjecting their patients to further immune overload by administering yearly influenza vaccines and many other vaccines. This action makes metabolic syndrome more difficult to reverse. The plan to reduce obesity must be focused on preventing immune overload and not blaming patients for their diet. The epidemic of obesity can be reversed through discontinuation of vaccine practices that result in immune overload.
Read the full study.
Comment on this article at VaccineImpact.com.
About Dr. Classen
John Barthelow Classen, M. D., M. B. A., is President and Chief Executive Officer of Classen Immunotherapies. Besides overseeing development of the company's products, he has acted as a biotechnology consultant advising several New York investment firms. He advised the biotechnology analyst and several investment bankers at Prudential Securities between 1991 and 1994 .
Dr. Classen was employed at the National Institutes of Health in the Laboratory of Immunology, NIAID, between 1988 and 1991 before leaving to found Classen Immunotherapies in 1991. He received his M.D. from the University of Maryland in 1988 and his M.B.A. from Columbia University in 1992.
Dr. Classen holds a number of patents, specifically regarding "the act of reading the published scientific literature and using it to create vaccination schedules that minimize immune disorders," and has sued four biotechnology companies over allegedly infringing on them. While a district court had found that Classen's idea was too abstract to be patented, he appealed the case and the appeals court found otherwise.
Say NO to Mandatory Vaccines T-Shirt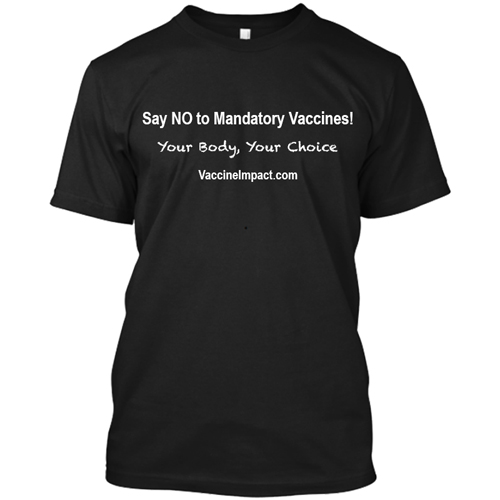 100% Pre-shrunk Cotton
Order here!
Make a Statement for Health Freedom!
Big Pharma and government health authorities are trying to pass laws mandating vaccines for all children, and even adults.
Show your opposition to forced vaccinations and support the cause of Vaccine Impact, part of the Health Impact News network.
Leaving a lucrative career as a nephrologist (kidney doctor), Dr. Suzanne Humphries is now free to actually help cure people.
In this autobiography she explains why good doctors are constrained within the current corrupt medical system from practicing real, ethical medicine.
One of the sane voices when it comes to examining the science behind modern-day vaccines, no pro-vaccine extremist doctors have ever dared to debate her in public.
Medical Doctors Opposed to Forced Vaccinations – Should Their Views be Silenced?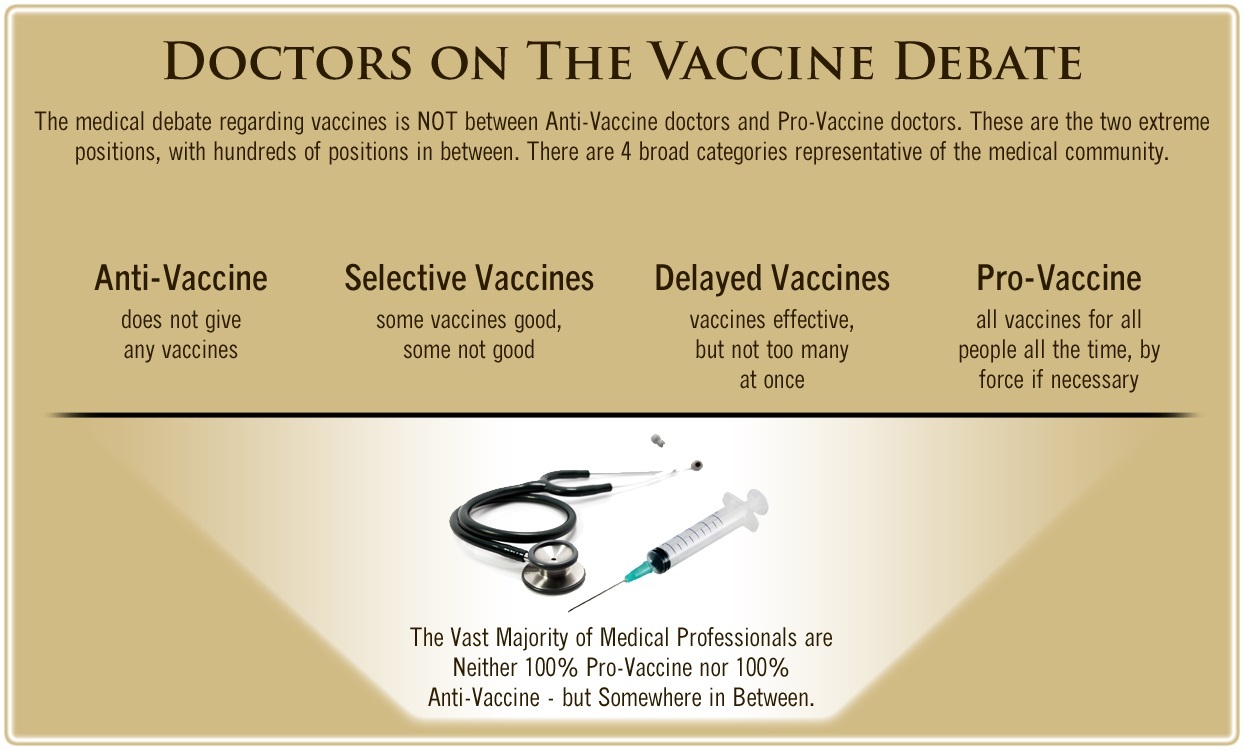 One of the biggest myths being propagated in the compliant mainstream media today is that doctors are either pro-vaccine or anti-vaccine, and that the anti-vaccine doctors are all "quacks."
However, nothing could be further from the truth in the vaccine debate. Doctors are not unified at all on their positions regarding "the science" of vaccines, nor are they unified in the position of removing informed consent to a medical procedure like vaccines.
The two most extreme positions are those doctors who are 100% against vaccines and do not administer them at all, and those doctors that believe that ALL vaccines are safe and effective for ALL people, ALL the time, by force if necessary.
Very few doctors fall into either of these two extremist positions, and yet it is the extreme pro-vaccine position that is presented by the U.S. Government and mainstream media as being the dominant position of the medical field.
In between these two extreme views, however, is where the vast majority of doctors practicing today would probably categorize their position. Many doctors who consider themselves "pro-vaccine," for example, do not believe that every single vaccine is appropriate for every single individual.
Many doctors recommend a "delayed" vaccine schedule for some patients, and not always the recommended one-size-fits-all CDC childhood schedule. Other doctors choose to recommend vaccines based on the actual science and merit of each vaccine, recommending some, while determining that others are not worth the risk for children, such as the suspect seasonal flu shot.
These doctors who do not hold extreme positions would be opposed to government-mandated vaccinations and the removal of all parental exemptions.
In this article, I am going to summarize the many doctors today who do not take the most extremist pro-vaccine position, which is probably not held by very many doctors at all, in spite of what the pharmaceutical industry, the federal government, and the mainstream media would like the public to believe.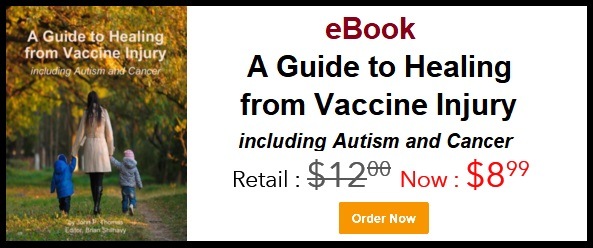 Published on August 11, 2017