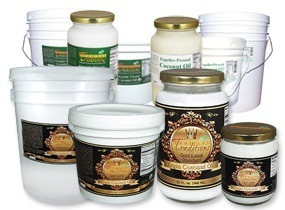 by Brian Shilhavy
Coconut oil has been around for thousands of years in the tropics where coconut palm trees grow. Recently, coconut oil has seen a resurgence in popularity in the U.S. and consumers are beginning to look at buying coconut oil again. So what kind of coconut oil offers the most benefits?
Coconut oils can be classified into two general categories: virgin coconut oils and refined coconut oils. Both categories refer to pure coconut oil with nothing else added, and the main difference is in the production and refining process to make coconut oil.
Virgin Coconut Oil Offers the Most Benefits
There is no industry standard definition for "virgin coconut oil" as there is in the olive oil industry for "virgin" and "extra virgin" olive oil. Today, there are many coconut oils on the market that are labeled as "virgin coconut oil." Tropical Traditions was the first company to publish standards for the use of "virgin coconut oil" in terms of edible oils, and here is what was published over ten years ago:
Virgin coconut oil can only be achieved by using fresh coconut meat or what is called non-copra. Chemicals and high heating are not used in further refining, since the natural, pure coconut oil is very stable with a shelf life of several years.
There are currently two main processes of manufacturing virgin coconut oil:
1. Quick drying of fresh coconut meat which is then used to press out the oil. Using this method, the coconut meat is quick dried, and the oil is then pressed out via mechanical means. This is the most common type of "virgin" coconut oil sold in the market today that you will find in stores, although many brands will label it as "extra" virgin even though there is no industry standard for the term "extra virgin." This machine-made mass produced coconut oil is often referred to as "cold pressed." However, this does not mean that the coconut has never been heat treated, since heat must be used to dry the coconut prior to pressing it out of the coconut meat.
2. Wet-milling. With this method the oil is extracted from fresh coconut meat without drying first. "Coconut milk" is expressed first by pressing. The oil is then further separated from the water. Methods which can be used to separate the oil from the water include boiling, fermentation, refrigeration, enzyme extraction, and mechanical centrifuge. The first two of these methods are traditional methods (boiling and fermentation) that indigenous cultures in tropical climates have used to make coconut oil for hundreds, if not thousands, of years. The last two (enzyme extraction and mechanical centrifuge) are recent methods based on technology. Recent research [1] conducted in the coconut oil producing countries of Sri Lanka and Malaysia show that the traditional methods of producing coconut oil produces the highest amounts of anti-oxidants, because heating is part of the process.
The  Gold Label Virgin Coconut Oil is an example of a wet-milling fermentation method of producing traditional virgin coconut oil.
The Benefits of The Gold Label® Standard of Virgin Coconut Oil
The method used by Mt. Banahaw Health Products Corp. in the Philippines, whose oil is marketed exclusively by Tropical Traditions as their Gold Label standard coconut oil, is the traditional wet-milling method called "fermentation." "Fermentation" here is defined as the natural separation of the coconut oil from water using gravity. No machine or other substances are used in the extraction.
First, coconut milk is expressed from the freshly harvested coconuts by using the pure water that is present inside the coconuts. The coconut milk is then allowed to sit for approximately half a day. During this time, the heavier water separates from the oil by sinking to the bottom, while the lighter coconut solids float to the top (curds).  In between the coconut solids and the water is a crystal clear coconut oil that is completely unrefined. The oil is then slightly heated (less than boiling temperatures) for a short time (5 – 15 minutes depending on air temperatures) to remove any remaining moisture and increase antioxidant levels, and then filtered.
The result is a clear coconut oil that retains the distinct scent and taste of coconuts. This is a traditional method of coconut oil extraction that has been used in the Philippines for hundreds, if not thousands of years. Marianita's parents' generation made coconut oil this way, but the knowledge was in the process of passing away before we revived it, due to the easily obtained refined coconut oils found in the stores in the Philippines. It is a much more labor-intensive method of producing coconut oil, and cannot be replicated by machine through mass-production. Family producers for Mt. Banahaw make the Gold Label standard in small batches.

Watch this video to see how Gold Label Virgin Coconut Oil is produced
Laboratory tests [2] show that Gold Label Virgin Coconut Oil is a very high quality coconut oil, with very high antioxidant levels. A study done in Malaysia [3] and published in the International Journal of Food Science Nutrition also reported that the wet-milling fermentation method produced the highest amounts of antioxidants, and another study completed in Sri Lanka [1] in 2011 confirmed these result.
Does "Extra" Virgin Coconut Oil Offer Any Benefits?
Unfortunately, there is no standard industry definition for "virgin" coconut oil as there is in the olive oil industry. Therefore, it is not uncommon to find refined coconut oils labeled as "virgin" coconut oils. Some brands also use the term "extra virgin" coconut oil, even though there is nothing "extra" that can be done to produce coconut oil other than the ways described above, and the term "extra virgin" is therefore simply a marketing term.
Testimonials for Coconut Oil Benefits with Gold Label Virgin Coconut Oil
Watch this video testimonial of Gold Label Virgin Coconut Oil from Lesli (beginning) and Dr. Amanda Rose (2:15 point in the video) as they each describe the benefits of Gold Label Virgin Coconut Oil over other coconut oils.

[4]
Do you wonder how you can use Coconut Oil? Watch this short video that shows how easy it is to incorporate coconut oil into your diet: