by Amanda Rose
Traditional Foods
As the market for both coconut-based foods and gluten-free foods grow, coconut flour has become a popular ingredient in many American kitchens. The flour is a by-product of making coconut milk or coconut oil — it is the solids in the coconut ground into a powder and used as a flour in baking.
Coconut flour bakes up differently than the flours you are probably familiar with. It is extremely dense which means that the foods you bake will taste different from their gluten counterparts. However, as I describe in the video, that density is an opportunity as well.
Coconut flour shines in dessert baking because of its slight coconut flavor. However, because of the density of the flour, you might just eat one coconut flour cookie (or two). Have you ever had a cookie that tasted good that you did not want to gobble a dozen of? If so, perhaps God loves you more, because I surely have not. I do not keep cookies around lest I gobble them until they aregone. I can actually keep a coconut flour cookie around because one cookie with afternoon tea (or two cookies) is filling and I do not crave more. Before getting too academic about coconut flour, you obviously need the cookie recipe.
Coconut Flour Chocolate Chip Cookie Recipe
This recipe comes from a large archive of coconut flour recipes on the Tropical Traditions website. This makes about 20 small cookies and takes only about ten minutes to prepare.
Preheat oven to 375 degrees F.
Coconut Flour Cookie Ingredients
1/2 cup coconut oil, melted
1/2 cup granulated sugar
1/2 tablespoon vanilla extract
4 eggs
1/8 teaspoon salt
1 cup coconut flour
1/2 cup shredded coconut (optional)
3/4 cup chocolate chips
Coconut Flour Cookie Steps
Mix together coconut oil, sugar, vanilla, and eggs.
Blend thoroughly.
In a separate bowl, mix together salt, flour, coconut, and chocolate chips.
Add the bowl of dry ingredients to your oil, egg, and sugar mixture.
Mix thoroughly.
Form into small cookies on a parchment lined pan.
Press the cookies down to the size you wish — they will not flatten out during baking.
Bake in preheated oven for about 15 minutes, or until lightly browned.
If you do not have parchment paper, oil your baking pan well and take care not to let the bottoms of the cookies burn.
When you enjoy these cookies, do not think "Tollhouse chocolate chip cookies." These are more dense and more dry than the cookies you are used to. Because of the dryness they are more comparable to a scone and are great with a glass of milk or a cup of coffee or tea.
Cooking With Coconut Flour
If you are new to cooking with coconut flour, I strongly recommend that you start your journey with kitchen-tested recipes. Coconut flour is like no other flour you have used and cannot be substituted one-to-one with more common flours. Typically very little flour is used in a recipe. In fact, I made the mistake of buying nine pounds of coconut flour to experiment with only to discover that my biggest lesson is that a two-pound bag goes a long way. Buy coconut flour in smaller amounts when you get started lest you end up with a year's supply as it appears happened to me.
You will also notice that coconut flour recipes tend to call for nearly a mountain of egg. The egg in the coconut flour recipes helps reduce the dryness of your baked good. In fact, these baked items end up being more "egg food" than "coconut food." I happen to think "egg food" is about as good as it gets, especially in baked goods for children, so that is an added "win."
To get started with your coconut flour cooking, you can visit the extensive coconut flour recipe collection at Tropical Traditions. Scrool down to discover recipes for such items as pizza crusts and hamburger buns. Check out these ideas from cool bloggers:
Storing Coconut Flour
As with most foods, store your coconut flour in an airtight container. It will last about a year in moderate room temperatures and longer if you store it in an air tight container in the refrigerator or freezer. If you store it in cold storage, bring it to room temperature before using it in baking. In our household we keep a few cups in the kitchen and the rest in the freezer.
Nutrients in Coconut Flour
Coconut flour is a source of B vitamins and minerals but there is likely a range of nutrition in coconut flour based on how it is manufactured — the coconut flour I make in my kitchen does not have as much of the fat removed as does commercial coconut flour for instance. The macronutrients in the data below are also different from the commercial coconut flour we buy, showing the difficulty of generating some precise value. But such is the case with most foods — there is wide variation across food samples. The data below is based on 100 grams of desiccated coconut, about one-quarter of a pound.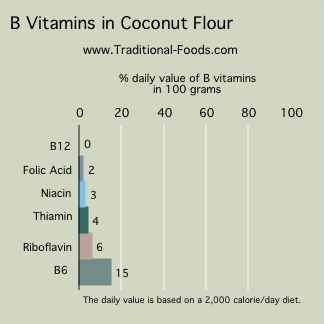 ~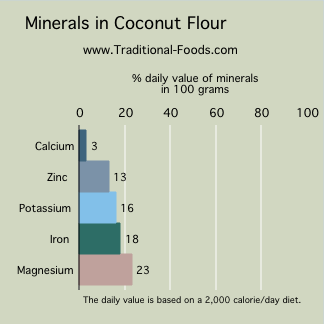 Macronutrients In Coconut Flour
Component
Amount
% Daily Value*
Calories
660
Protein
6.88 g
14%
Fat
64.53 g
99%
Carbohydrate
23.65 g
8%
Fiber
16.3 g
65%
Potassium
543 mg
16%
Sodium
37 mg
2%
Sugar
7.35 g
Water
3 g
Ash
1.94
*The daily value is based on a 2,000 calorie per day diet.
Vitamins In Coconut Flour
| | | |
| --- | --- | --- |
| Vitamin | Amount | % Daily Value* |
| Vitamin C | 1.5 mg | 3% |
| Thiamin – B1 | .06 mg | 4% |
| Riboflavin – B2 | .1 mg | 6% |
| Niacin – B3 | .6 mg | 3% |
| Pantothenic Acid – B5 | .8 mg | 8% |
| Vitamin B6 | .3 mg | 15% |
| Folic Acid | 0 mcg | |
| Food Folate | 9 mcg | |
| Choline | 22.1 mg | |
| Vitamin B12 | 0 mcg | 0% |
| Vitamin A – IU | 0 IU | 0% |
| Vitamin A – RAE | 0 RAE | |
| Retinol | 0 RE | |
| Alpha Carotene | 0 RE | |
| Beta Carotene | 0 mcg | |
| Beta Cryptoxanthin | 0 mg | |
| Vitamin E | .44 mg | 1% |
| Vitamin D – IU | 0 IU | 0% |
| Vitamin D – mcg | 0 mg | |
| Vitamin K | .3 mcg | 0% |
| Lycopene | 0 mcg | |
| Lutein and Zeaxanthin | 0 mcg | |
*The daily value is based on a 2,000 calorie per day diet.
Minerals In Coconut Flour
| | | |
| --- | --- | --- |
| Mineral | Amount | % Daily Value* |
| Calcium | 26 mg | 3% |
| Iron | 3.32 mg | 18% |
| Magnesium | 90 mg | 23% |
| Phosphorus | 206 mg | 21% |
| Zinc | 2.01 mg | 13% |
| Copper | .8 mg | 40% |
| Manganese | 2.74 mg | 137% |
| Selenium | 18.5 mg | 26% |
*The daily value is based on a 2,000 calorie per day diet.
Read the Full Article Here: http://www.traditional-foods.com/profiles/coconut-flour/
Virgin Coconut Oil:
How it has changed people's lives and how it can change yours!
Includes 85 recipes – Free shipping available!
Published on January 26, 2012